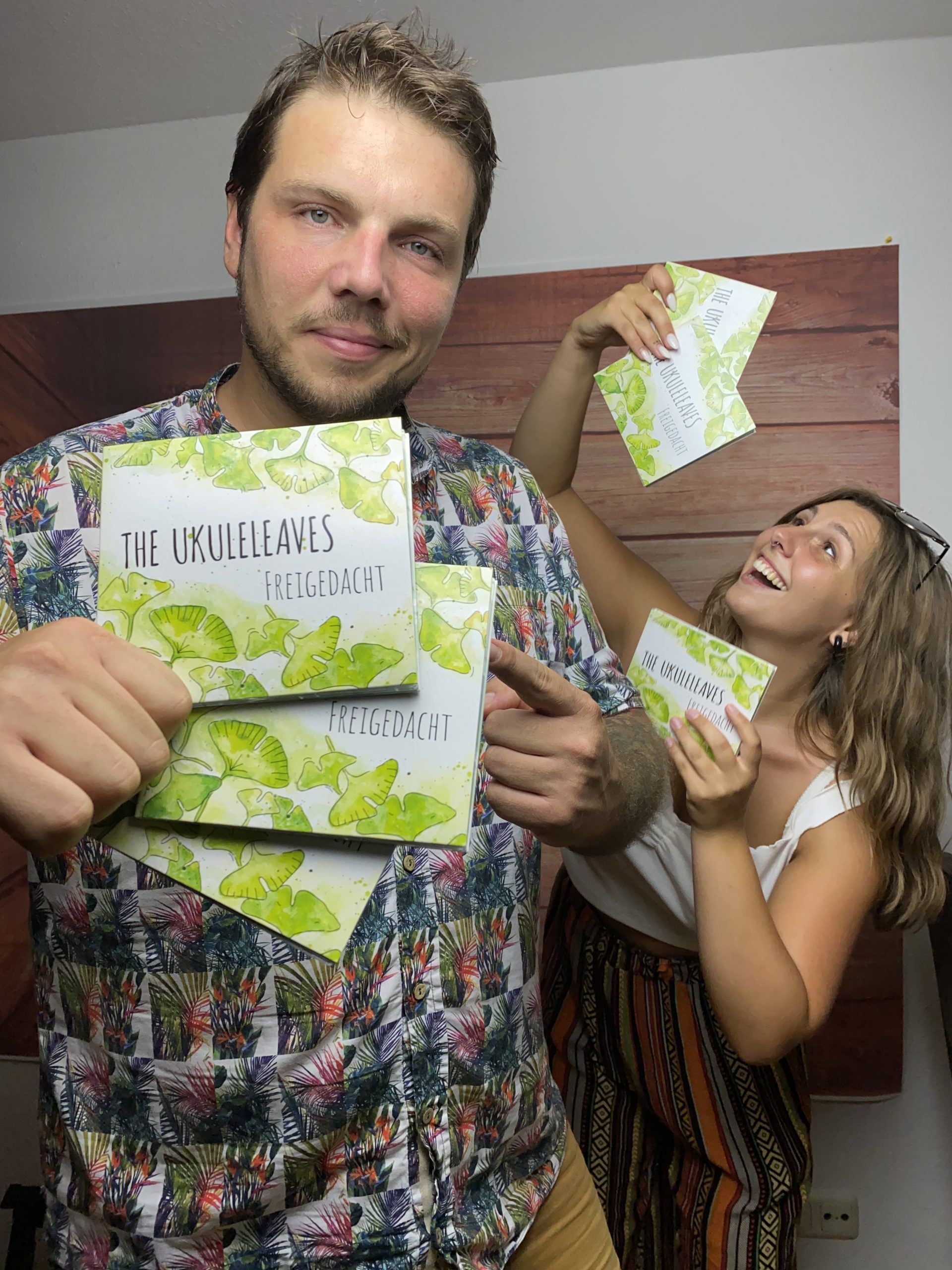 THE UKULELEAVES ALBUM RELEASE!
Flight Artists Andi and Larissa from @the_ukuleleaves have just released their first album called "Freigedacht". If you haven't checked it out already, it's available on Spotify and Itunes! You can also buy the CD here. 
We were curious about the experience they had launching their crowdfunding campaign, composing an album away from each other, and recording during quarantine, so we asked them a few questions to understand this amazing experience.
The journey first started with a crowdfunding campaign in which they were supported by the entire ukulele community, friends, family, and more. Very quickly they reached their goal and their dream started taking shape. They started their creative process where they composed their songs based on actual stories. Every song in this album has a story of its own.
From the beginning, the duo had an idea to build a studio in a remote vacation home and record all songs live. However, due to the Covid-19 pandemic, those plans were cut short and they had to move their recording to a rehearsal room to record the entire album in only a few days. In the end, everything came out great.
Here is the full interview we did with Larissa & Andi regarding their experience recording their new album "Freigedacht". 

WHAT WAS YOUR INSPIRATION FOR THE ALBUM?
We started making music together in 2018 and played many street music/ busking festivals over the next two years. We have traveled a lot during this time and a lot of good things happened. It was very important for us to create something that represented all the things we experienced during that time. The inspiration for our songs came from the encounters with people and the memories we created "on the road".
YOU HOSTED A CROWDFUNDING CAMPAIGN FOR THE ALBUM AND YOU GOT A LOT OF SUPPORT FROM EVERYONE IN THE COMMUNITY. HOW DID IT FEEL WHEN YOU REACHED YOUR GOAL TO BE ABLE TO FUND YOUR ALBUM?
We didn't expect to actually get that much support and are extremely grateful for it. When we reached the crowdfunding goal, it was a special moment for us as our dream took shape. According to the motto: Now we are really getting serious about recording. To do such a project and to know that there are so many people out there who support us is a great feeling. And to be conscious about the fact that those people are part of our project is even better.
HOW WAS YOUR SONGWRITING PROCESS?
The songs were created in a flowing process. One of us had a melody ready, which we then worked out together. An important thing about our songs is that they each reflect a story and we made sure to know which story we wanted to play even before composing. So, every song in the album tells its own story. 
This is the reason why we put our effort and energy into another part of the Album: the booklet. There,  you'll find a story/ poem to each original song. It gives you a special room for interpretation. (At this point a huge DANKE and THANK YOU to all our friends who translated the german version of our stories and poems into another language which makes the album more special in its way of interculturalism)!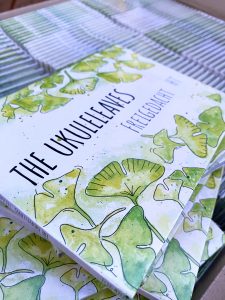 WHAT DOES "FREIGEDACHT" MEAN? WHY DID YOU CHOOSE THAT NAME FOR THE TITLE OF THE ALBUM?
"Freigedacht" is the union of two german words: "free" and the participatory adjective of "thought". To us this reflects as "let your thoughts run free – let them flow". 
WHICH SONG  IS YOUR FAVOURITE THE ALBUM? WHY?
Andi: Breeze.
Larissa: Breeze!
You will find the meaning and story behind this song in our booklet.
In brief: it's about upheavals and new beginnings.
HOW WAS IT RECORDING YOUR ALBUM? DID YOU RECORD IT IN A PROFESSIONAL STUDIO OR A HOMEMADE STUDIO?
From the very beginning we had the idea to build a studio in a remote vacation home and record there for several days in peace. Our plan was to record all songs live and without any safety net, to make them feel as real and true as possible. Our producer and sound engineer would also be on site 24 hours a day, which would allow us to record at any time of day or night. Unfortunately the vacation home was cancelled three days before the planned recordings due to travel restrictions caused by the Corona Pandemic.
We then moved to a nearby rehearsal room at short notice and set up a complete recording studio there which (thank god!) worked out!
HOW LONG DID IT TAKE TO RECORD EVERYTHING?
Unfortunately, we had to record during the lockdown which means we were able to record for only two days. The actual work behind the album began a few weeks before and ended in august. This includes: making a concept,  a pitch and trailer for our crowdfunding campaign, creating this campaign via startnext, working with Julia on the CD-Artwork (she did an incredible job!), writing our texts for each song in the booklet, recording the entire album, Post-production, mix & master. We are happy that we found a Label which helped us  publish the CD.
ANY FUNNY STORIES HAPPENED DURING THE RECORDING PROCESS?
Yes! After recording the perfect take, we discovered that Andi's stomach growl (or borborygmus/ tummy rumbles) spoiled the recording! 
WHAT WAS THE HARDEST THING DURING THIS ENTIRE PROCESS? 
The hardest thing were the circumstances and troubles due to the corona pandemic. We had to change the location on a short notice and had much less time to record. At the end of the first day, the news on the radio rolled over and military helicopters flew around. We knew that we had to finish the recordings the next day which put us under incredible pressure. It was really difficult to record the album under these conditions. Thanks to our  fantastic production manager Andreas, it somehow worked out great. Post-production then dragged on for a very long time, as everyone involved had to struggle with the travel restrictions and the general effects of the corona pandemic.
ARE YOU HOPING TO DO A TOUR AND PRESENT YOUR ALBUM? (ONCE THE PANDEMIC HAS SLOWED DOWN OF COURSE). 
Yes of course! ☺ 
WHAT ARE YOUR PLANS FOR THE FUTURE?
Playing festivals and writing new songs. And travel around with Andi's Ukulele mobil of course ☺ 
The Flight family is thrilled for Larissa and Andi and we're certain that this is just the beginning of a great music career! We cannot wait to see them perform again and present their album LIVE for the world to enjoy! In the meantime, you can check it out on Spotify or on Itunes! 
Andi plays custom Flight all-solid cedar-acacia baritone ukulele.
Larissa plays custom Flight all-solid acacia ukulele.