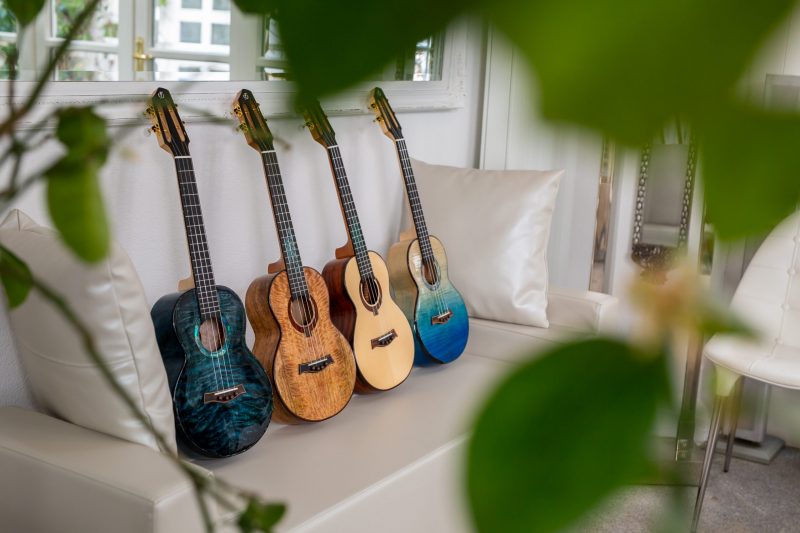 SAY HELLO TO FLIGHT ANNIVERSARY SERIES!
Flight Ukuleles is celebrating its tenth anniversary! While the traditional materials for a tenth anniversary are tin and aluminum, Flight has decided to pass on tradition and to celebrate its tenth anniversary by releasing four amazing tenor ukuleles! While Flight is known for making high quality, affordably ukuleles, these anniversary models represent a new frontier for the company—solid wood ukuleles individually crafted by a master luthier, with a level of craftsmanship, playability, and sound rivaling the finest ukuleles on the planet.
We are calling these ukuleles the A10 series (Tenth Anniversary), and they are made from of the highest-grade solid wood: flamed and quilted maple, mango, and spruce/cocobolo. Each ukulele features a special headstock, ebony fingerboard and pin bridge, high quality rear-facing tuners, bone nut and compensated saddle, and Brazilian fluorocarbon strings. Two of the models—a solid mango and a spruce/cocobolo—feature a dragon inlay made from turquoise. The dragon is the symbol of Ljubljana, Slovenia, the hometown of Flight Ukulele. The Ljubljana Dragon is used throughout our community, and we wanted to pay special tribute to our home with these anniversary ukuleles. The mango and spruce/cocobolo models also include a red rosette with an inlaid "X" (in honor of the tenth anniversary). The maple models—flamed or quilted—feature an amazing abalone rosette and abalone binding, as well as a comfort edge.
While we will continue to offer these ukuleles in the future, as individually crafted instruments, the production of these models will be limited. Please note: these ukuleles represent a whole new level in both craftsmanship and price from Flight Ukulele, and we cannot wait to see these instruments come alive in the hands of our Flighters. It has been an honor to travel this journey with the ukulele community over the past ten years, and we look forward to what is coming during the next ten! Thank you for all of your love and support for the Flight brand!