With an avid thirst for knowledge and musical curiosity from an early age, Dani Usero, born in Barcelona, began to find his musical path early on.
With a background in multi-instrumentalism and guitar, he graduated from the higher conservatories of Spain. He began his path with the ukulele around 2011, developing a technique involving guitar and ukulele styles which led to his unique and personal approach to playing.
His musical quest has led him to explore and translate a wide variety of styles to the ukulele, ranging from modern music such as pop and rock, classical pieces and the music of his home country, flamenco.
With undeniable talent, a unique style of playing and a contagious passion on stage, Dani Usero promises to surprise the listener with what can be done on the ukulele!
—
Ávido conocimiento y de curiosidad musical desde muy temprana edad, Dani Usero, este músico nacido en Barcelona, empezó muy pronto a buscar su camino musical.
Con una faceta multiinstrumentista y guitarrista titulado en los conservatorios superiores de España,  inicia su camino con el ukelele sobre el año 2011 realizando una hibridación continua de técnicas y práctica guitarrística al ukelele que le llevará a confeccionar su propia técnica única.
Su sed musical le ha llevado a explorar y traducir al ukelele una amplia variedad de estilos que comprenden desde la músicas modernas como el pop y el rock, las piezas clásicas y su música más cercana, el flamenco.
Con una técnica innegable, un estilo único de tocar y una pasión contagiosa en el escenario, Dani Usero promete enseñar al oyente un mundo paralelo a lo que creía creer que se podía hacer con el ukelele.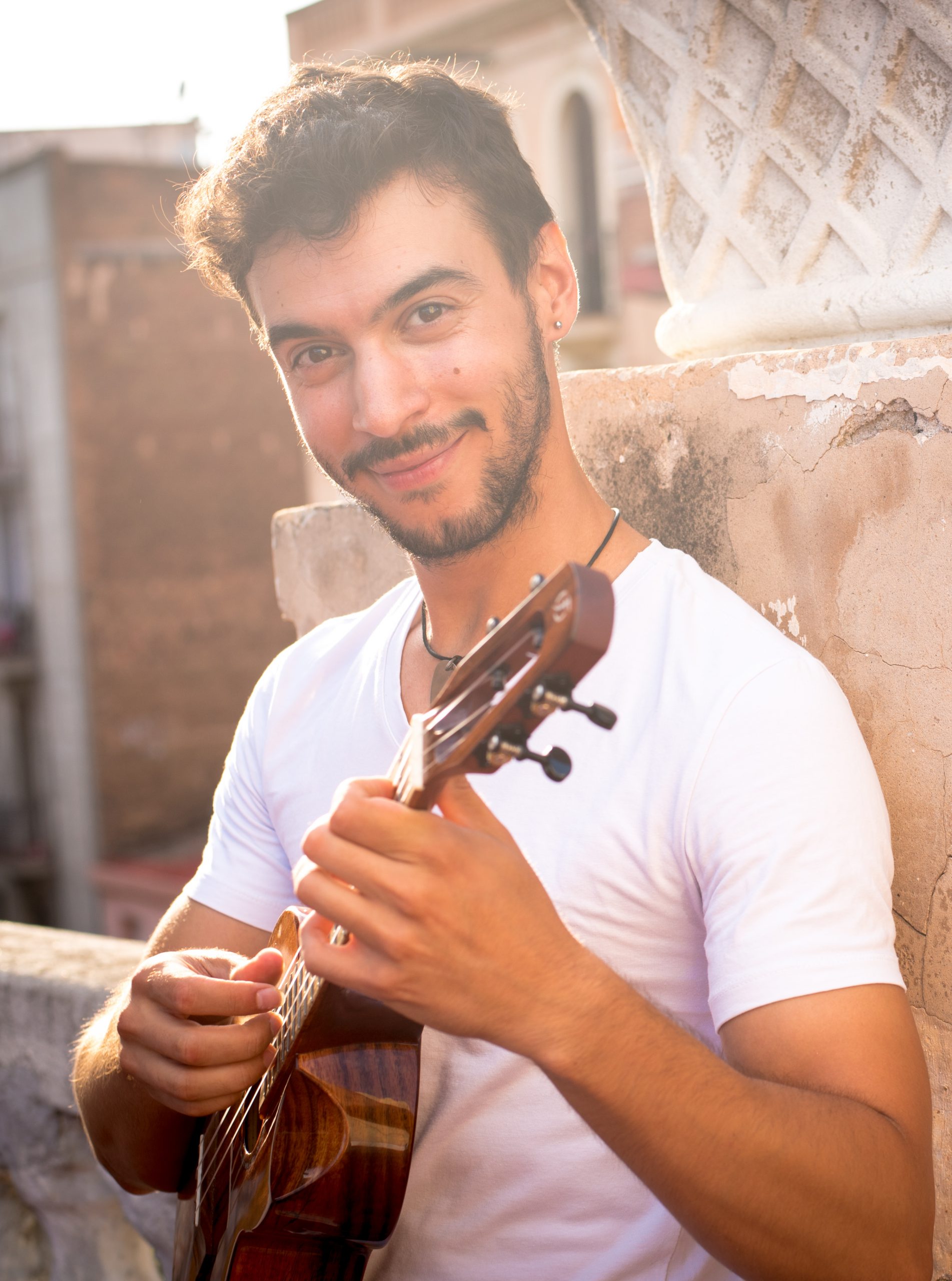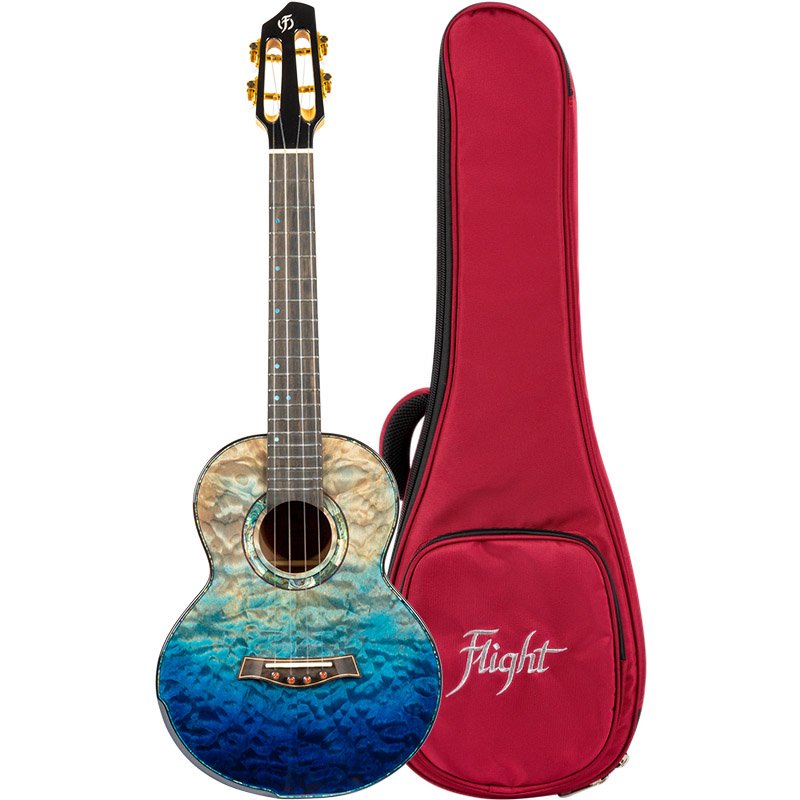 The Flight A10 QM Faded Blue Tenor Ukulele is a breathtaking instrument that sounds and plays as good as it looks.  Featuring the highest grade quilted maple, the instrument is packed with features including an ebony fretboard, ebony bridge, and ebony comfort edge, a maple neck, a special 10th anniversary headstock, abalone rosette and purfling, a pin bridge, Brazilian fluorocarbon strings, and an updated deluxe gig bag.  Simply put, it is a ukulele you will pick up and never want to put down.
Flight Ukuleles is celebrating its tenth anniversary!  Flight has decided to celebrate its tenth anniversary by releasing four amazing tenor ukuleles.  While Flight is known for making high quality, affordably ukuleles, these anniversary models represent a new frontier for the company—solid wood ukuleles individually crafted by a master luthier, with a level of craftsmanship, playability, and sound rivaling the finest ukuleles on the planet.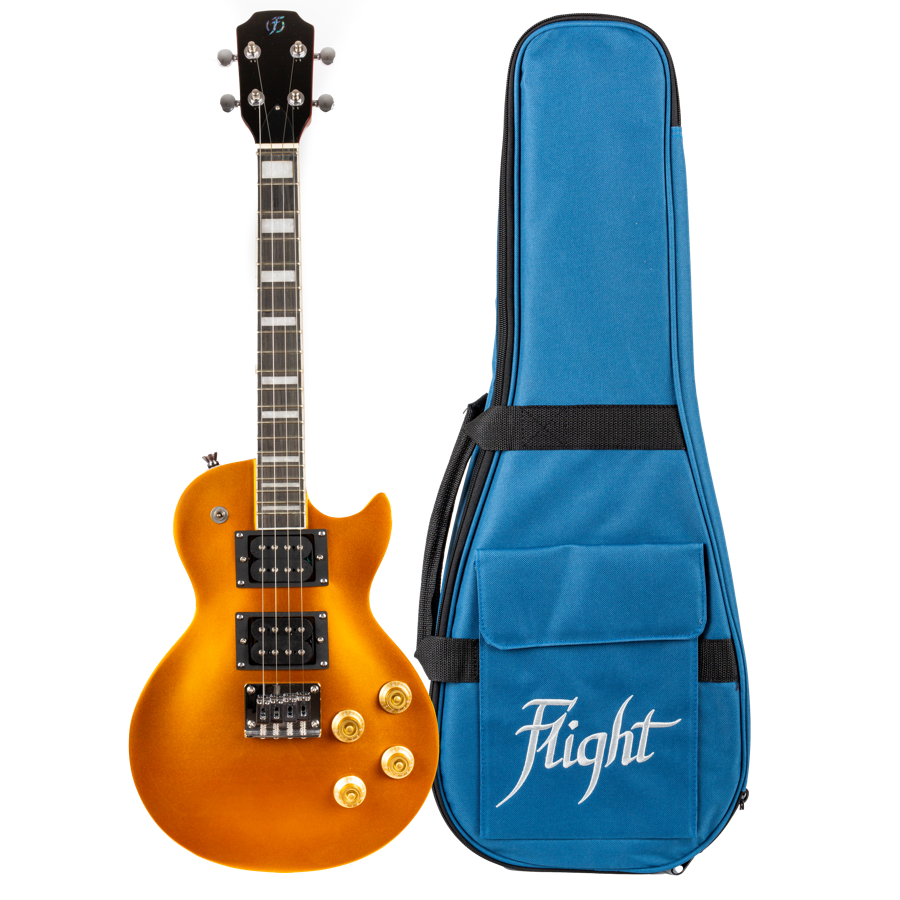 Get ready to rock! The Flight Centurion, Vintage Gold, Solid Body Tenor Ukulele is a single cutaway steel string electric ukulele, offering the tonal possibilities of a true electric ukulele from the trusted name of Flight Ukulele. The ukulele itself is a thing of beauty, featuring a vintage gold top with rich mahogany body and neck. The ukulele features a bound fretboard, cream binding, adjustable bridge, hardtail fixed bridge, and dual humbucker pickups each with its own set of controls for volume and tone, plus a three way switch. With its classic looks and fantastic sound, you will be ready to rock in any venue, as well as to add any effect pedals, or stompboxes to your final amplified sound. Flight Electric Ukuleles represent great value and high quality–so buy yours today and take Flight on your electric journey!