Flight Pathfinder Solid Body Transparent Black Electric Tenor Ukulele
289,00 €
Are you ready to rock? The Flight Pathfinder, Transparent Black,  Solid Body Tenor Ukulele is a dual cutaway steel string electric ukulele, offering the tonal possibilities of a true electric ukulele from the trusted name of Flight Ukulele. The ukulele itself is stunnning with a gradient black flamed maple top with dark brown basswood body and neck. The ukulele features a maple neck, inline headstock, white ABS binding, hardtail fixed bridge, back-through stringing, humbucker and single coil pickups, chrome hardware, single controls for volume and tone, and a three way switch. With its classic looks and fantastic sound, you'll be ready to rock in any venue, as well as to add any effect pedals, or stompboxes to your final amplified sound. Flight Electric Ukuleles represent great value and high quality–so buy yours today and take Flight on your electric journey!
Description
Flight Pathfinder Transparent Black Solid Body Electric Tenor Ukulele
Tenor transparent black, solid body electric ukulele with dual cutaway body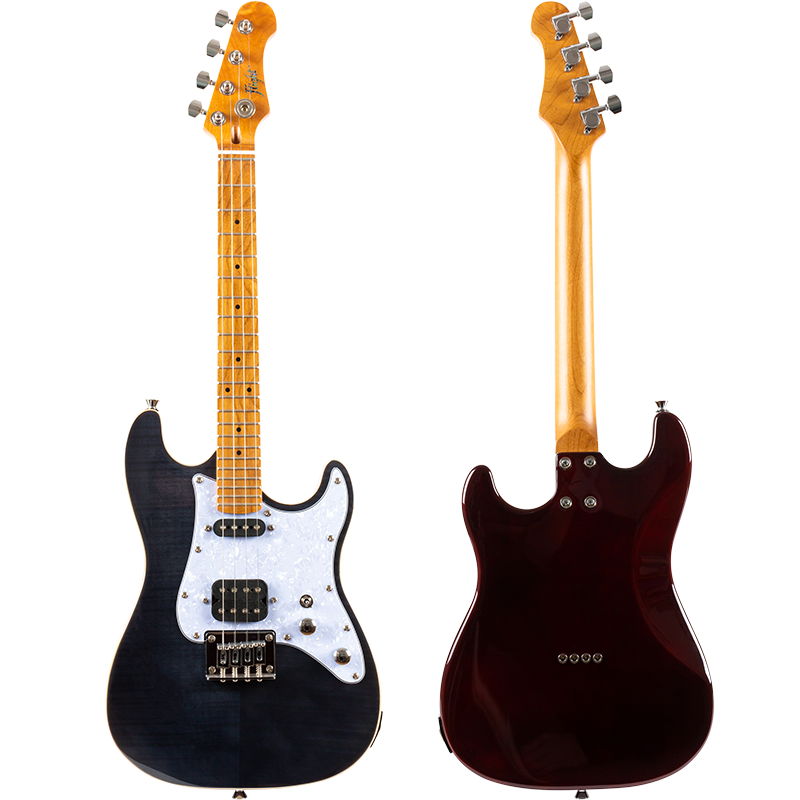 Let your music take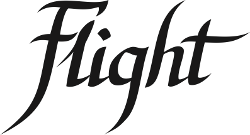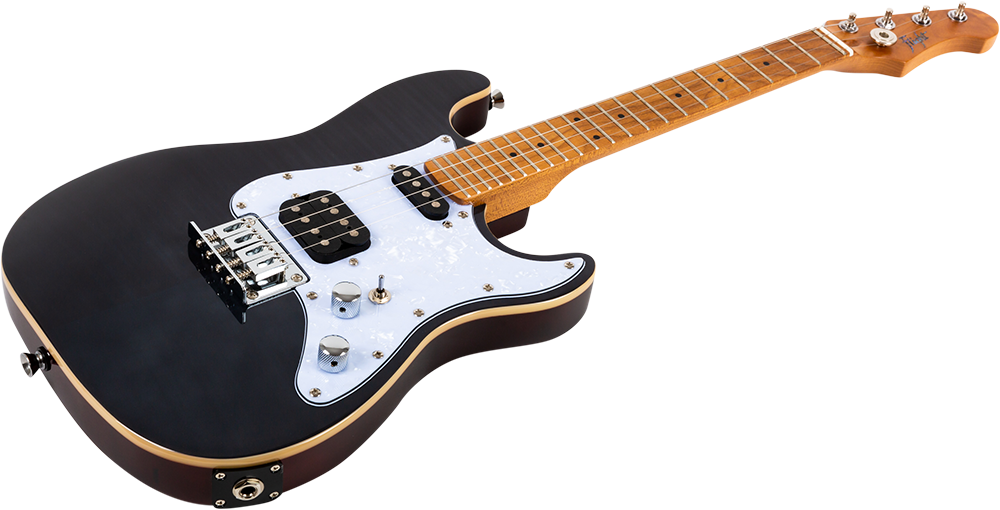 Flame maple goodness
Flame maple veneer and basswood body
The Flight Pathfinder, Solid Body, Transparent Black Electric Ukulele features a basswood solid body with a stunning gradient black flamed maple veneer, while the basswood features a black gloss finish.  The combination creates an electric ukulele that looks as good as it sounds!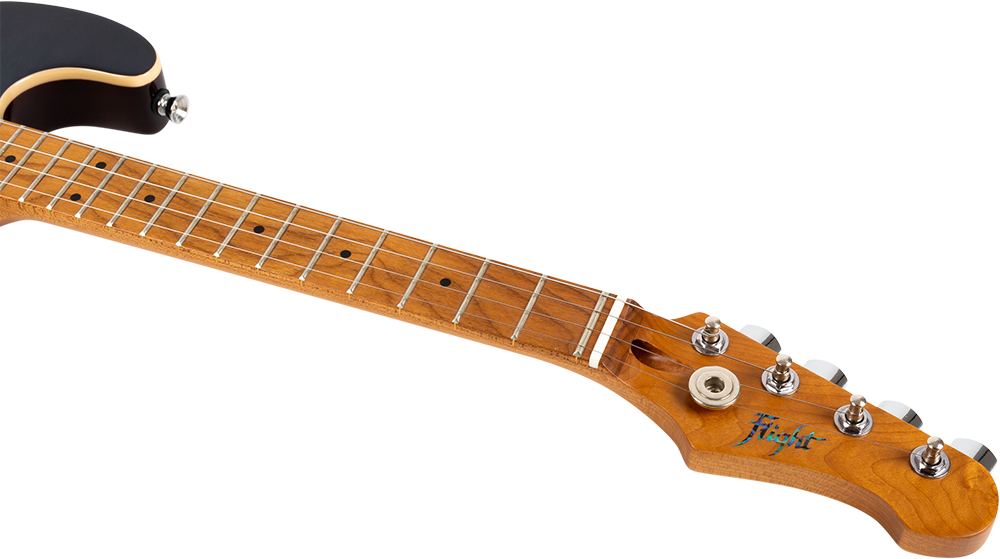 Let's play
In the tradition of solid body electric guitars, the Flight Pathfinder features a neck made of roasted maple, which is strong, stable, and looks great!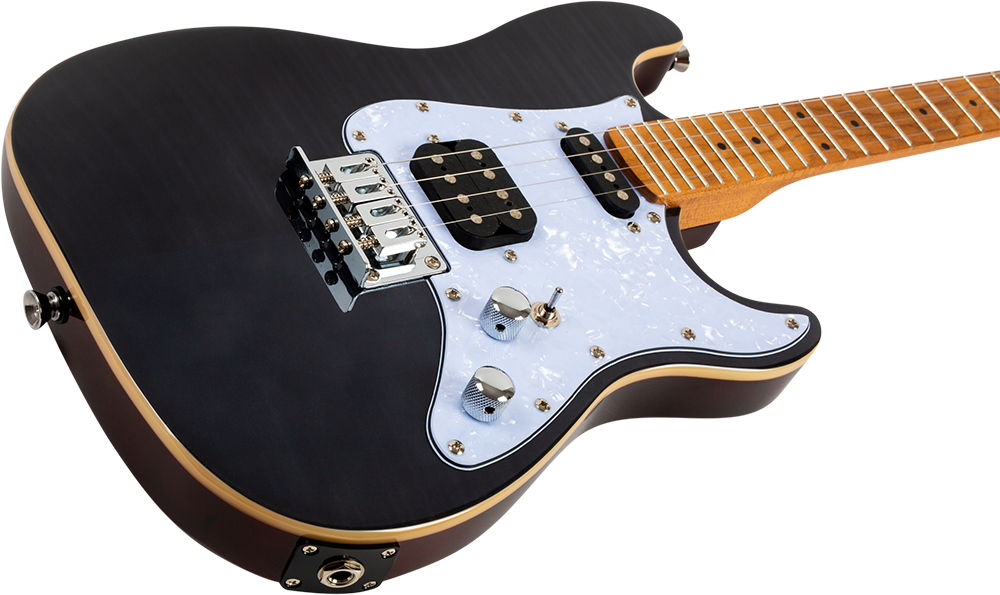 Classic design
The Flight Pathfinder features dual cutaways, providing access to the higher frets and sharing its styling with the many different dual cutaway electric guitars that are on the market.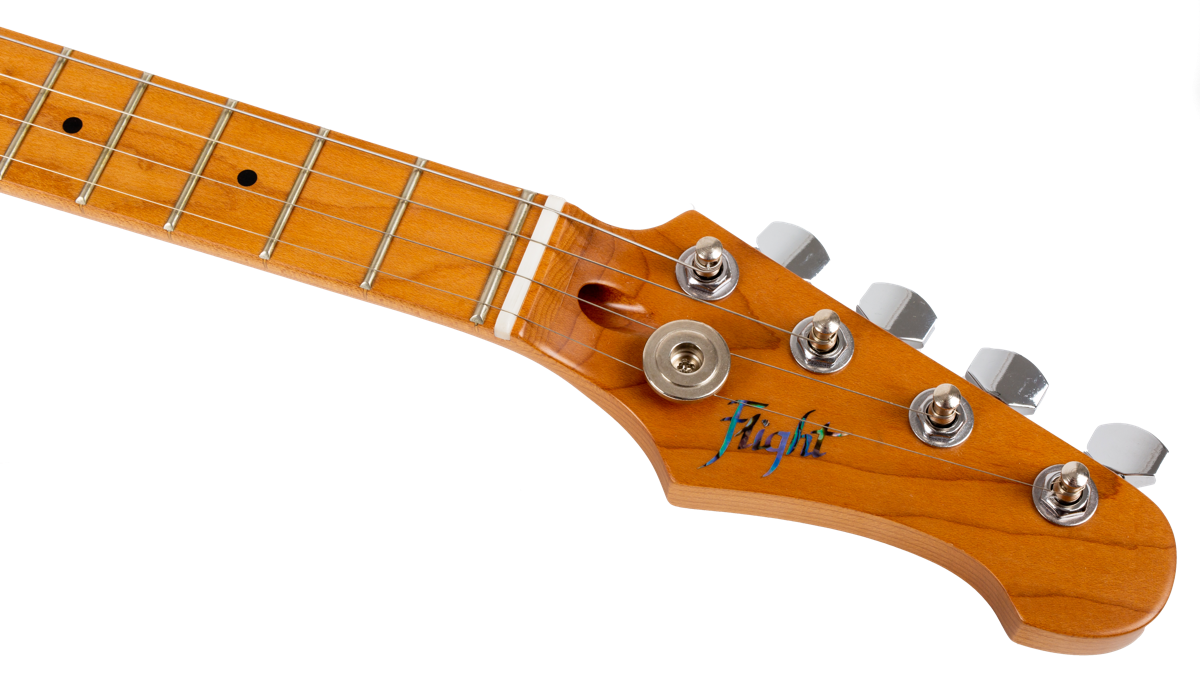 A great playing experience
Bone nut, zero fret, and hardtail fixed bridge
The Flight Pathfinder features a real bone nut, zero fret, and hardtail fixed bridge, to provide consistent string spacing, good intonation, good action, and to help to generate a wonderful core tone.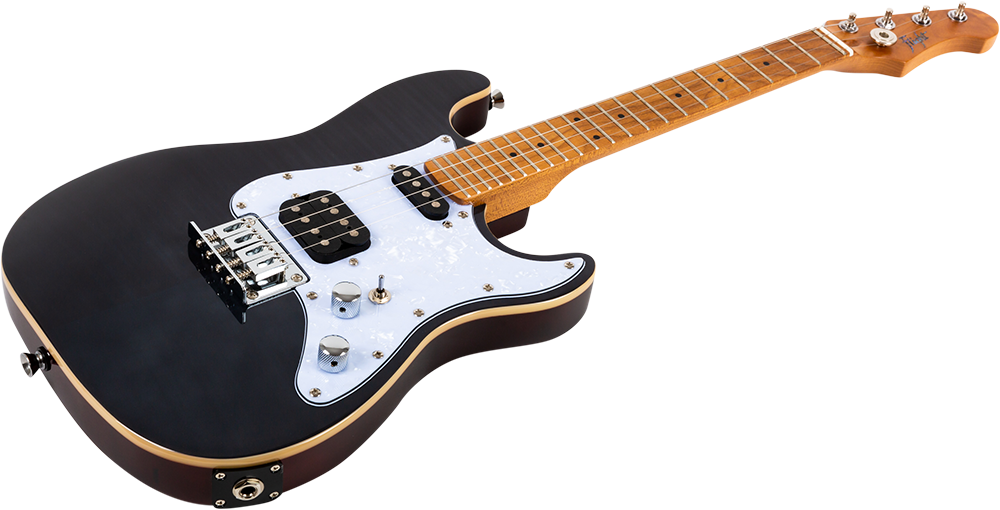 Everything for comfort
Strap buttons and body contour
The Flight Pathfinder includes dual strap buttons, plus an attractive and ergonomic body contour, making it easy and comfortable to play.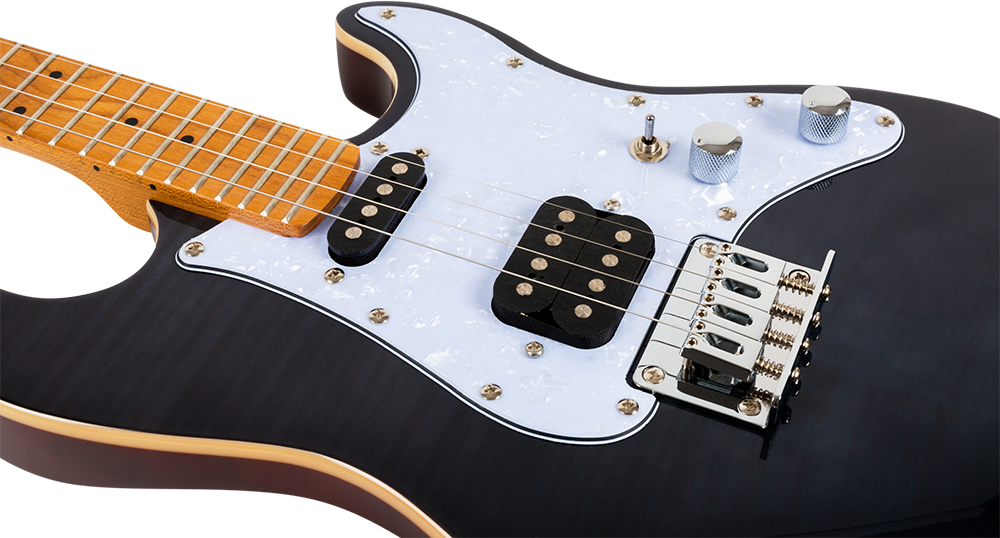 Traditional electric components
Humbucker, Single Coil, or Both?
You will be able to find just the right sound with the electrics on the Flight Pathfinder.  The solid electric body ukulele includes two pickups: one humbucker pickup, and a single coil pickup, chrome volume and tone controls, and a three way switch allowing you to use a single pickup or both!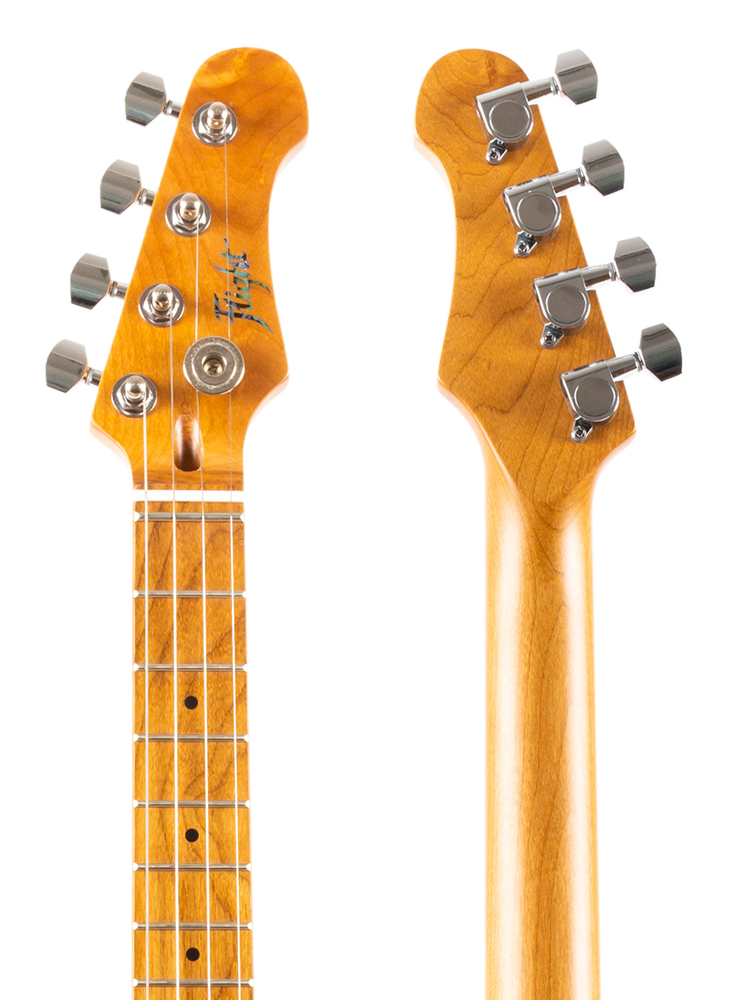 It all starts with the head
Completing its appearance, the Flight Pathfinder includes an inline headstock, offering great looks and making the instrument easy to tune with its closed gear tuners.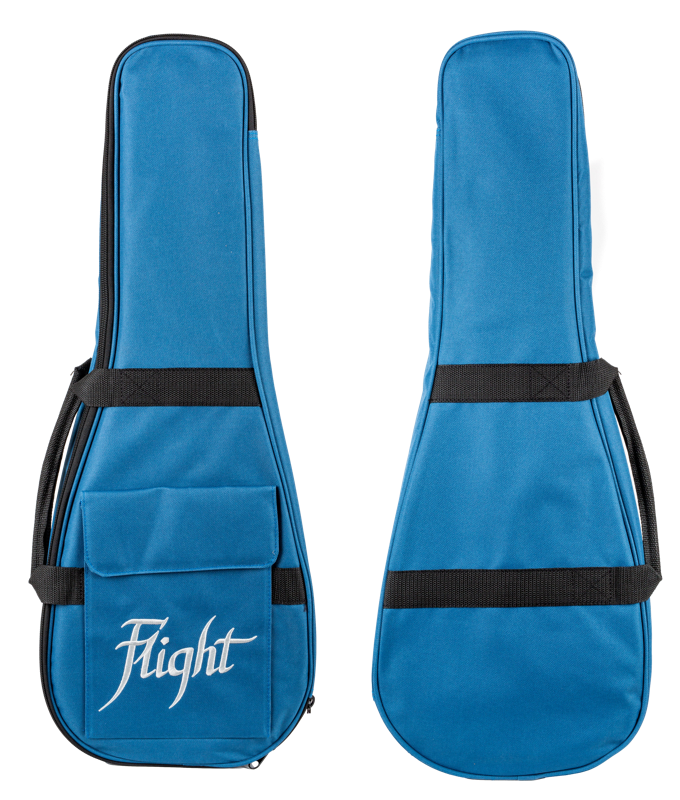 Light blue gig bag
All the protection you need
For the Rock Series, Flight has introduced a new shade of gig bag: light blue.  The gig bag is padded with 15mm of padding, with a padded handle and front pocket,  keeping your solid body electric ukulele safe during your travels.
Specifications
Every tiny detail matters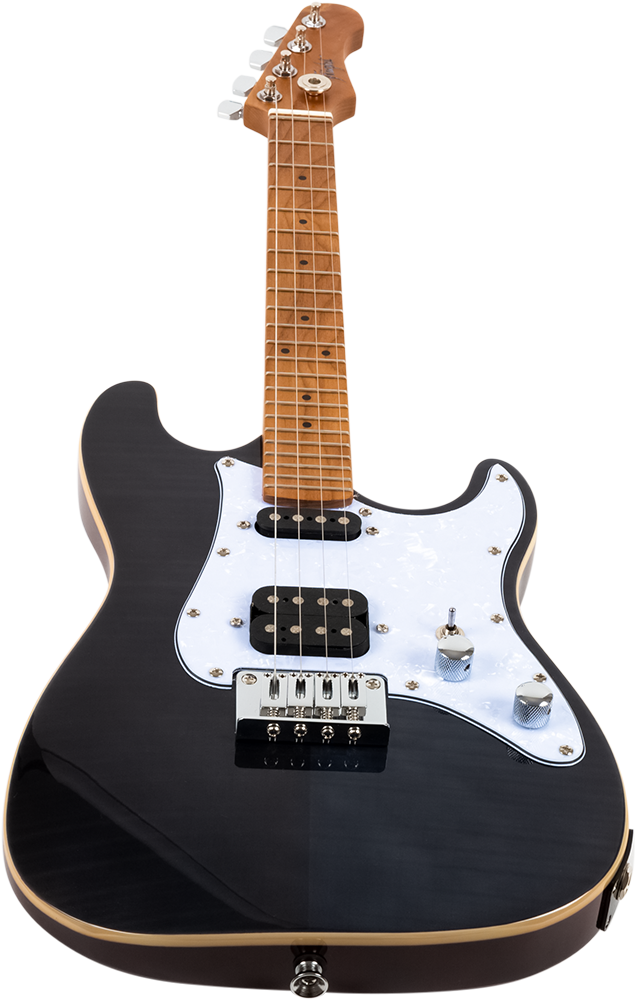 Body
Body Shape: Tenor (22 frets, 14 to body)
Body: Gloss Dark Brown Basswood
Veneer: Gradient Black Flame Maple
Neck
Neck: Roasted Maple
Fretboard: Roasted Maple
Nut: Bone
Nut Width: 35mm
Bridge: Hardtail Fixed Bridge
String Method: Body Through
Pickups
Pickups: 1 Humbucker Pickup, 1 Single Coil Pickup, and a Three-Way Switch
Other
Position Markers: 3rd, 5th, 7th, 10th, 12th and 15th, and 17th frets.
Tuning: Linear GCEA
String Gauges: 
・1st String: 0.010 inches
・2nd String: 0.013 inches
・3rd String: 0.017 inches
・4th String: 0.026 inches
Premium Features: Tenor ukulele, electric ukulele, solid body, metal strings, dual cutaway, flame maple black gradient top, basswood body, roasted maple neck, bone nut, closed geared tuners, zero fret, linear headstock, black front position markers, side position markers, white ABS binding, chrome controls, humbucker and single coil pickups, controls for volume and tone, three-way switch, and hardtail fixed bridge.
15mm padded gig bag included!
In Action
See the Flight Pathfinder Solid Body Tenor Ukulele in action!