Flight WUS-3 Mahogany Soprano Ukulele
299,00 €
Flight is pleased to announce the return of the WUS-3 soprano ukulele.  The WUS-3 was first introduced as a Hawaiian-made ukulele.  The factory moved back to Japan due to the challenges of the pandemic, and now are making these same wonderful ukuleles in Japan–which also has a rich tradition of quality ukuleles.  The WUS-3 is made from high quality laminate mahogany.  Don't be fooled by the word "laminate" or the "plain" appearance of the WUS-3.  With its traditional build and Japanese fluorocarbon strings, the sound of the WUS-3 is exceptional: warm, centered, and strong.    In terms of playability, we have used a slightly wider nut (36mm) with a slimmer neck profile for these Flight ukuleles.  In addition to the looks, sound, and playability, the laminate construction also makes the WUS-3 easier to care for than solid ukuleles.  The combination of these features makes these ukuleles a joy to play and hear.
Description
Flight WUS-3
Laminate mahogany soprano ukulele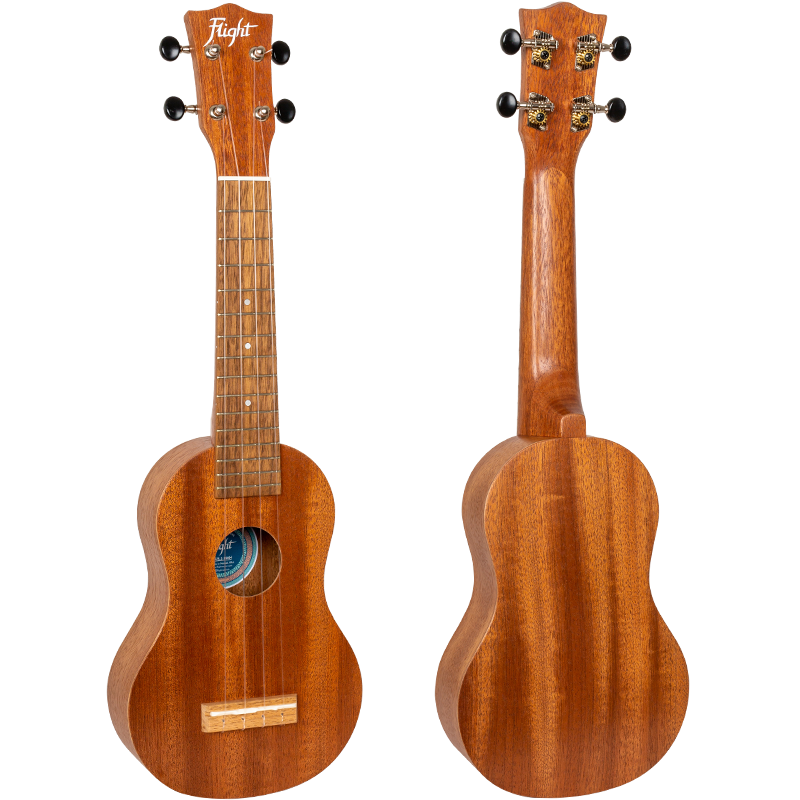 Let your music take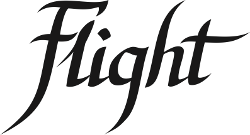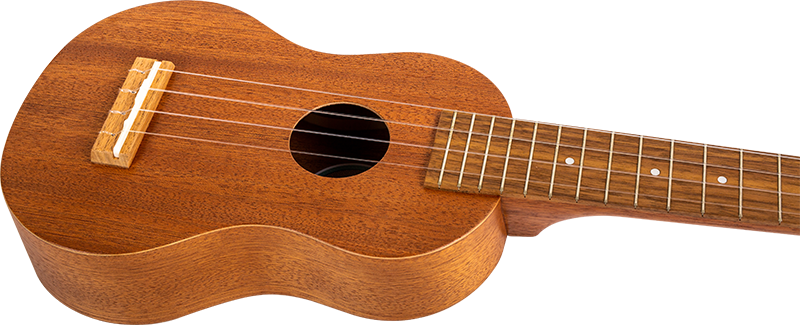 Centered sound
Mahogany is one of the most commonly used woods for musical instruments, whether solid or laminate.  It is a hard wood, but it is not as dense as other hard woods such as rosewood or walnut.  Mahogany produces a sound that is focused, loud, and centered in the mid and lower ranges.  The WUS–3 uses laminate mahogany of the highest quality, paired with traditional construction. We have increasingly found that laminate woods gives us a huge amount of control over the sound of an instrument which is why we can create a beautiful sounding ukulele without breaking your bank. You will love how it sounds and plays.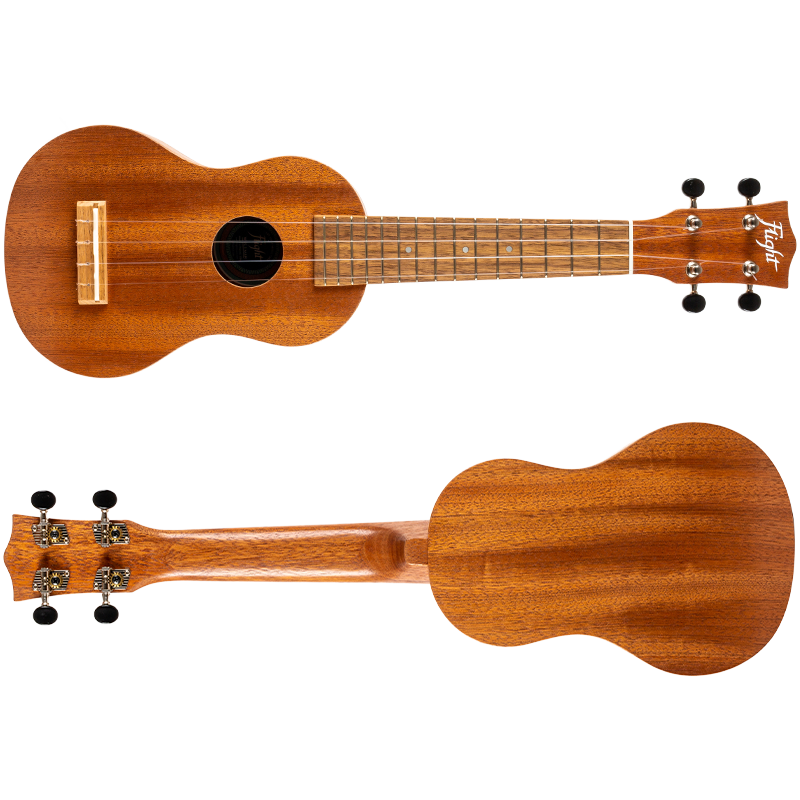 Simple yet complex
Mahogany neck & walnut fingerboard
Don't let the simple design of the 
WUS
–
3
 fool you into thinking it is a run-of-the-mill laminate ukulele.  The 
WUS
–
3
 is built in a traditional style with a fret board made of attractive pacific walnut.  It has fifteen frets, and the neck has a thin D-shape profile.  Combined with great action, the 
WUS
–
3
 is a joy to play.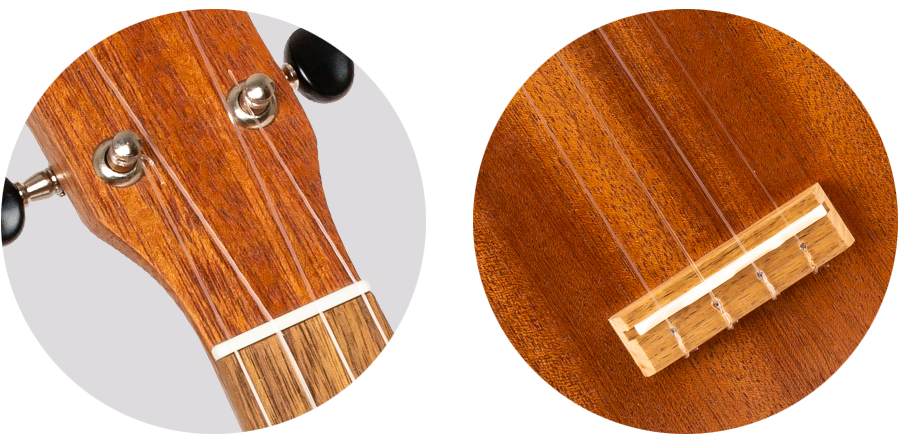 Breathing room
The WUS–3 uses a bone nut and saddle to better transmit vibrations to the sound board.  The nut is a tiny piece of the ukulele, but it has an incredible impact on the playability of an instrument.  The WUS–3 comes with a slightly larger nut than many Flight ukuleles, measuring in at just over 36mm.  A wider nut makes it easier to play a shorter scale ukulele, such as the case of the WUS–3, which is a soprano scale ukulele.  Combined with great action and a wider nut, you will find this ukulele to have more finger room than most soprano ukuleles and even some larger scale ukuleles!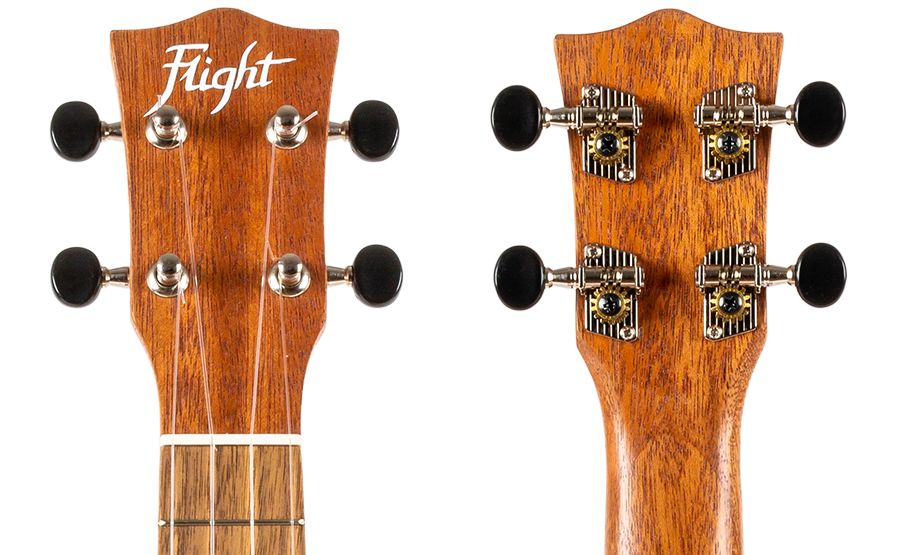 It all starts with the head
Good-looking and easy to tune
Headstock design is an integral part of our identity. All Flight ukuleles feature a carefully-designed headstock fitted with geared tuners that will always hold their tuning.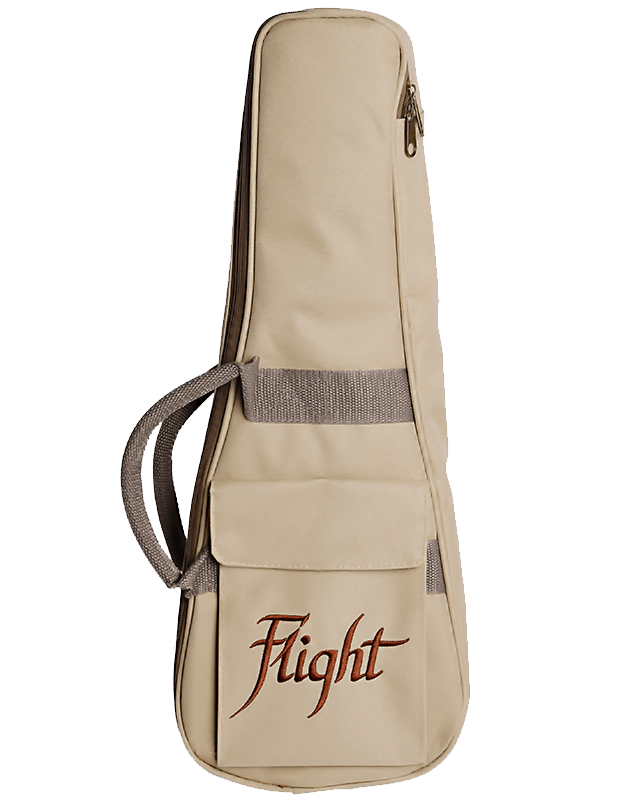 Light and stylish gig bag
To top it all off, no Flight uke ever leaves our nest without being safely wrapped up in a gig bag.
Specifications
Every tiny detail matters.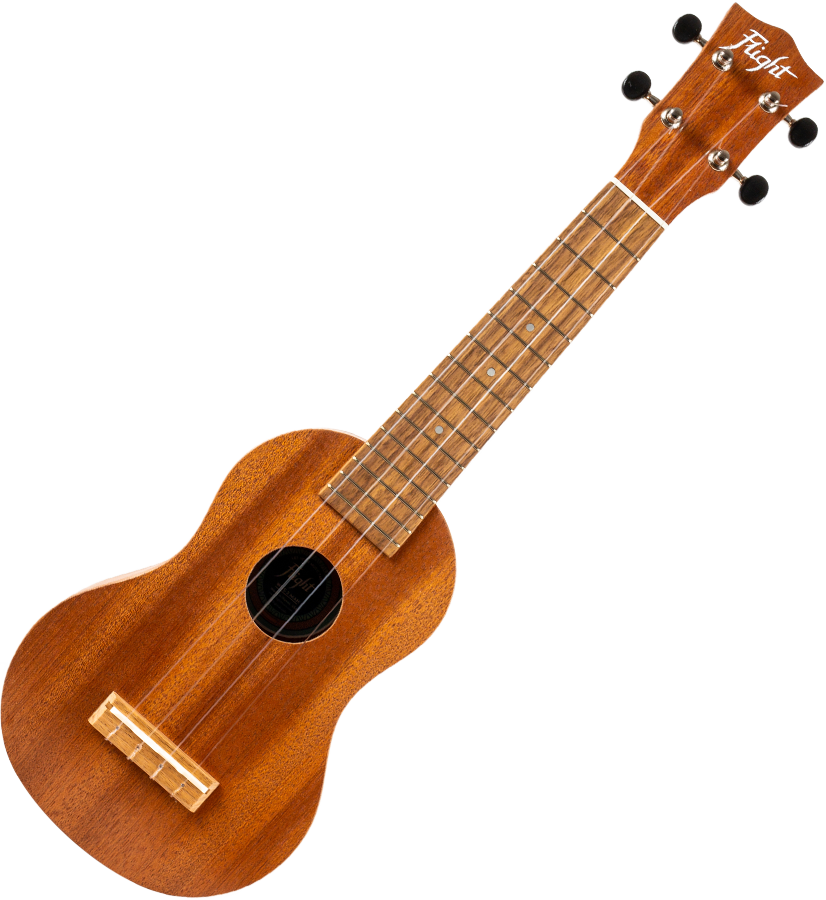 Body
Body Shape: Soprano (15 frets)
Top: Laminate Mahogany
Back & Side: Laminate Mahogany
Bridge: Pacific Walnut
Neck
Neck: Mahogany
Fretboard: Pacific Walnut
Nut & Saddle: Bone
Nut Width: 36mm
Strings: Flight Fluorocarbon
Other
Position Markers: 5th, 7th and 10th frets.
Premium Features: Made in Japan, Exceptional Sound, Wider and Slimmer Neck Profile, Open Geared Tuners, Flight Fluorocarbon Strings
Includes a gig bag!
In Action
See the Flight WUS-3 Soprano Ukulele in Action.