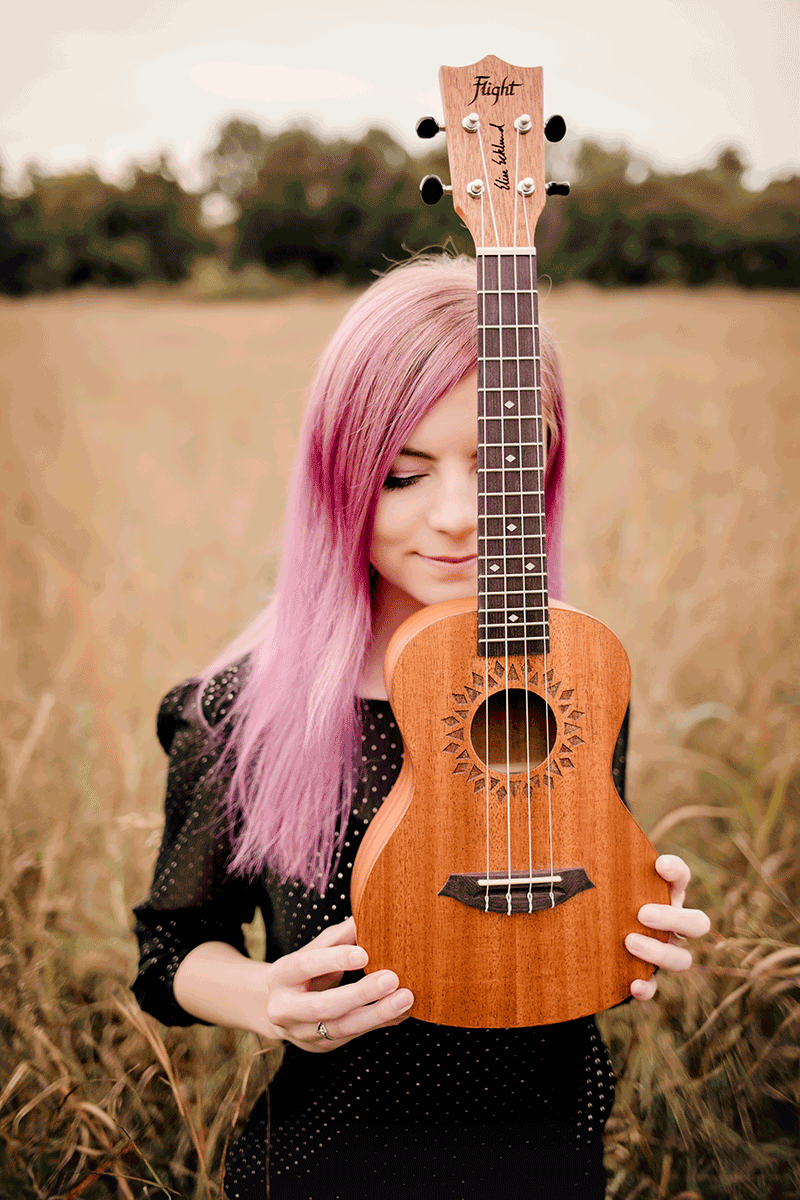 Elise Ecklund Signature Ukulele Story
Around mid August we received an email from Elise which said,  "My audience always talks about how it would be cool if I had my own signature ukulele, and I would love for you to be the brand that I partner with for this project."
We are big fans of Elise and her videos, so of course we instantly replied that we would love to be on board and immediately got to work!
First, we had to choose a model type: Travel uke, Mahogany, or a Spruce-Zebrawood combination. Best suited for the beginner yet still of a higher quality, the Travel, Maho, and Spruce-Zebrawood ukuleles are our most popular models. We could've chosen to use a more affordable tone wood such as sapele, but we decided to use a higher-class mahogany. Elise chose the mahogany version, which we thought to be an excellent choice because of the deep and warm mahogany sound, which matches Elise's sweet personality really well.
The next step was deciding the headstock and bridge shape, and Elise knew exactly what she wanted – A traditional crown headstock with a curvy bridge.
The last step was the most fun – designing the laser rosette. We were worried that it would take quite a while, since some designs can take months until they are ready for production. But with Elise, everything was easy.
She sent us these cute sketches.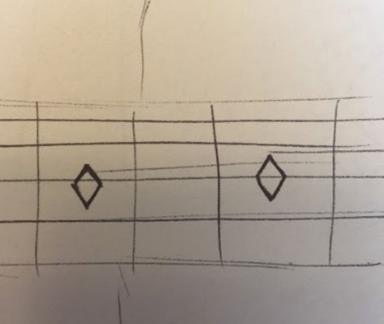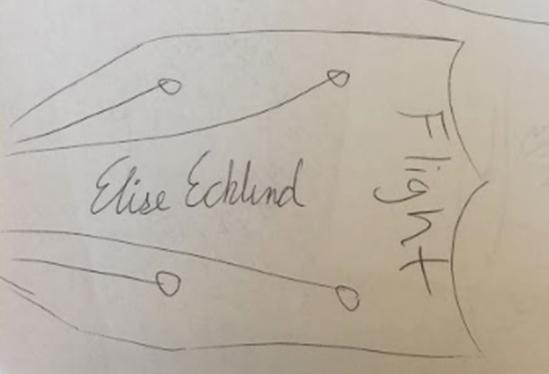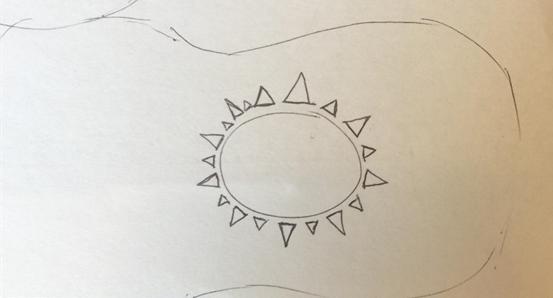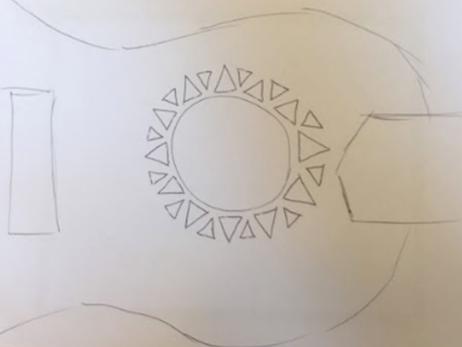 We turned them into the following: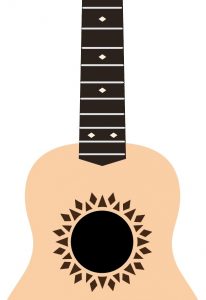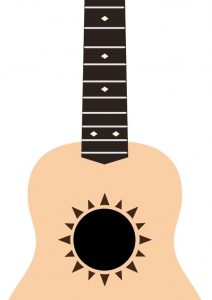 We all agreed that we preferred the first design and that was it! We didn't have to send the designs back and forth with remarks "could you please make the far-right triangle a bit bigger", just like that, without any complications, it was ready in literally a few days!
But that wasn't the end. We knew that regular brown cardboard box just wouldn't do for Elise Ecklund Signature ukulele, so it was obvious that we had to design a super special box. Here too Elise knew exactly what she wanted – she told us that she wanted a black box with a mandala print in turquoise color with the words "Stay Inspired". In few days we had the design ready.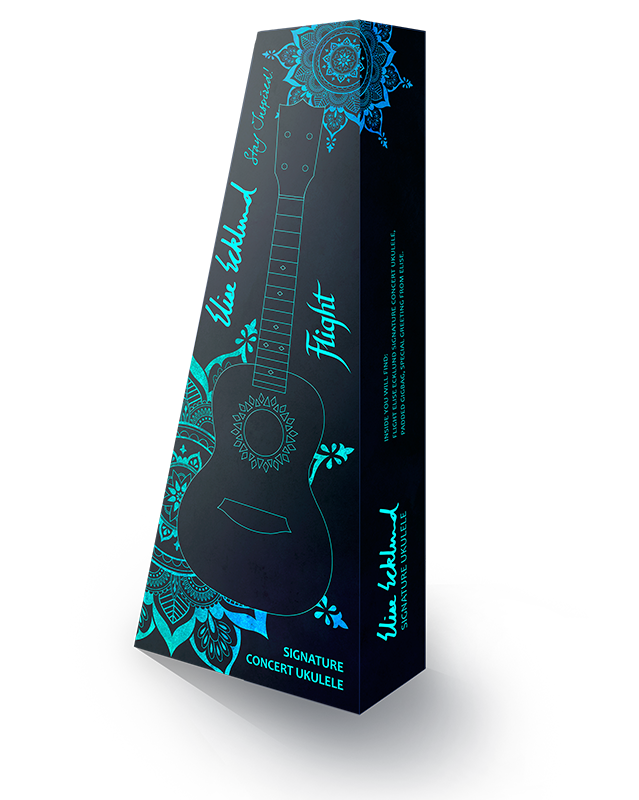 We also wanted to include a special greeting from Elise, to make the ukulele more personal. But we didn't want it to be a regular greeting card, we wanted it to be useful. So surely it had to have some ukulele related useful content, and what can be better than chords or tabs. When thinking about which chords or which songs to use, we instantly knew that it had to be "Für Elise", because it is the song that Elise plays all the time!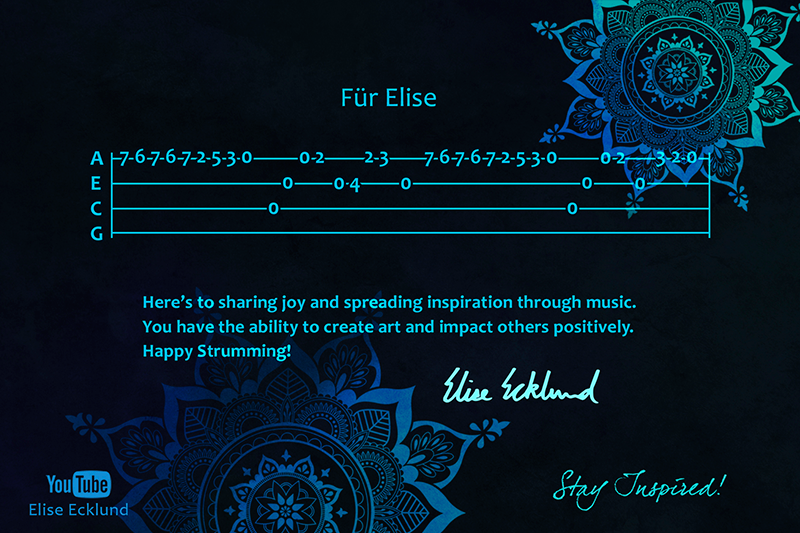 Then we got to work. After about 10 trials, we finally received the headstock engrave which we liked. When the first ukulele was ready, we've sent it to Elise so that she could take some photos of it. When we received the results, we were really amazed – they looked perfect! Oklahoma sunset matched perfectly with the wood and the model looked simply stunning. We were so glad that we've decided to shoot outside and not in the studio!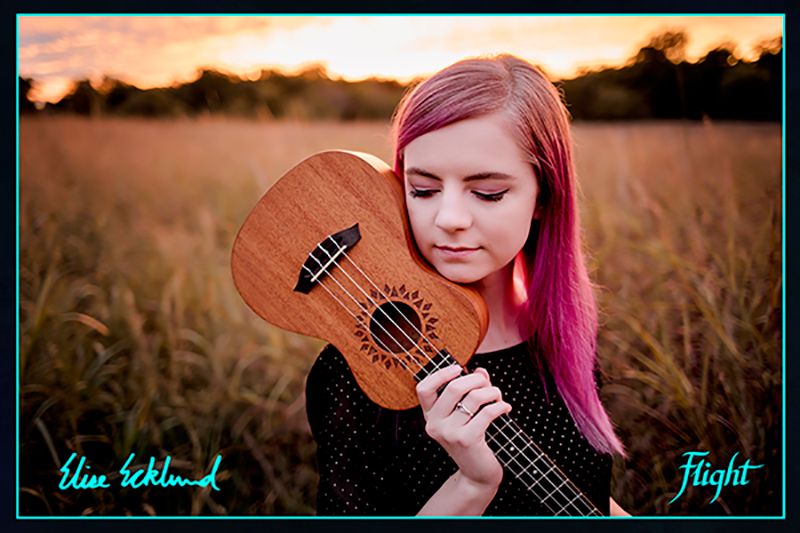 We've launched the ukulele on 22 November 2018. The response has been really amazing, and we are very proud of the result. Special thanks go to Elise for choosing Flight for this project, as well as to our design and production team. We believe that musical instruments help to spread joy and positive message around the globe. Let's make this world a better place together.