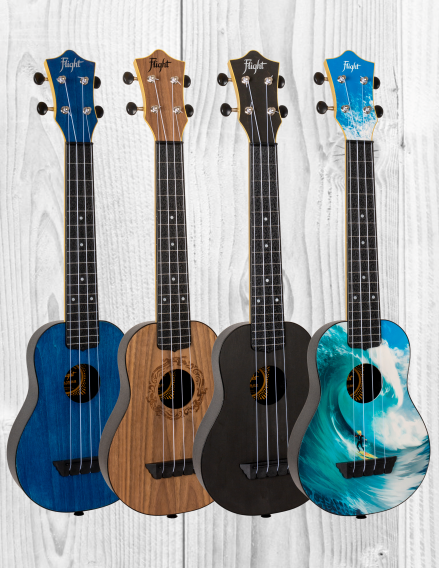 NEW CONCERT-SCALE TRAVEL UKULELES⁠
We are proud to introduce our newest model of travel ukulele, the Flight TUSL. The "L" indicates "Long neck," as the model adds a concert scale neck to the existing body of our Travel Soprano ukulele. You can see a great review of this model by Got A Ukulele here.😊⁠
⁠
Players love the Flight Travel Soprano ukulele. These instruments are known for their great sound, their ability to withstand a host of challenging environments, and for their quality and playability. They are also known for their great value as they are in the same price range as many other entry level ukuleles. With their rounded thermo-moulded plastic body and neck and linden wood top, these instruments challenge the sound quality and playing experience of ukuleles that cost much, much more.⁠
⁠
A number of players contacted us and asked us to make a concert size model of the Travel Soprano ukulele. We thought about the concept of a travel ukulele, and knew that our Travel Soprano already had great volume and tone. Instead of making a larger bodied ukulele, we decided to put a concert scale neck on the body of the Travel Soprano, which allows for increased spacing on the fretboard while maintaining the percussive tone and punch of the original soprano model. ⁠
⁠
The soprano long neck is currently available in four designs: solid black (TUSL35-Black), dark blue (TUSL35-Dark Blue), surf print (TUSL25-Surf), and salamander sound-hole walnut wood top (TUSL50-Salamander).⁠
⁠
Read the article about long-neck sopranos.