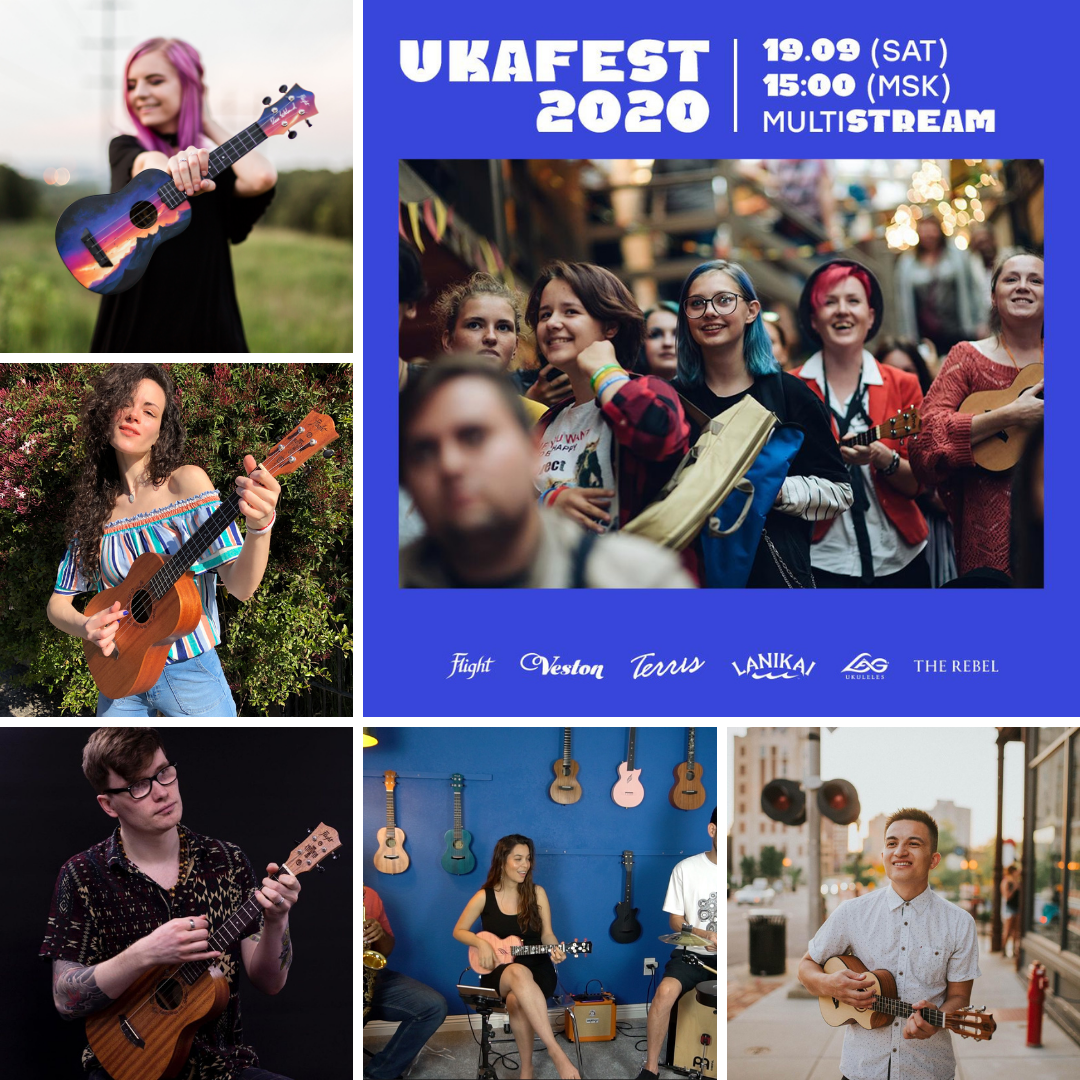 Ukafest is back!
We're thrilled to announce that 4 Flight artists were invited to perform at UKAFEST2020.
On September 19, 2020 we will meet in a new super multi-stream format! And it will rock!
➡️ Participants from all over Russia!
➡️ Live Broadcasts from more than 30 different places, including Georgia, Argentina, England, and the US!
➡️ A separate fan zone in ZOOM for those who want to get on the air to support the participants, chat with them, or simply dance to the rhythm of the music!
➡️ 6 HOUR UKULELE MARATHON!
SPECIAL GUESTS OF UKAFEST 2020:
🎤 @eliseecklund (USA)
🎤 @ukulelesimon (UK)
🎤 Two Hits & A Miss (@plazi) (USA)
🎤 @u_can_uke (USA)
🎤 @virferreyra (Argentina)
Here's the link to the event page: https://ukafest.ru/en/online-party-for-all-ukulele-lovers/
How to get on the air from the Ukafest 2020 fan zone?
This year, due to reasons related to the Covid-19 epidemic, the organizers of UKAFEST decided to hold the festival online. At the same time, the team understood that it is very important to preserve what the festival is simply unthinkable without – a powerful energy charge and an exchange of emotions between all participants and spectators. Everyone who has ever been to the Ukafest festivals understands what they are about and knows how it happens: when ukulele and favorite songs unite, warm and blur the line between the stage and the audience.
This is what we decided to keep on the air at all costs! Therefore, within the framework of our multi-stream, the online fan zone Ukafest 2020 will operate. From there the directors will be able to take you to the live broadcast of the festival! Remember how it happens in football in America? Big screen, and suddenly there you are! Or at a gig: you are in the forefront, dancing, rocking out and suddenly it is you that the camera catches and shows you to the whole Olympic, while your favorite artist plays a crazy solo. So it is. It will be the same at Ukafest! Only online!
How to get into the fan zone?
Connect to a special chat in ZOOM
You can watch the broadcast from any player from any social network and at the same time be in Zoom. In Zoom itself, there will also be a window with the broadcast if it is more convenient for you to watch everything from one resource.
How to get on air? Dance, sing along, support the participants, wave your hands and twist your booty to the beat of your favorite songs! Big Brother will see and will certainly not ignore it! And well, nobody canceled the thunderous applause at the end of the artists' performances!