Based in Slovenia, Flight has grown into an international brand that is distributed all around the globe. Flight is a company with a young and energetic vibe, a distinct style, and an intentional focus on the image of the brand. Flight has a very active online community. While Flight is recognized for its innovative Travel Series of ukulele, the company continues to expand its offerings for all levels and demographics of players. We invite you to check out our ukuleles and let your music take Flight.
FLIGHT ARTIST LIVESTREAM AT E-SPECIAL EVENT
Q&A, cool songs and lots of fun… Flight Artist Evelyn (@evelyn_ukelele4u) will be streaming on May 28 at 2 PM CET at the E-special event by @baxmusicnl 🔥🎉
ELECTRIC UKE TUTORIAL SERIES!
Flight is proud to announce a new tutorial series on its YouTube channel, a special series by Tyler from @tenthumbspro in which you will learn how to become a 4-string Rockstar. While solid body ukuleles share the tuning of a linear GCEA ukulele, Solid body electric ukuleles have metal strings and require pickups and amplification to produce sound. We've partnered up with Tyler in order to help acoustic and electro-acoustic ukulele players learn the special skills and techniques that are needed to make the most of a solid body electric ukulele, such as the Flight Rock Series.
Topics already covered: Pick, Power chords, palm muting, First scale, Blues shuffle, Slide, Tone.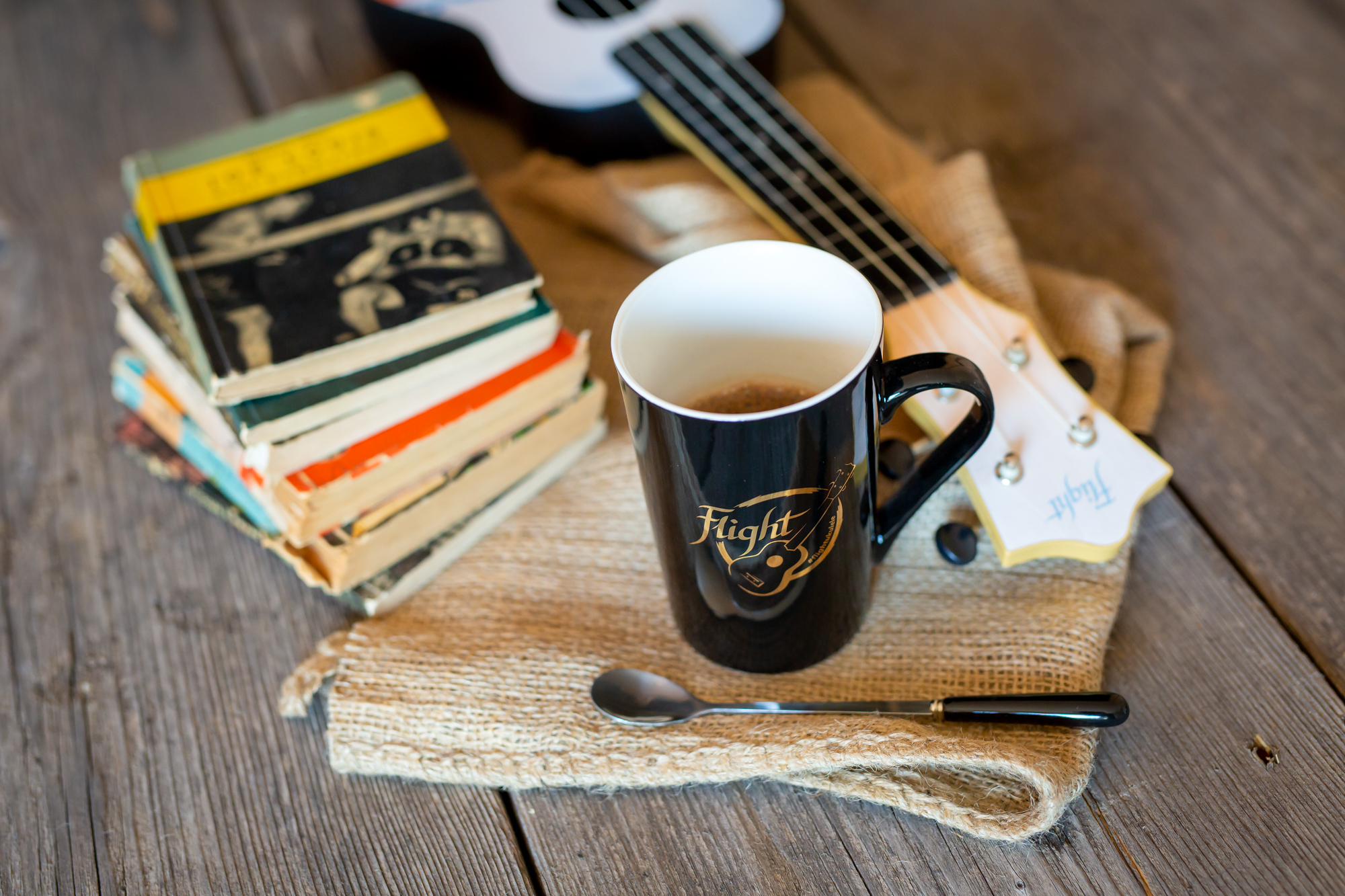 Flight Merch
The inspiration for Flight "
merch

" came directly from our involvement at trade shows and ukulele festivals—we needed some Flight-branded apparel for our team.  We didn't realize that our customers would want access to Flight merchandise!  We have heard your requests, and are happy to announce that Flight is now offering "

merch

," including t-shirts (men's and women's), sweatshirts, and mugs!  Black and gold were a natural choice for our 

merch

 because it looks clean and classy at the same time.
Flight Anniversary series
Flight Ukuleles is celebrating its tenth anniversary!  While the traditional materials for a tenth anniversary are tin and aluminium, Flight has decided to pass on tradition and to celebrate its tenth anniversary by releasing four amazing tenor ukuleles!
Flight Art series!
Flight loves to use colors and attractive designs, so we decided to add incredible designs to the soundboards of some of our ukuleles.
Ultimately, we created a series of ukulele that combines the worlds of fashion and music. While the ukuleles look amazing, we have not sacrificed quality for those looks or taken shortcuts in the creation of these instruments.
The result is astonishing: gorgeous ukuleles with a warm and strong sound that will not break the bank.  And like all Flight ukuleles, every Art Series ukulele includes a fantastic Flight gig bag!
The future is here. Flight is thrilled to announce the Soundwave Pickup System, a pickup system that that uses phenomenal new technology to place control of the preamp and various effects at the fingertips of the player, whether the ukulele is plugged into an amplifier or not.