"Music inspires and brings people together. I believe that's something we all need in life."
Take Flight with Elise Ecklund
Oklahoma, the Sooner state, is home to one of the most charming ukulele bloggers of all time – Elise Ecklund. We noticed her fun and inspiring music-related videos, and reached out to her in August 2017. From the start, our relationship was so natural and her videos were so witty and funny that we couldn't help but become fans of Elise, too.
Elise calls her ukuleles "her children" and has a number of Flight ukuleles in her growing collection, all listed below.  Of special note, Flight has released two Elise Ecklund signature ukuleles: the Elise Ecklund Signature Concert Ukulele and the TUS-EE Elise Ecklund Sunset Travel Soprano Ukulele.  The TUS EE is also available as a bundle—a great solution for beginning players.
We continue to partner with Elise, having brought her on tour to Mexico, Europe, the NAMM Show, and virtually to the world via live sessions during the COVID-19 pandemic.   We are proud of our collaboration with Elise Ecklund and can't wait to see what our future holds together!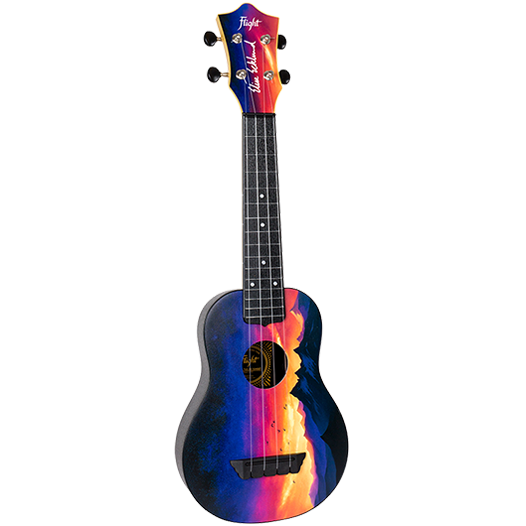 Flight TUS-EE Sunset
Signature Travel Soprano Ukulele
"There's something truly magical about a sunset. No matter where you are in the world, you can admire the beautiful colors streamed across the sky. The times I have watched a sunset over the mountains, I've felt adventurous, free, inspired, and a sense of peace. I wanted to capture this feeling on a ukulele. This soprano travel uke is for music lovers of every level, whether you are just starting out or have been playing for years. Pick it up and take it on every adventure with you." (Elise Ecklund)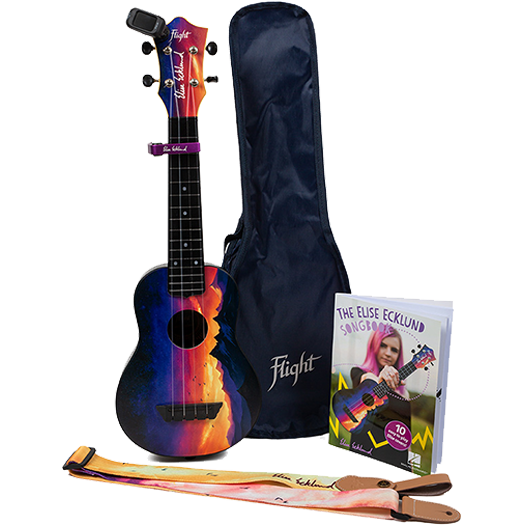 Flight TUS-EE Sunset Pack
Signature Travel Soprano Ukulele Bundle
The Elise Ecklund Signature Travel Soprano Ukulele Bundle includes the incredibly popular Elise Ecklund Signature Sunset Ukulele, the Flight FTC-33 electric tuner with color display, the Elise Ecklund Signature Ukulele Strap, the Elise Ecklund Signature Capo, and a gig bag. Additionally, the bundle includes the Elise Ecklund Songbook, which has been published in collaboration with the world's largest music publisher, Hal Leonard. Flight wants you to be the best player you can be and to share your talent with the world. This bundle is one of the best ukulele packages that we offer, and we are excited for you to learn how to play ukulele, grab your camera, and share your talents with the world, just like Elise Ecklund.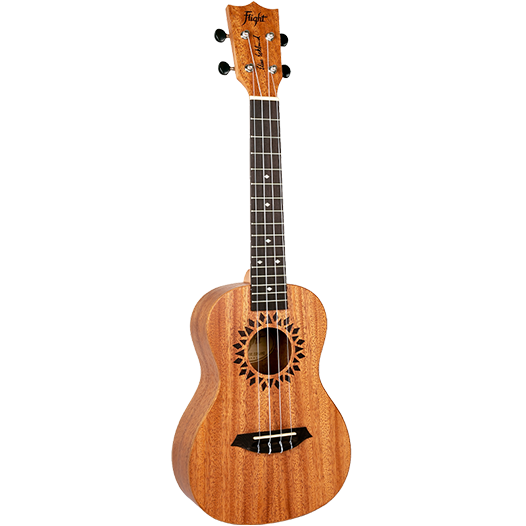 Flight Elise Ecklund Signature
A classy ukulele with a warm, happy sound. The rosette design pairs perfectly with the diamond shaped markers on the fretboard. This mahogany uke is a great choice whether you are just starting out or if you have been playing for years. We partnered with Elise Ecklund to design this instrument to be something special for everyone who will practice, write, play, and perform with it.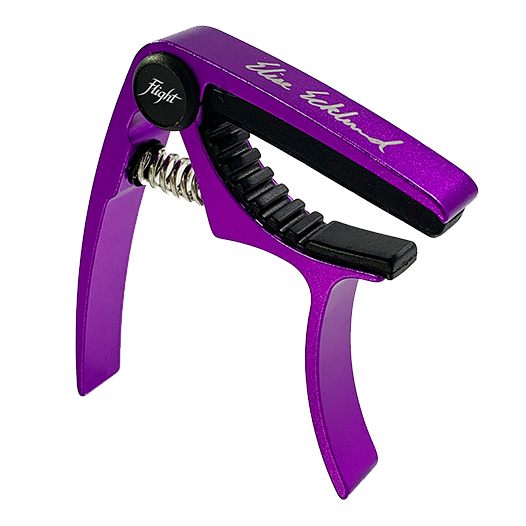 Flight FC-EE Ukulele Capo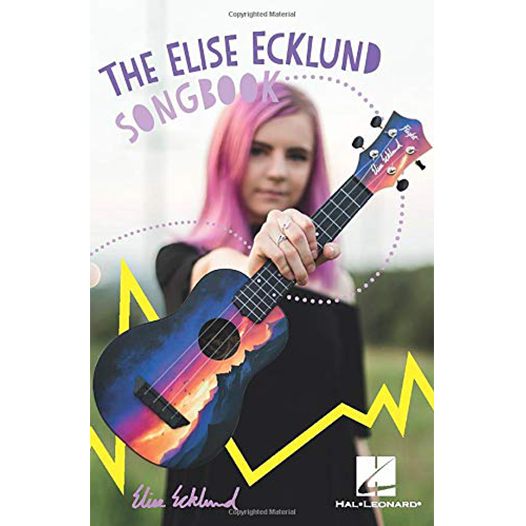 The Elise Ecklund Songbook
Paperback – October 1, 2019
American YouTuber Elise Ecklund presents her first ukulele songbook! Known for her guitar and ukulele tutorials, Elise has compiled a list of her favourite covers to include in this songbook. The arrangements follow the easy-to-play style of her YouTube videos and are simple for a ukulele player of any standard to pick up. The book also includes an exclusive preface written by Elise. A must for Elise fans and budding ukulele players looking to further their ukulele skills!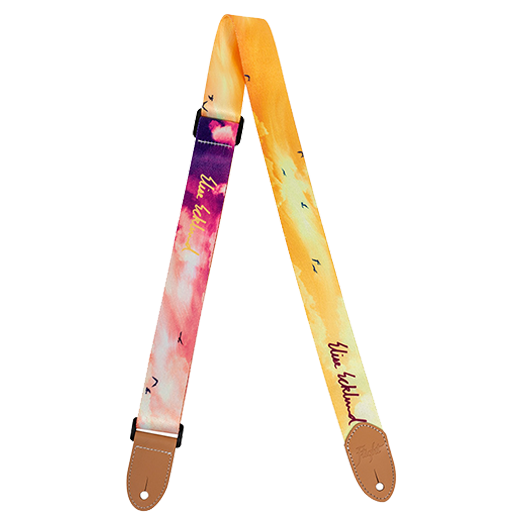 Flight S35 Sunset
Elise Ecklund Signature Ukulele Strap
The Sunset Elise Ecklund Signature Ukulele Strap features light pastel colors that complement the Elise Ecklund Signature Travel Ukulele, but it also looks great on any ukulele. The strap adjusts in length and features high quality leather strap ends. Flight wants you to be able to focus on being the best musician you can be, and a strap can help you with that process. Ukulele straps look great, offer peace of mind, provide comfort, and liberate your chording hand to be able to move up and own the neck without worrying about how to hold and support your ukulele.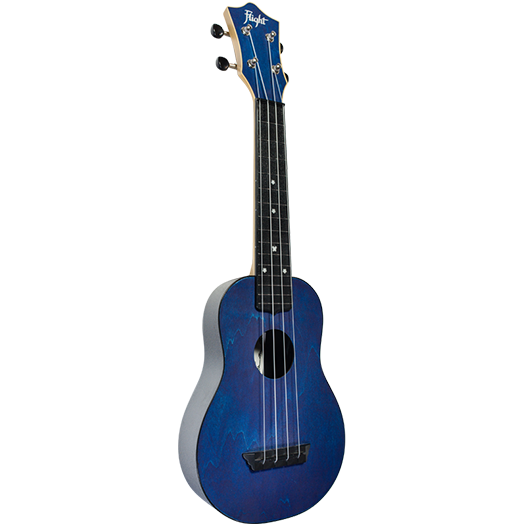 Flight TUS35 Dark Blue
Elise was blown away when she tried this one out!
Plastic Fantastic! Conventional wisdom will say that plastic ukuleles are cheap, low-quality substitutes for "the real thing". Well, it's time to kick conventional wisdom out the door! Built unapologetically from plastic, the sound quality of these ukuleles will blow you away, and their durability will make them Keith Richards' instrument of choice after Armageddon hits. These ukes are perfect for rainy festivals, cramped overhead lockers, moody teenagers, and ukulele teachers working with young children.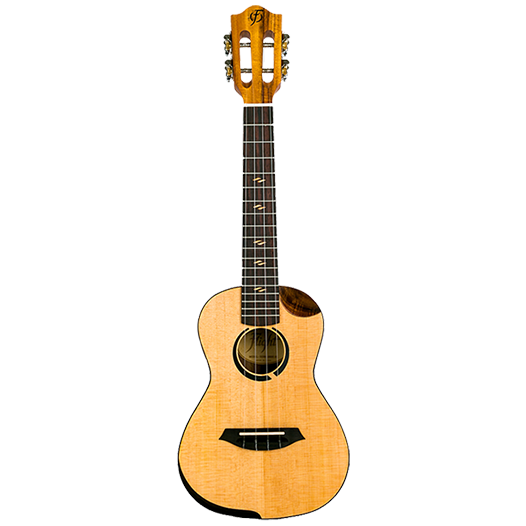 Victoria Tenor CEQ
Tenor Electro-Acoustic Ukulele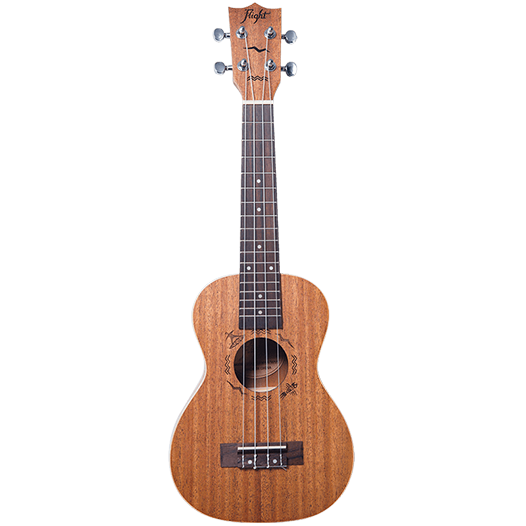 Flight DUC323 MAH/MAH
DUC323 was the first ukulele that Flight has sent to Elise Ecklund and so it has a very special place in our hearts and will forever remain the first ukulele that started it all.
FLIGHT DUC323 is a concert-sized ukulele. It has a mahogany top, paired with mahogany back and sides, giving it a very warm and resonating sound. Do not let the "sober" look of mahogany fool you, though—mahogany ukuleles, especially those fitted with an arched back like the DUC323, know how to growl!
For full description click on the button below: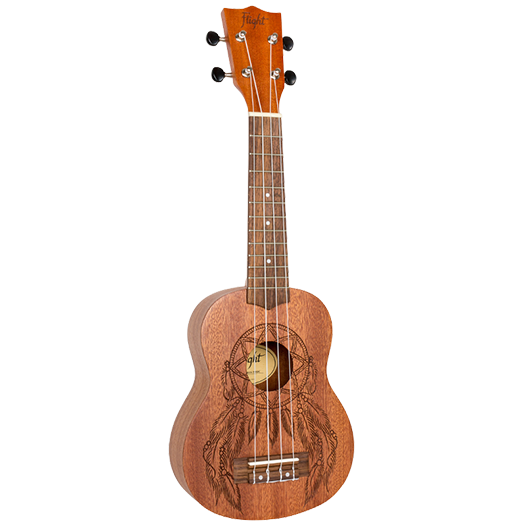 Flight NUS350 DC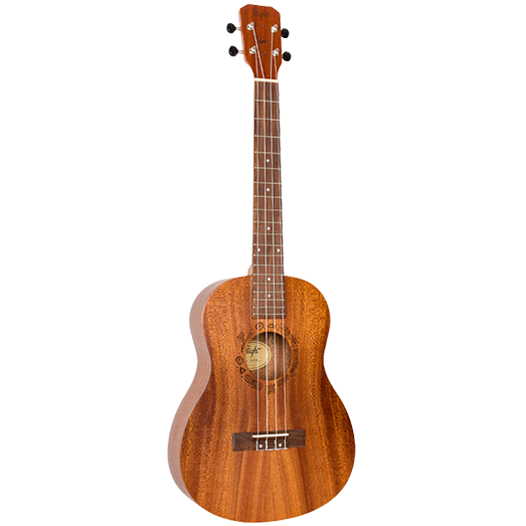 Flight NUB310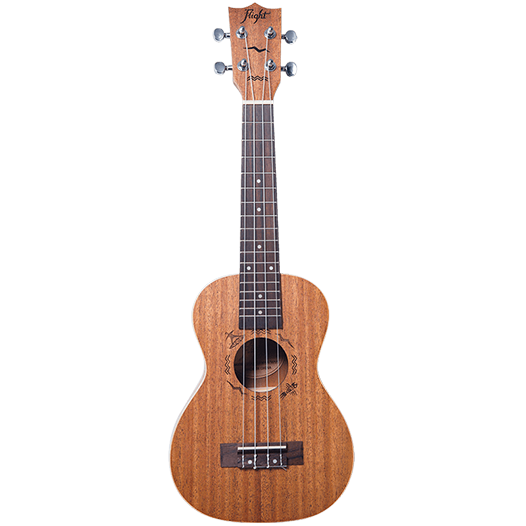 Flight DUC323 MAH/MAH
Use code PLAZI for a discount at Musicroom and Musicshopeurope 🙂