Flight Elise Ecklund Signature Concert Ukulele
132,50 €
A classy ukulele with a warm, happy sound. The rosette design pairs perfectly with the diamond shaped markers on the fretboard. This mahogany uke is a great choice whether you are just starting out or if you have been playing for years. We partnered with Elise Ecklund to design this instrument to be something special for everyone who will practice, write, play, and perform with it.
Description
Flight Elise Ecklund Signature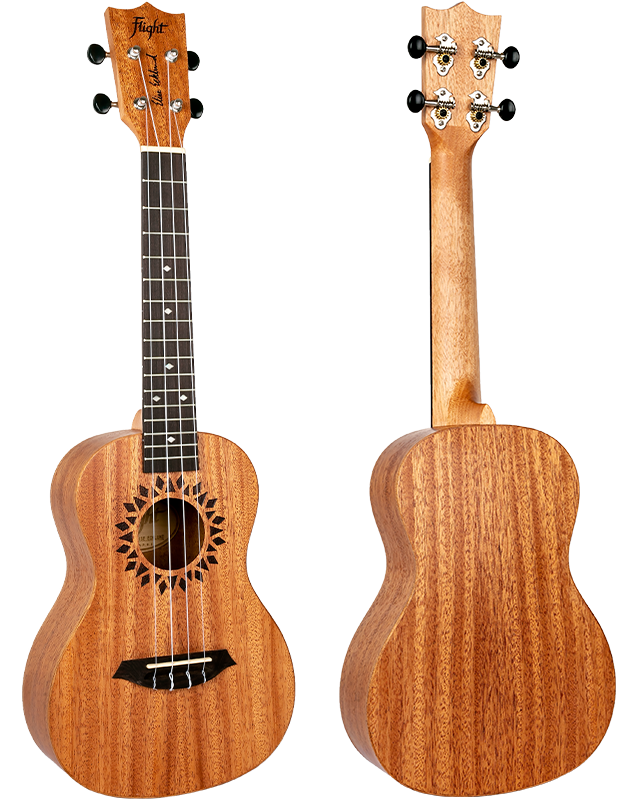 Let Your Music Take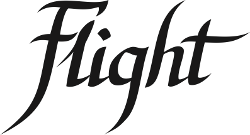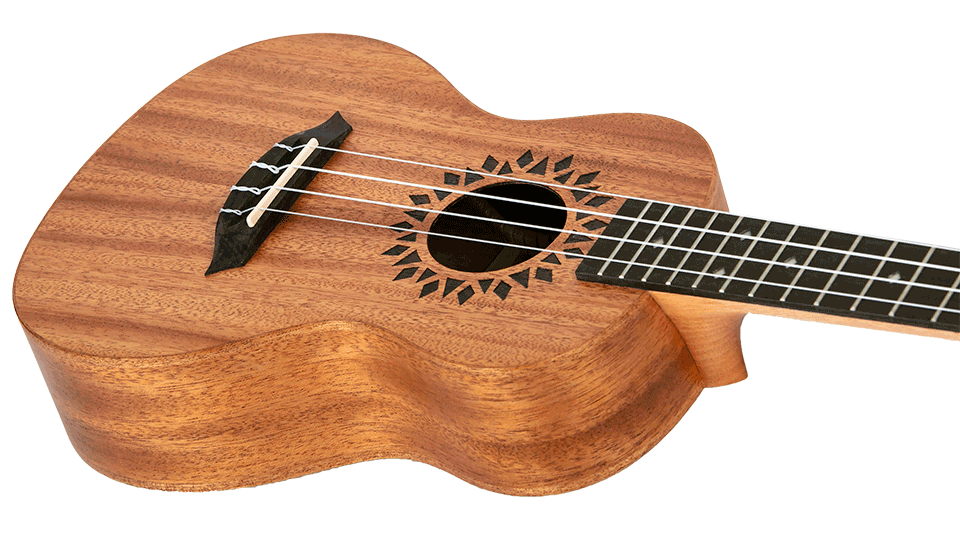 Warm and Sweet
The body of this ukulele is made of laminate mahogany, which is a hardwood used to make quality musical instruments for centuries. Its colour can vary a fair amount, from a pale pinkish brown to a darker reddish brown, and it tends to darken with age. Mahogany wood is known for its silky warm tone, which is why Elise decided to go with it, and we feel that it matches her personality really well. Elise also sent us hand-drawn designs of the rosette, which we converted into this lovely laser engraving.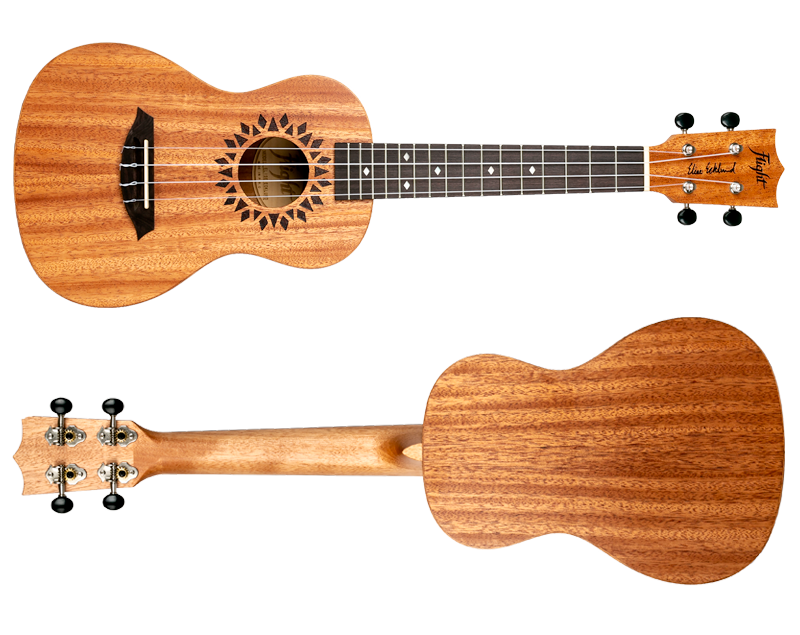 Let's play.
Okoume Neck & Blackwood Fingerboard
Elise wanted to use diamond-shaped markers for the fretboard inlays, adding a classy touch to her creation. The neck and fingerboard of this ukulele are made from African okoume and blackwood. It's a great combination that guarantees a stable intonation across the fretboard, is gentle to your hands, and looks great as well.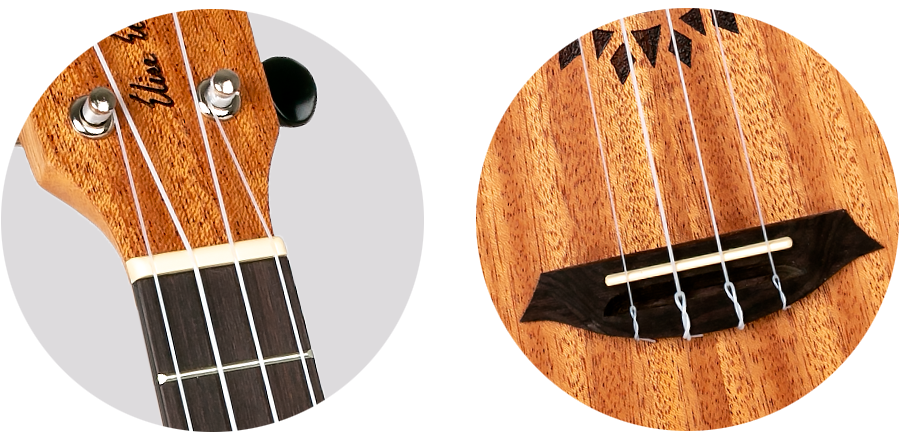 Pitch perfect.
Elise decided to go with the rounded bridge completing the overall look perfectly. The nut and saddle of this ukulele are set in such way that you would never have to worry about intonation, because we took care of it for you.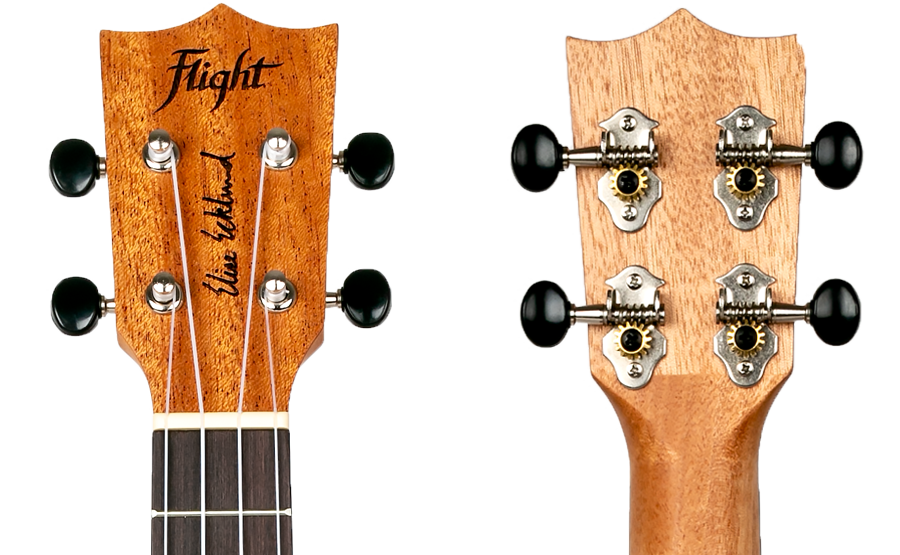 It all starts with the head.
Good-looking and easy to tune.
This ukulele features a crown headstock chosen by Elise with her signature in the middle. It is also fitted with geared tuners that will always stay in tune.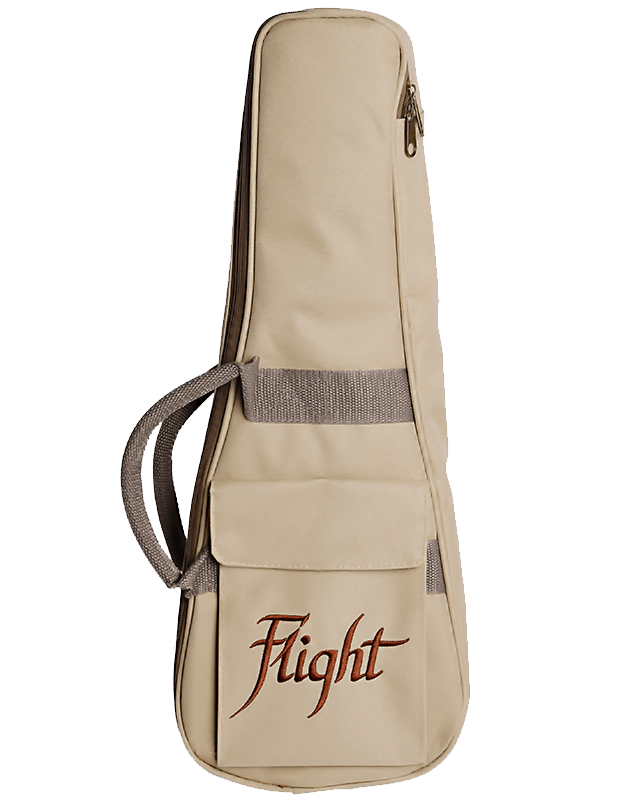 Light and Stylish Gigbag
Excellent Protection for Your Uke
Light and stylish, yet offering excellent protection for your ukulele, Flight gigbags have already become legendary and with one hanging off your shoulder you will definitely make heads turn.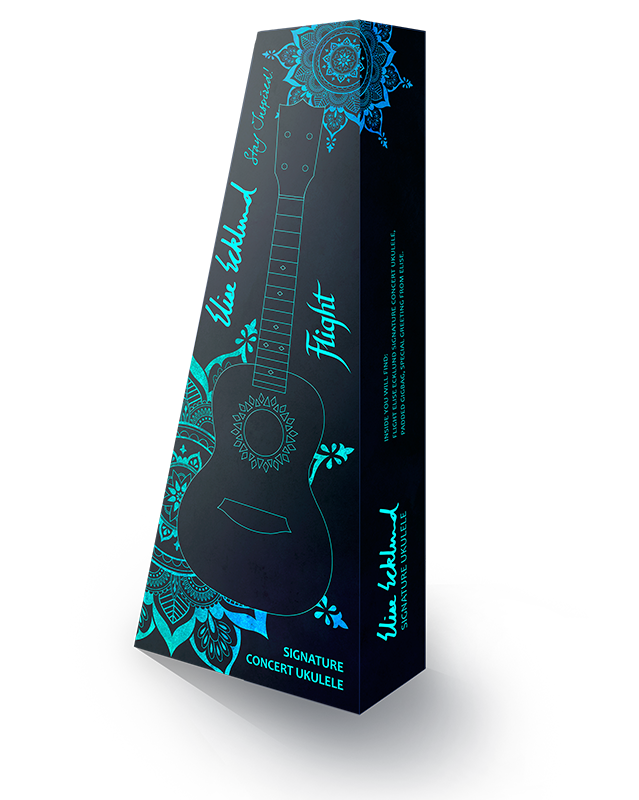 Elise Ecklund Signature
Elise told us exactly how she wanted the box – black with a mandala print in turquoise. And we made it happen! It was really easy to design with such clear directions and made working with Elise a real pleasure.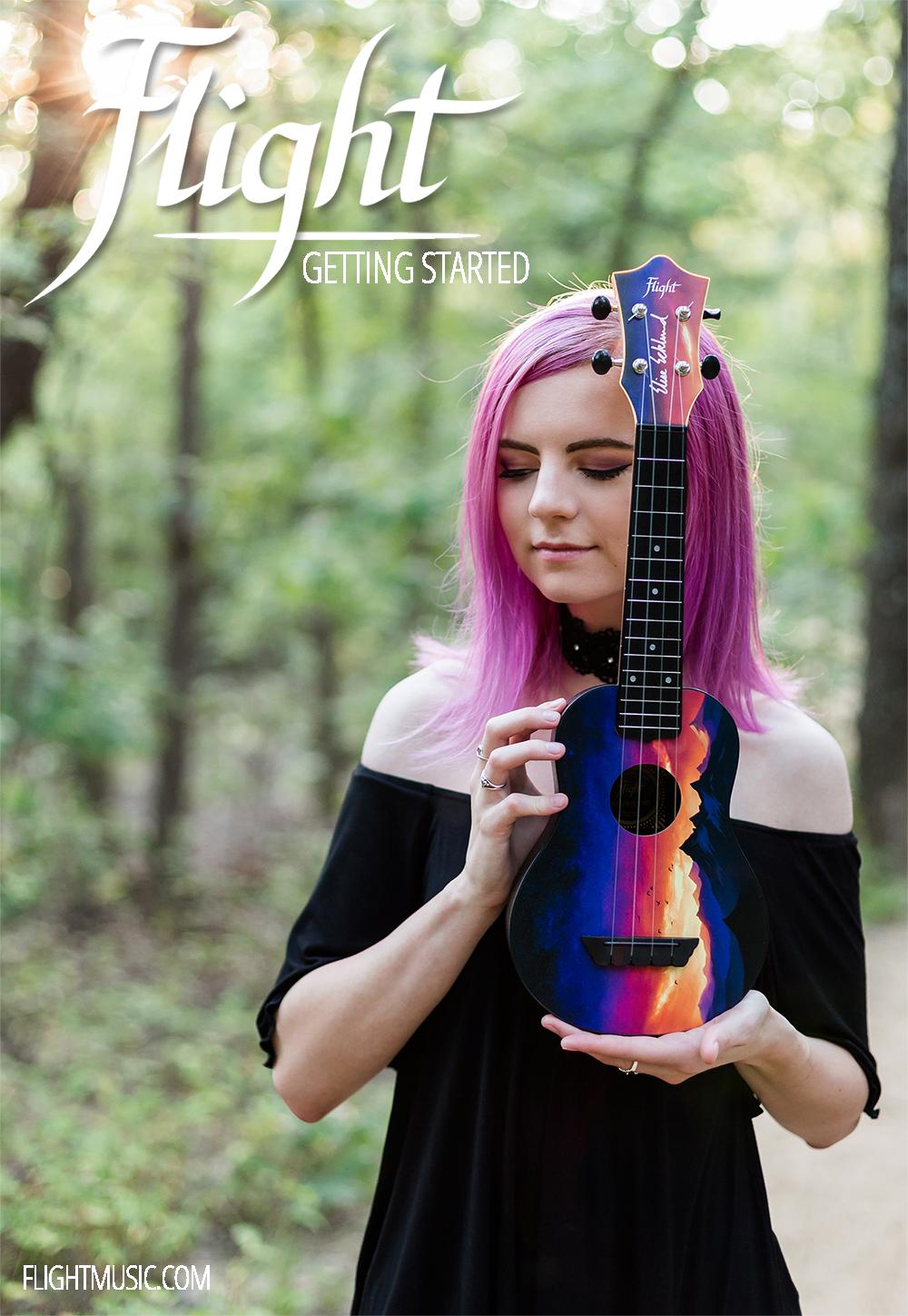 Instructional booklet
The ukulele comes with a Flight instructional booklet to help you on the road to future ukulele fame. It is packed with all the necessary information needed for a quick start including chord charts, strumming patterns and tabs for an original song by Elise Ecklund!
We also included a cool sticker pack from Flight.
Specifications
Every tiny detail matters.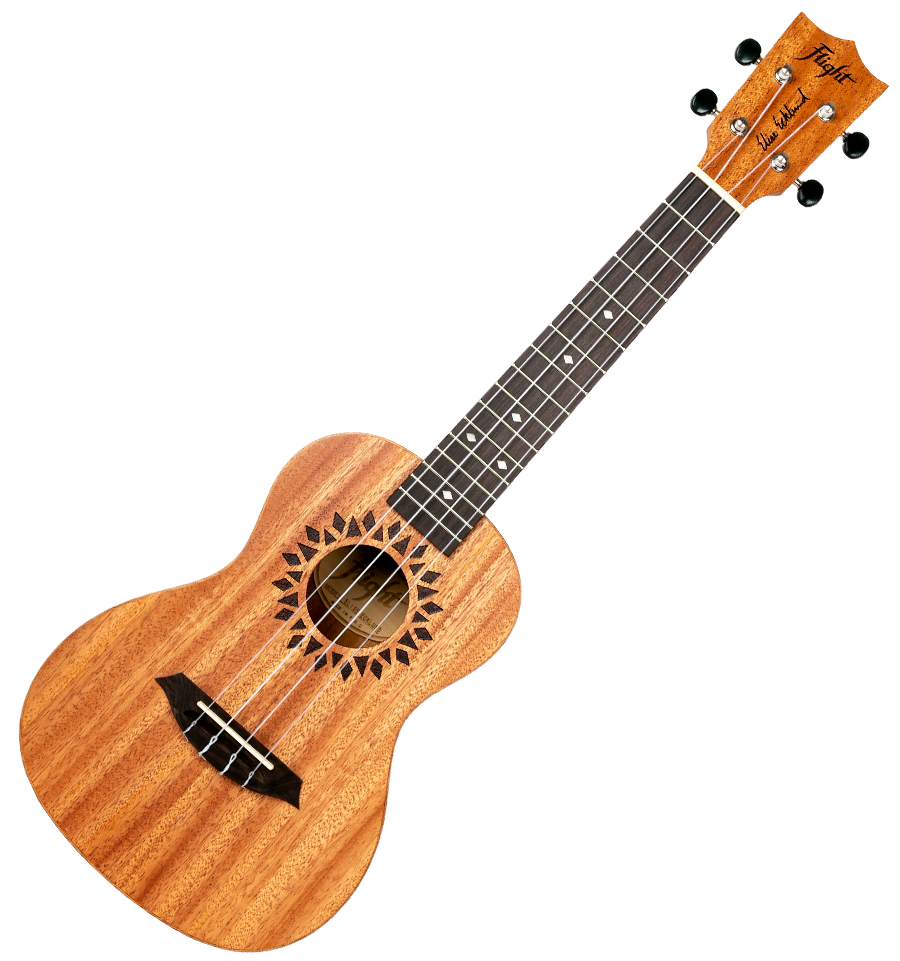 Body
Body Shape: Concert (17 frets)
Top: Laminate African Mahogany
Back & Side: Laminate African Mahogany
Bridge: Blackwood
Neck
Neck: African Okoume
Fretboard: Blackwood
Nut & Saddle: High-quality plastic
Nut Width: 35mm
Other
Position Markers: 5th, 7th, 10th, 12th and 15th frets.
Premium Features: Diamond Inlay fretboard markers, Elise signature engraving on the headstock, Arched back, Geared Tuners, Laser Engraved Rosette, Improved construction and build.
Free padded gigbag, a note from Elise and instructional booklet included!
Unboxing video
Watch Elise unbox and play her signature ukulele! :)