Flight DUC460 EQ Amara Electro-Acoustic Concert Ukulele
224,00 €
This is not your father's ukulele, and you can plug in and get loud! The DUC460 is a premium concert ukulele made from laminate Amara wood, a species of evergreen tree native to the rainforests of South America, resulting in beautifully dark and mysterious ukuleles with a unique warm yet crystal clear tone. Plus, every Amara ukulele looks different (stripes, patterns, even pitch black!), so if you you want everybody to notice you at the next session, this is the uke for you!
Description
Flight DUC460 CEQ Amara
Concert Electro-Acoustic Ukulele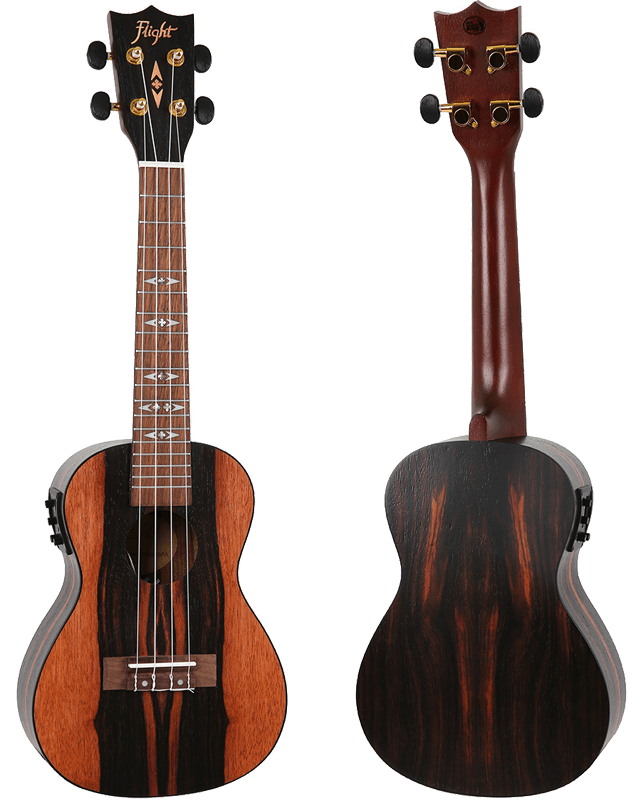 Let Your Music Take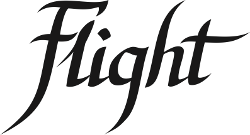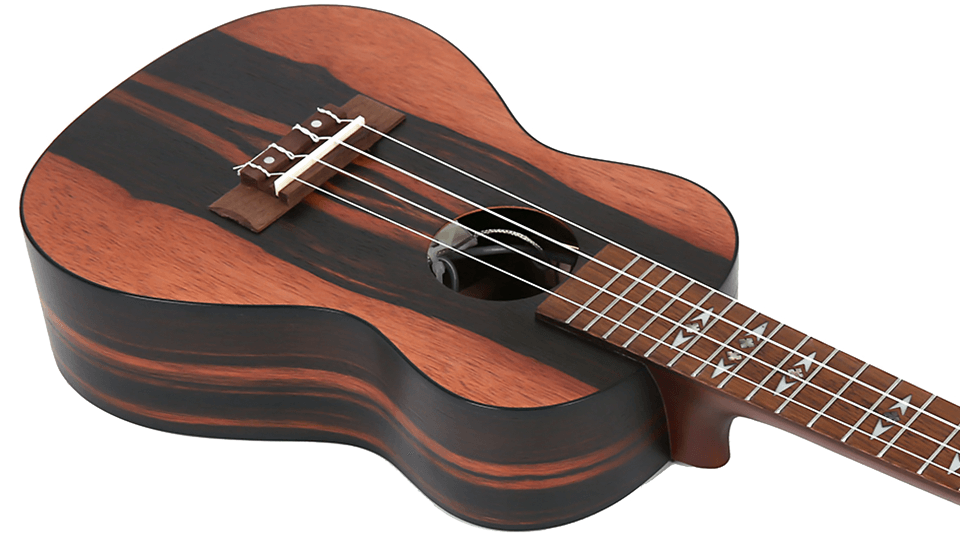 Welcome to the dark side.
The Flight DUC460 EQ is made from laminate amara.  Some people call it ebony, but we call it amara. Amara (a.k.a. mahogany's sexy cousin) is a species of evergreen tree native to the rainforests of South America.  The amara creates beautifully dark and mysterious ukuleles with a unique sound: warm with a crystal clear tone!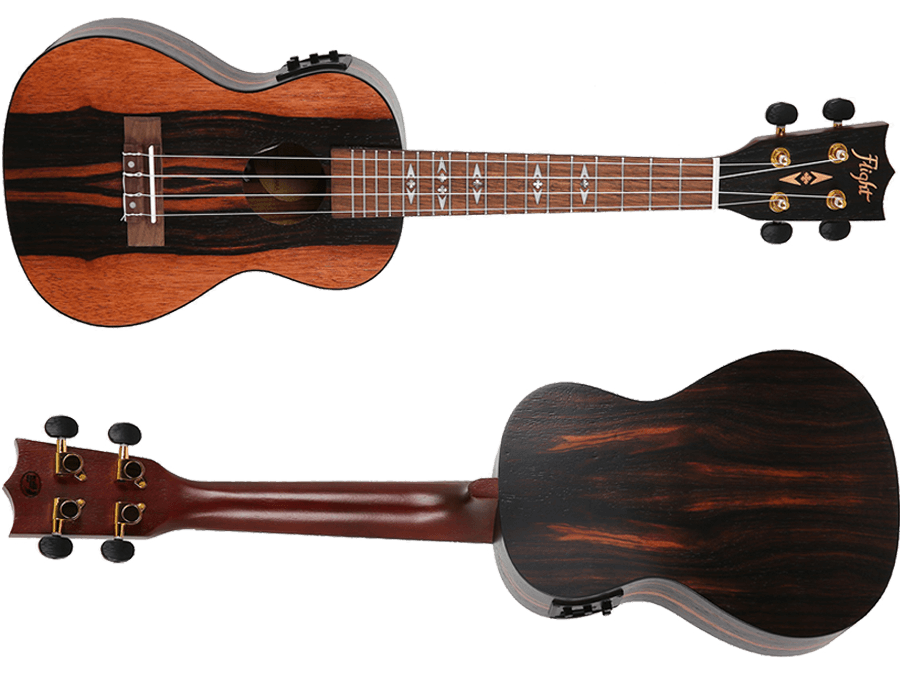 Let's play.
Okoume Neck & Walnut Fingerboard
The neck and fingerboard of the DUC460 are made from African okoume and Walnut. It's a great combination that guarantees a stable intonation across the fretboard, is gentle to your hands, and looks great as well.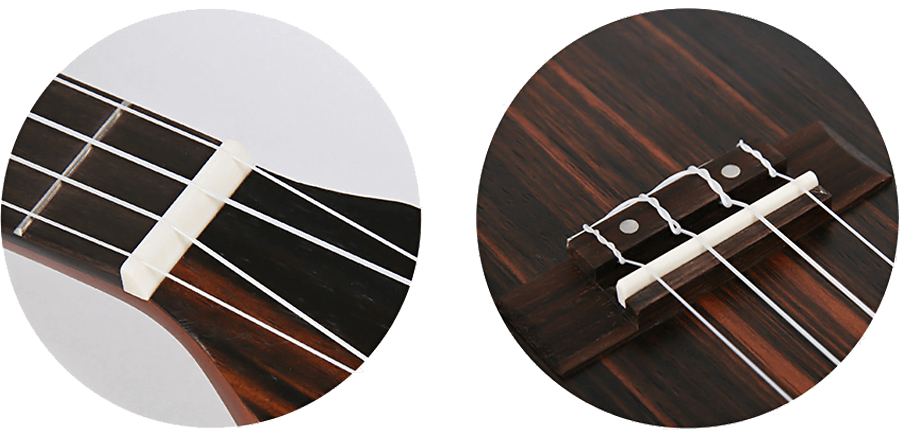 Pitch perfect.
The nut may seem to be a small component, but it plays a critical role in the overall sound of an instrument.  The nut and saddle of this ukulele are made from bone (not from plastic), which results in better tone quality.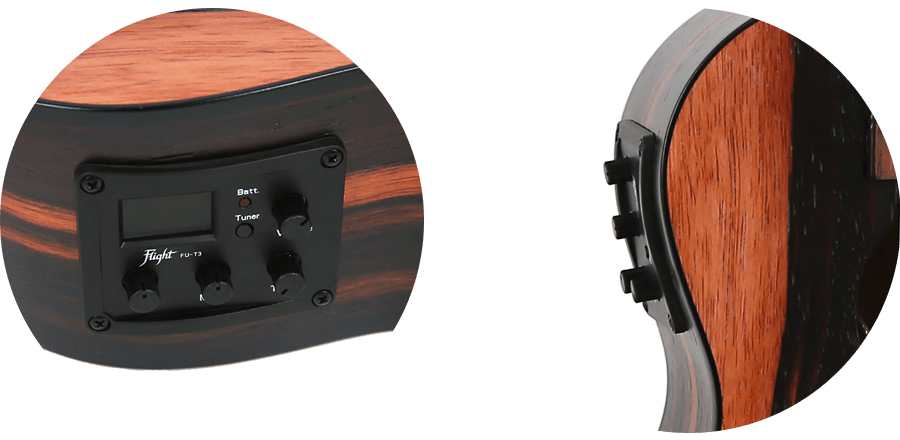 Tiny yet mighty.
Flight FU-T3 pickup system
The preamplifier/EQ is a device that lets you connect a ukulele to an amplifier. The preamp also features a tuner, saving you the headache of remembering where you left your tuner the night before! Most importantly though, this small device allows you the freedom to plug in wherever and whenever you like, giving even this smallest of ukes the chance to shine on stage!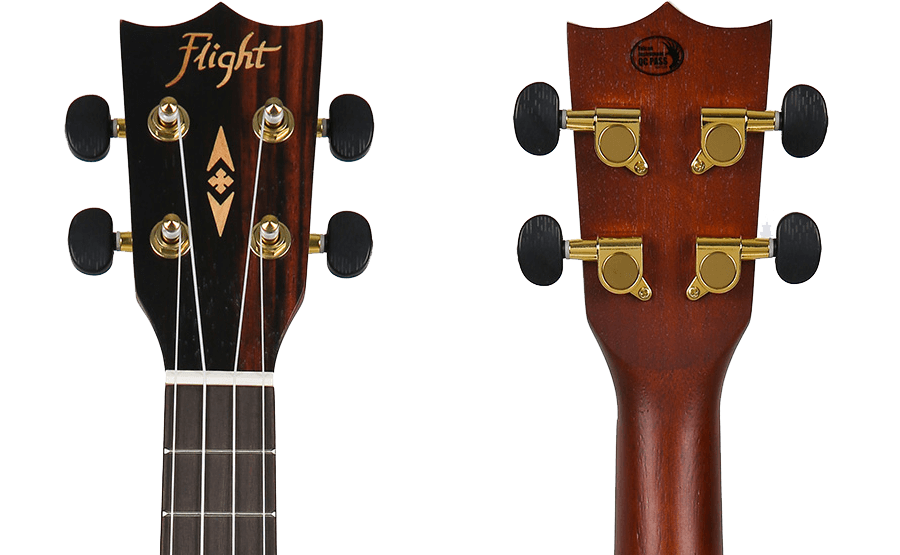 It all starts with the head.
Good-looking and easy to tune.
All Flight ukuleles feature a carefully-designed headstock fitted with geared tuners that will always stay in tune.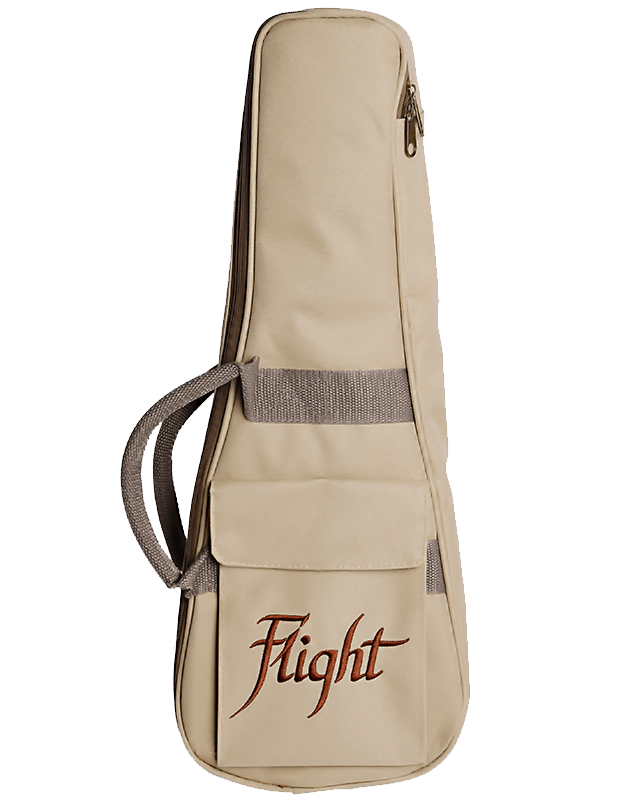 Light and Stylish Gigbag
Excellent Protection for Your Uke
Light and stylish, yet offering excellent protection for your ukulele, Flight gigbags have already become legendary and with one hanging off your shoulder you will definitely make heads turn.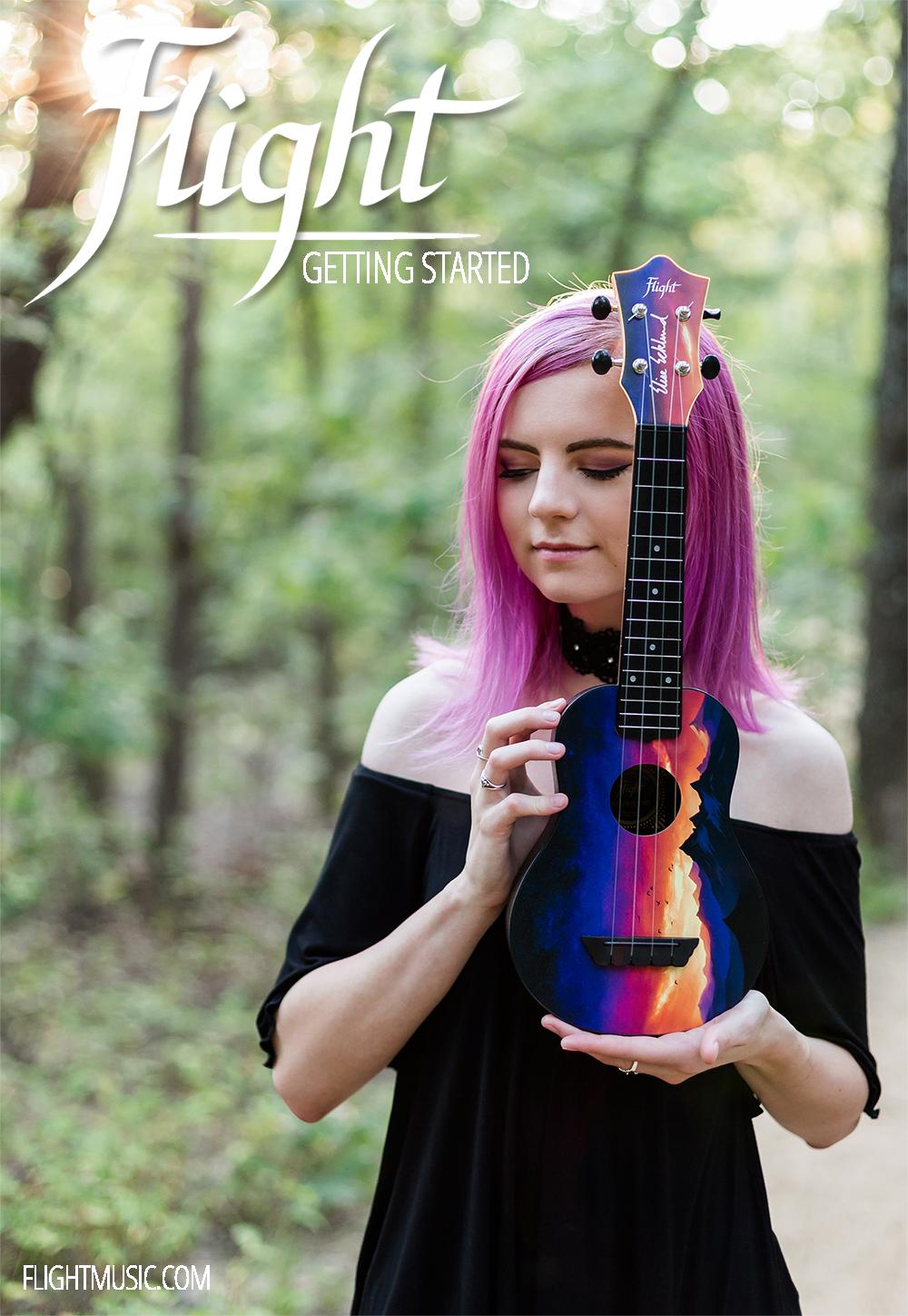 Instructional booklet
The ukulele comes with Flight start-up booklet to help you on the road to future ukulele fame. It is packed with all the necessary information needed for a quick start including chord charts, strumming patterns and tabs for an original song by Elise Ecklund!
We also included a cool sticker pack from Flight.
Specifications
Every tiny detail matters.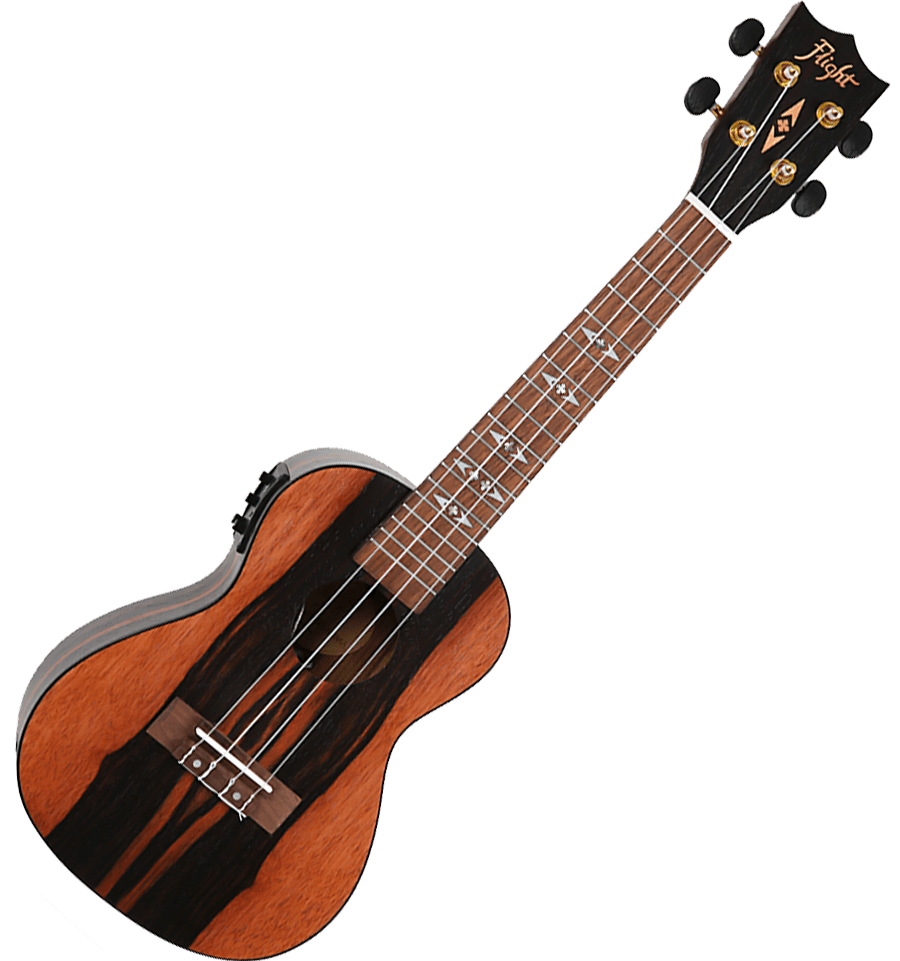 Body
Body Shape: Concert (18 frets)
Top: Laminate Amara
Back & Side: Laminate Amara
Bridge: Walnut
Neck
Neck: African Okoume
Fretboard: Walnut
Nut & Saddle: Bone
Nut Width: 35mm
Pickup
Flight FU-T3 Pickup with built-in tuner
Other
Position Markers: 5th, 7th, 10th, 12th and 15th frets.
Premium Features: Arched back, Gold Die-Cast Geared Tuners, Aquila Super Nylgut Strings.
Free padded gigbag and instructional booklet included!
In Action
See the Flight DUC460 Amara EA Concert Ukulele in Action.