Flight Nighthawk EQ-A Concert Ukulele
399,00 €
At Flight, we love to innovate with new and unusual ukulele designs that you won't find anywhere else. With the Nighthawk models, we wanted to create a ukulele with some of the most popular features of the Spirit and the Mustang but with a twist! The result is a sophisticated looking uke with eye-catching appointments like blue pearloid cutaway and binding, square off-set fretboard markers, and a dark and moody 'moonburst' finish! The Nighthawk is like the sports car of the Royal series – precise, agile and not for the faint of heart!
Description
Flight Nighthawk EQ-A Concert Ukulele
Electro-Acoustic all-solid concert ukulele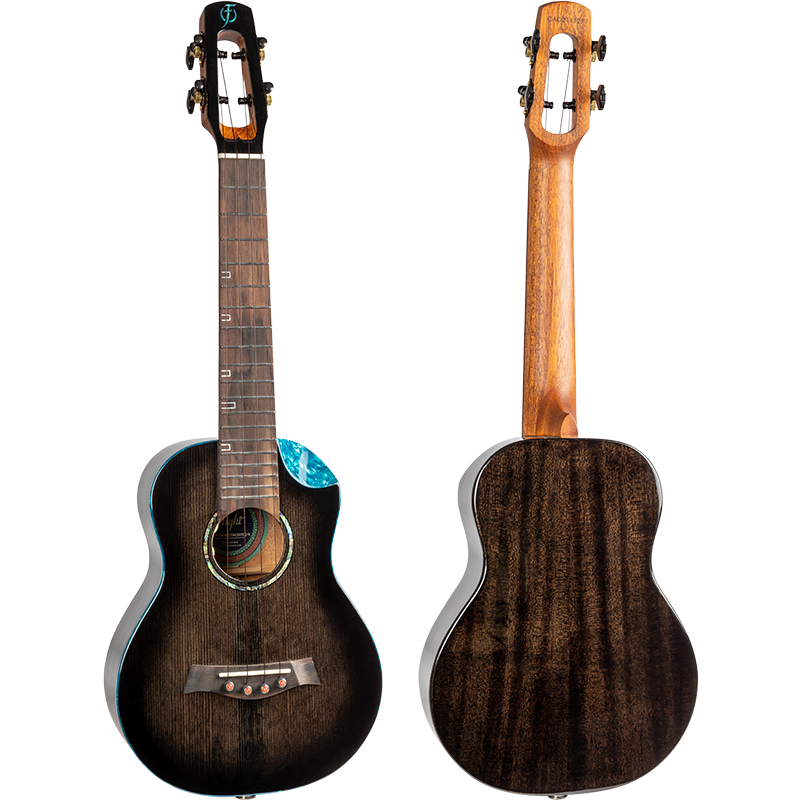 Let your music take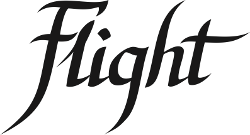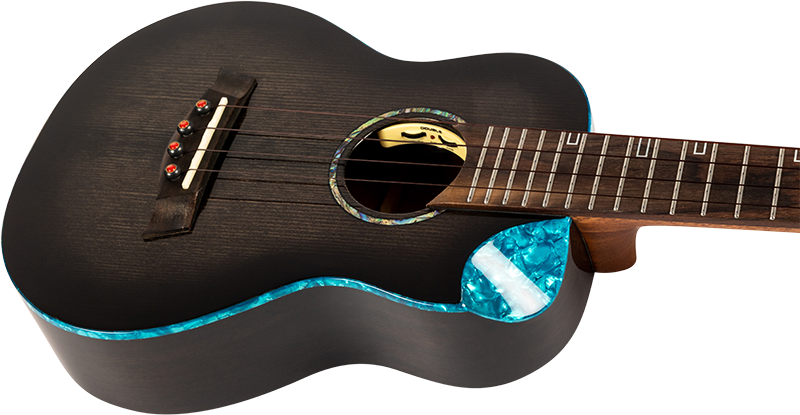 A classic gets a makeover
Solid African Mahogany paired with solid spruce
We paired a solid African Mahogany body with a solid Spruce top for a sound that is both traditional and modern. Mahogany is a warm and resonant sounding tonewood with a long heritage in the making of ukuleles. The mahogany body combined with a solid spruce top adds brightness and projection, providing a ukulele that is balanced, responsive, and chimes like a bell!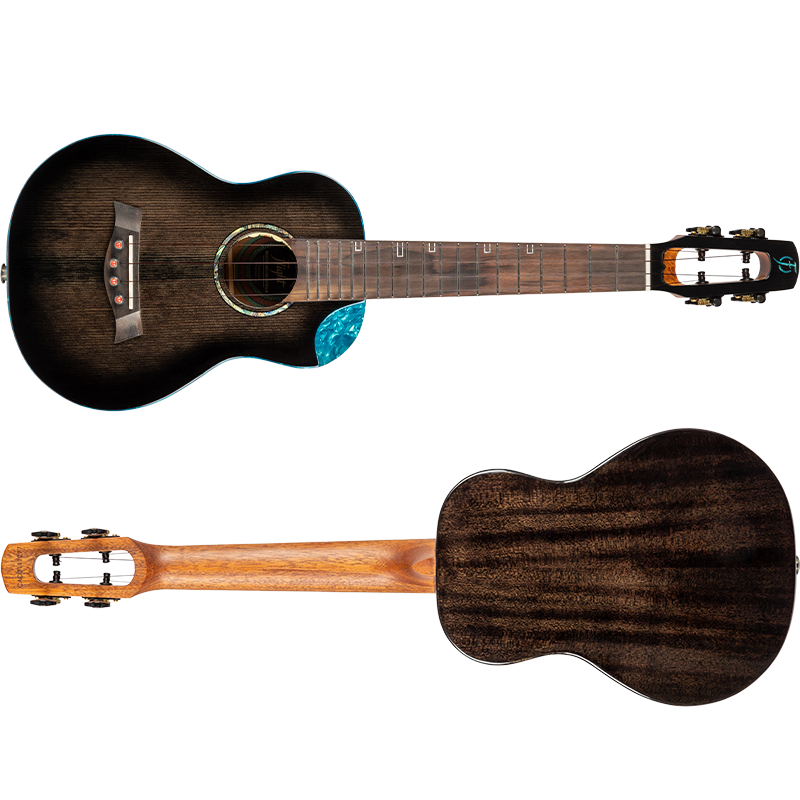 Beautiful rosewood
Rosewood fretboard and bridge
Like many of our Royal Series from 2020 onwards, the Nighthawk model features a gorgeous chocolatey Rosewood fingerboard and bridge. Historically a very popular hardwood for fretted instruments, rosewood can add warmth to the sound of an instrument while lessening harsh higher frequencies.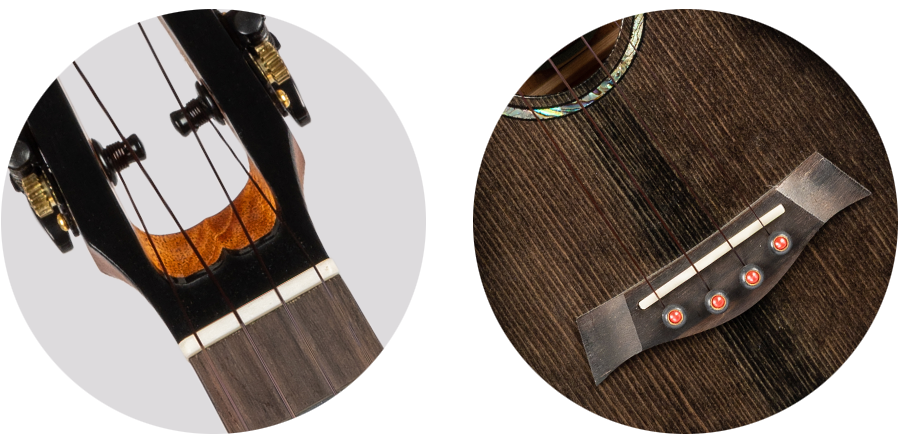 Pitch perfect
Bone compensated saddle and pin bridge
The Nighthawk features a rosewood bridge, as well as a real bone nut and a compensated saddle. Compensated saddles help to properly set the intonation of each string.  The Nighthawk includes a pin bridge system, which helps keep the strings properly aligned on the ukulele, as well as to create a break angle over the saddle that transfers vibrations efficiently to the spruce soundboard of the ukulele.

Strings 'Worth'y of the instrument
Worth Brown strings as standard
Worth Browns were an obvious choice for this ukulele as they perfectly match the tone of the instrument: offering both a precise clarity with a warmth that is as balanced as the uke itself.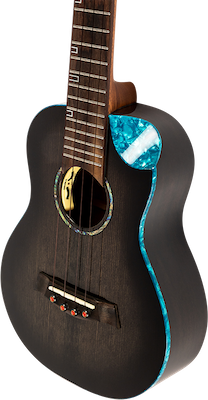 Sophistication and style
Spruce, although a great sounding tonewood, can sometimes look quite plain so we decided to 'spruce' up the appearance of this ukulele with a dark burst. Imagine a sunburst in black and white and you have our 'moonburst' – the cooler, hipper cousin!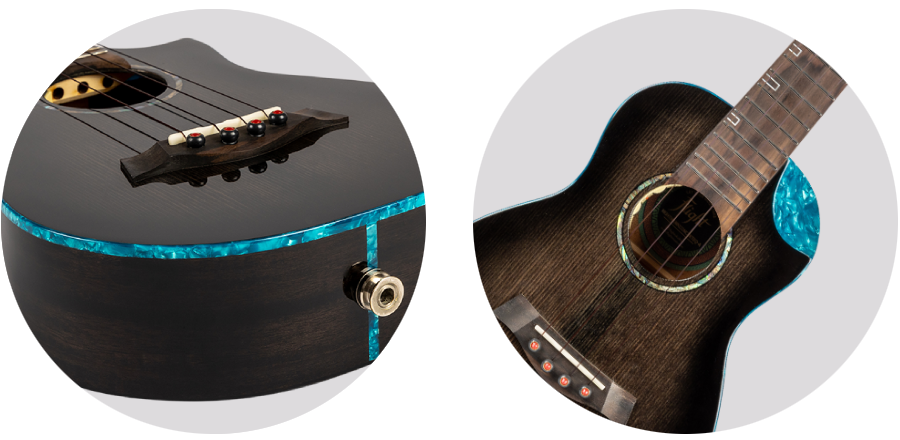 Flashy Appointments
Blue pearloid cutaway and binding, pearloid Rosette, square position markers
The gorgeous pearloid rosette and flashy blue cutaway and binding add bling to this ukulele – even the Flight logo is pearloid blue! The square, off-set fret markers are eye-catching and modern looking. Far from being a retiring wallflower, this ukulele wants to be noticed!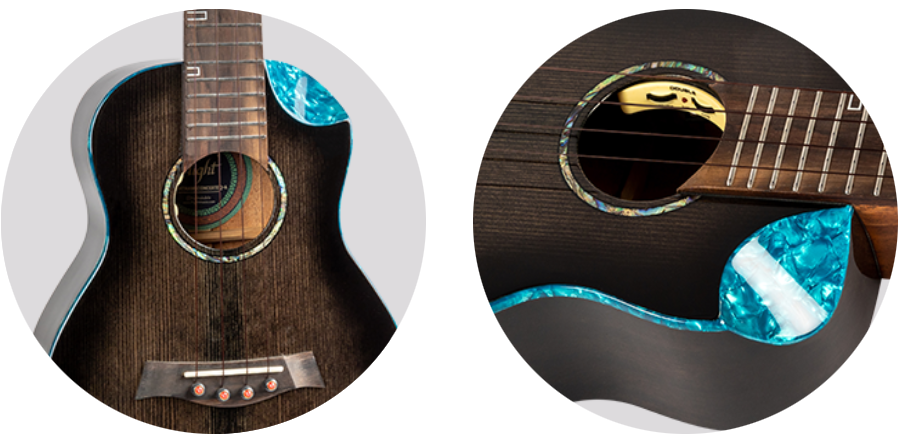 Real temptation
The scalloped cutaway that has been so popular with the Spirit, Mustang and Victoria models was something we wanted to include on this model. This intelligent design allows for playing up the frets but without the compromise on volume and tone that many full cutaways inflict. It also showcases the absolute craftsmanship and mastery of our luthiers.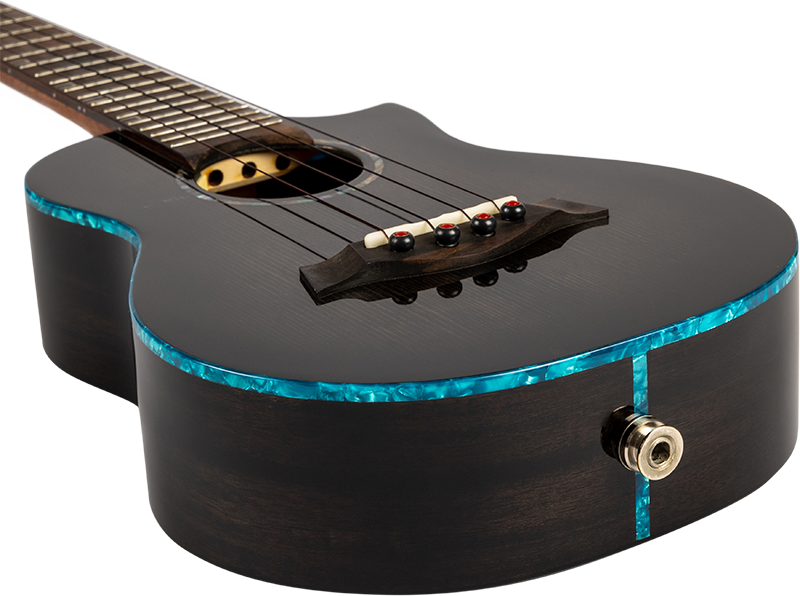 Small yet mighty
The controls for the active pickup are mounted underneath the sound hole, meaning that a cavity does not have to be created on the side of the ukulele for the pickup.  Most importantly, they sound great! Ukuleles with the new active pickups include an "A" (for "Active") as a part of their model number.⁠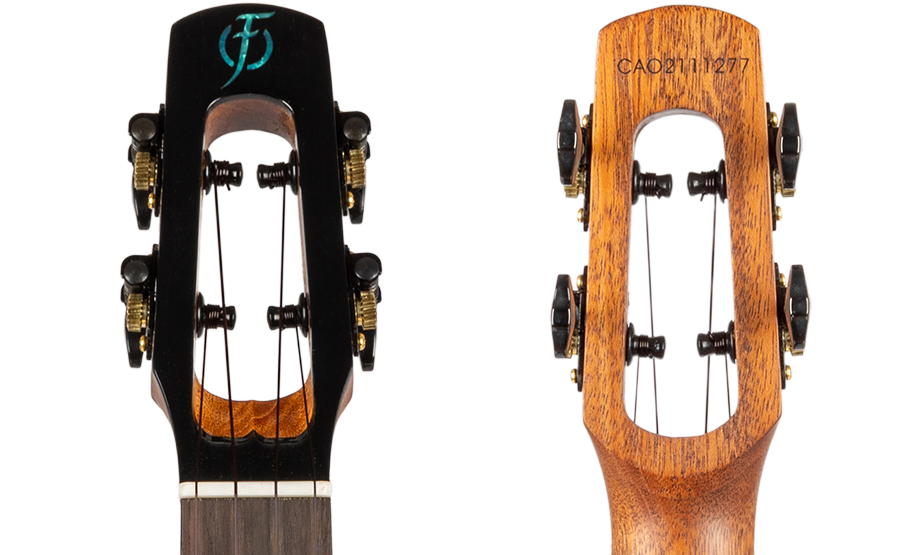 The famous Flight headstock
Our now famous signature headstock is bold and striking, infusing innovation into all the benefits of a slotted headstock. Its round, airy shape not only looks amazing, it also makes the headstock lighter than most. You will certainly be turning heads and tuners with this headstock.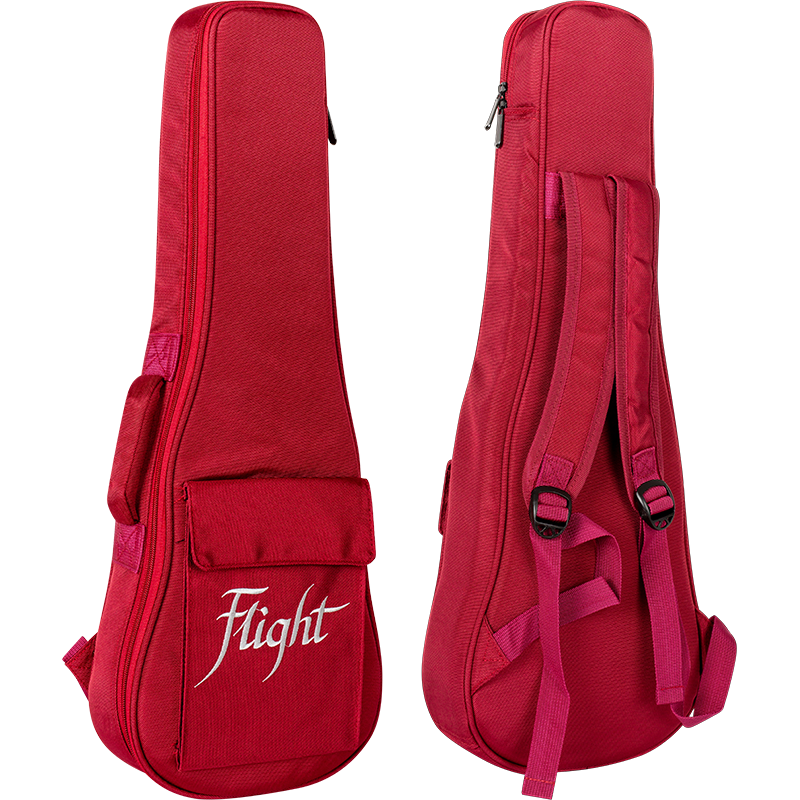 Only the best gig bag
All of our Royal series ukuleles come with a luxury red gig bag with a purple infusion. Associated with royalty, this regal color adds a final touch to our Royal Series. The bag features 20mm padding which is thick and will ensure good protection for your uke.
Specifications
Every tiny detail matters.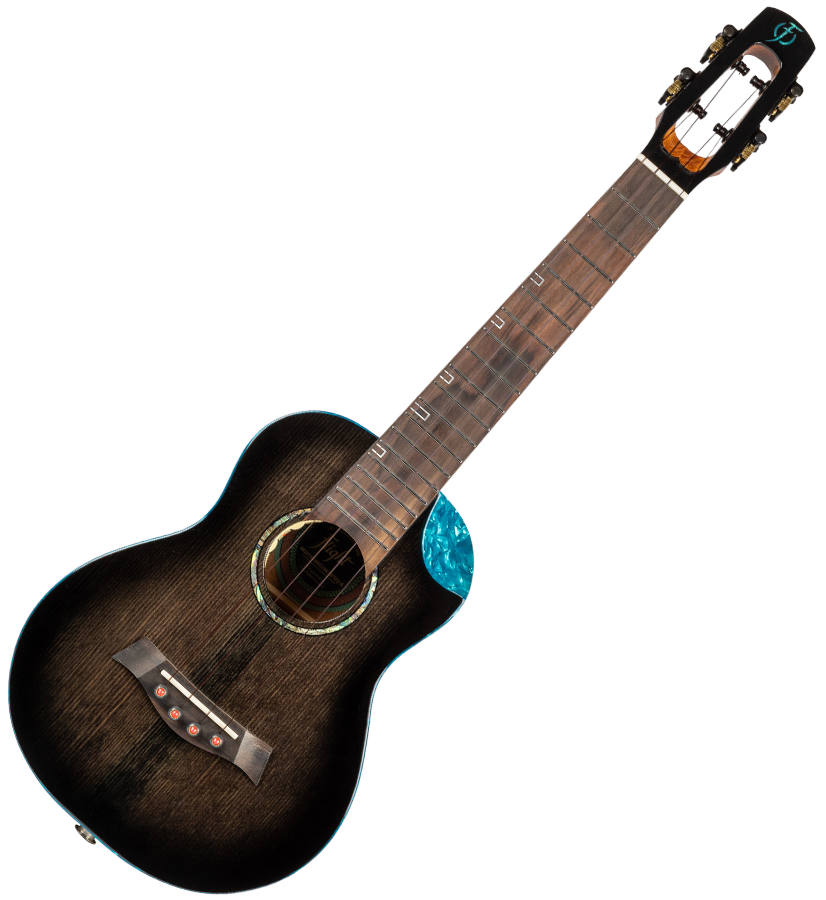 Body
Body Shape: Concert
Top: Solid Spruce
Back & Side: Solid Mahogany
Bridge: Rosewood
Strings: Worth Brown
Neck
Neck: African Mahogany
Fretboard: Rosewood
Nut & Saddle: Bone
Nut Width: 36mm
Pickup
Pickup: Active Double C1U
Other
Position Markers: 5th, 7th, 10th, 12th and 15th frets.
Premium Features: solid spruce top, solid mahogany body, offset square position markers, active C1U double pickup, Worth Brown strings, scalloped cutaway, rosewood fretboard, unique headstock, blue binding, white pearoid rosette.
Deluxe 20mm padded gig bag included.