Flight TUC-EE Sunset Concert Travel Ukulele
92,00 €
"There's something truly magical about a sunset. No matter where you are in the world, you can admire the beautiful colors streamed across the sky. The times I have watched a sunset over the mountains, I've felt adventurous, free, inspired, and a sense of peace. I wanted to capture this feeling on a ukulele. Pick it up and take it on every adventure with you." (Elise Ecklund)
Designed by YouTube Personality Elise Ecklund, the TUC-EE SUNSET offers great looks, sound, playability, durability, and value.  Looking for the perfect ukulele to take on your adventures? If so, check out the Flight TUC-EE SUNSET Ukulele at your local Flight dealer!
Description
Flight TUC-EE SUNSET
Concert Travel Ukulele with Sunset Print designed by YouTube Personality Elise Ecklund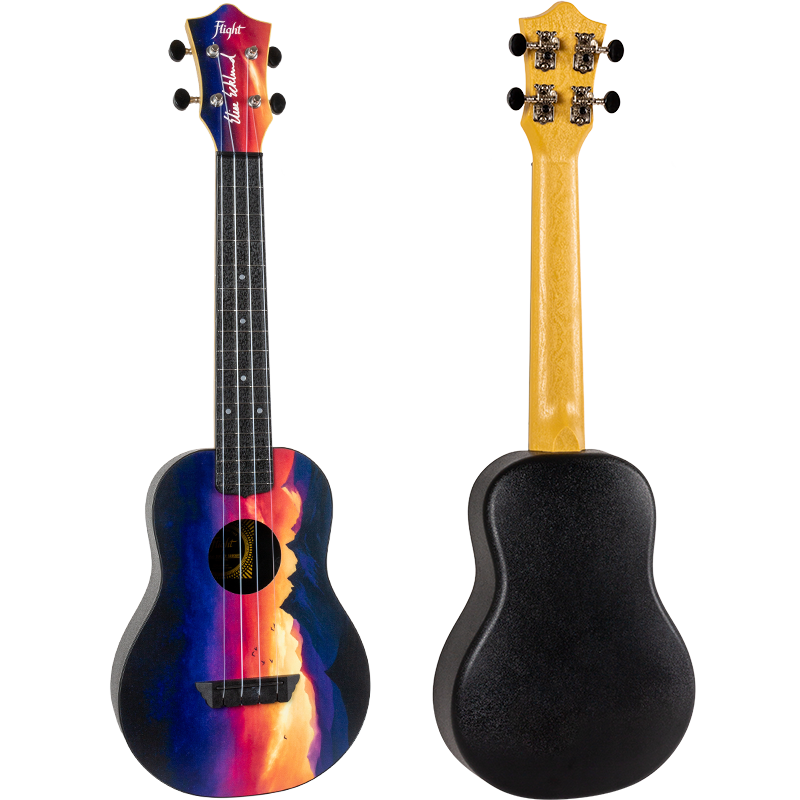 Let Your Music Take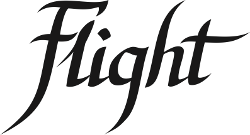 Designed with an arched ABS back, the Flight TUC has more volume than the average concert ukulele, and it resonates freely with a bright, punchy sound. In addition, the ukulele is durable and resistant to humidity changes, which have damaged many wood ukuleles over the years.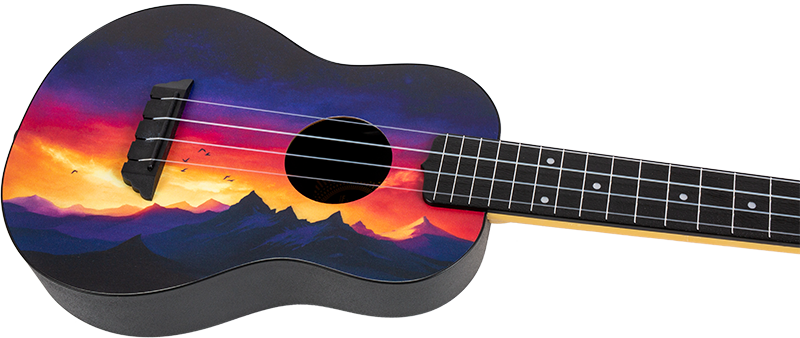 Bright and funky
Linden Wood with Beautiful Print
The TUC-EE SUNSET uses laminate linden wood for the sound board. Linden is characterized by a bright sound.  The TUC-EE SUNSET features a sunset print designed by YouTube personality Elise Ecklund on the soundboard and headstock.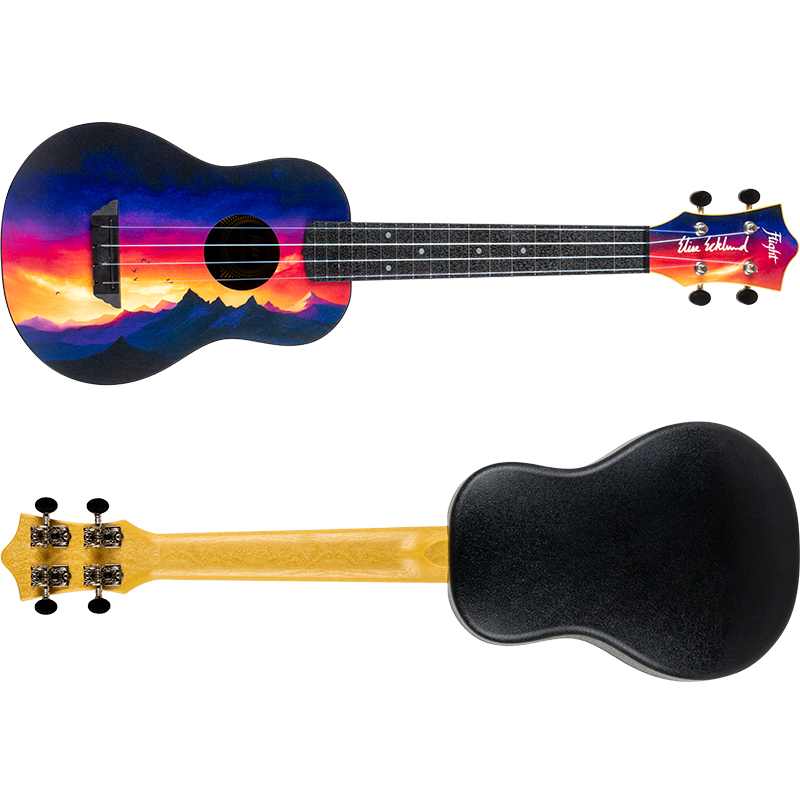 Let's play
The neck and fingerboard of this ukulele are made from ABS plastic.   The TUC is resistant to changes in climate conditions and is easy to clean and maintain.  You will never experience  a sharp fret or bent neck with any of our Travel ukuleles.   The surface of the ABS neck has a wood pattern, which offers a better tactile experience than smooth plastic.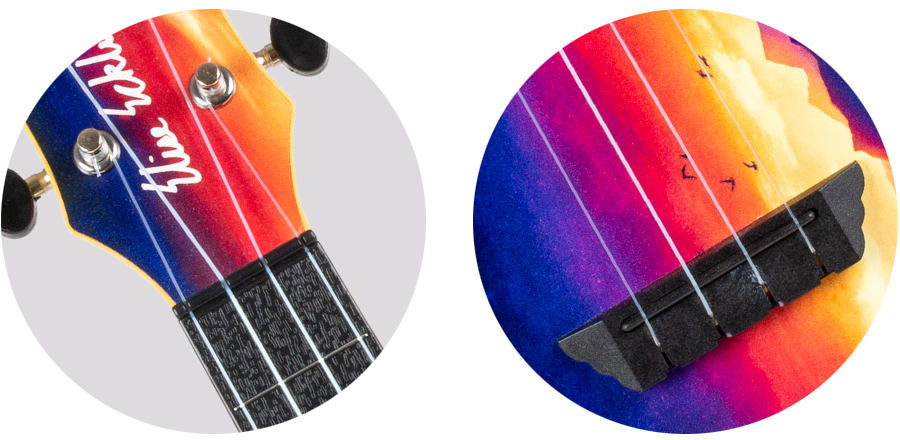 Pitch perfect quality
A zero fret paired with unique bridge construction keeps the string action low and intonation on point. Since the plastic is never going to react to climate conditions, you will never have to adjust the action on your ukulele.   The TUS-EE SUNSET comes with Aquila Sugar Strings, which are clear and bright, and have great intonation.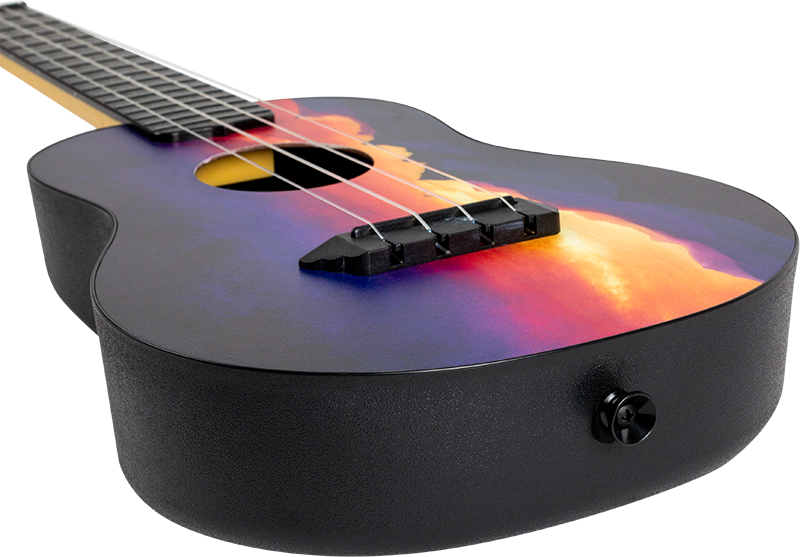 Fasten your seat belts
The rounded back of the Flight Concert Travel Ukulele could slide as you play the ukulele.  To address this issue, a strap button was added to the ukulele so that you can add a strap.  Flight offers a variety of excellent straps at a great price.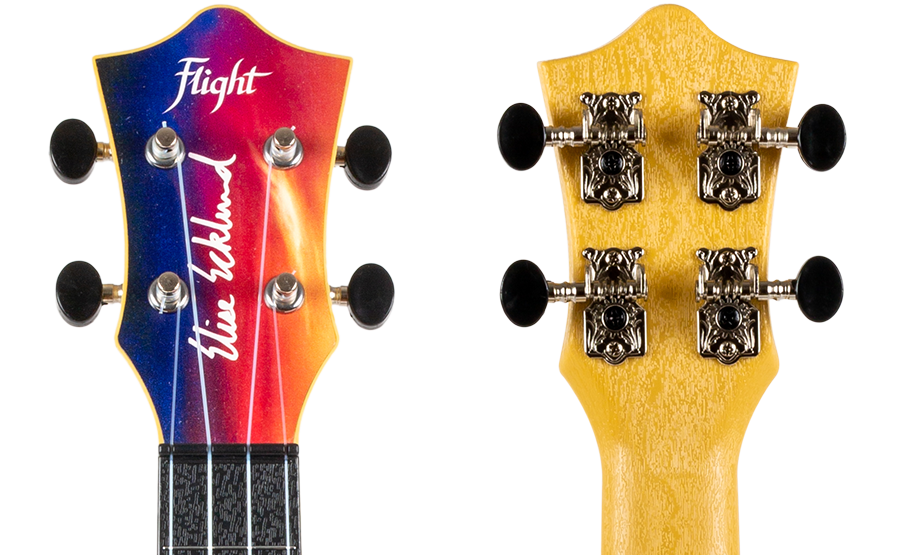 It all starts with the head
Good-looking and easy to tune
All Flight ukuleles feature a carefully-designed headstock fitted with geared tuners that make it easy to keep your ukulele in tune.  The headstock veneer is made of linden and matches the soundboard.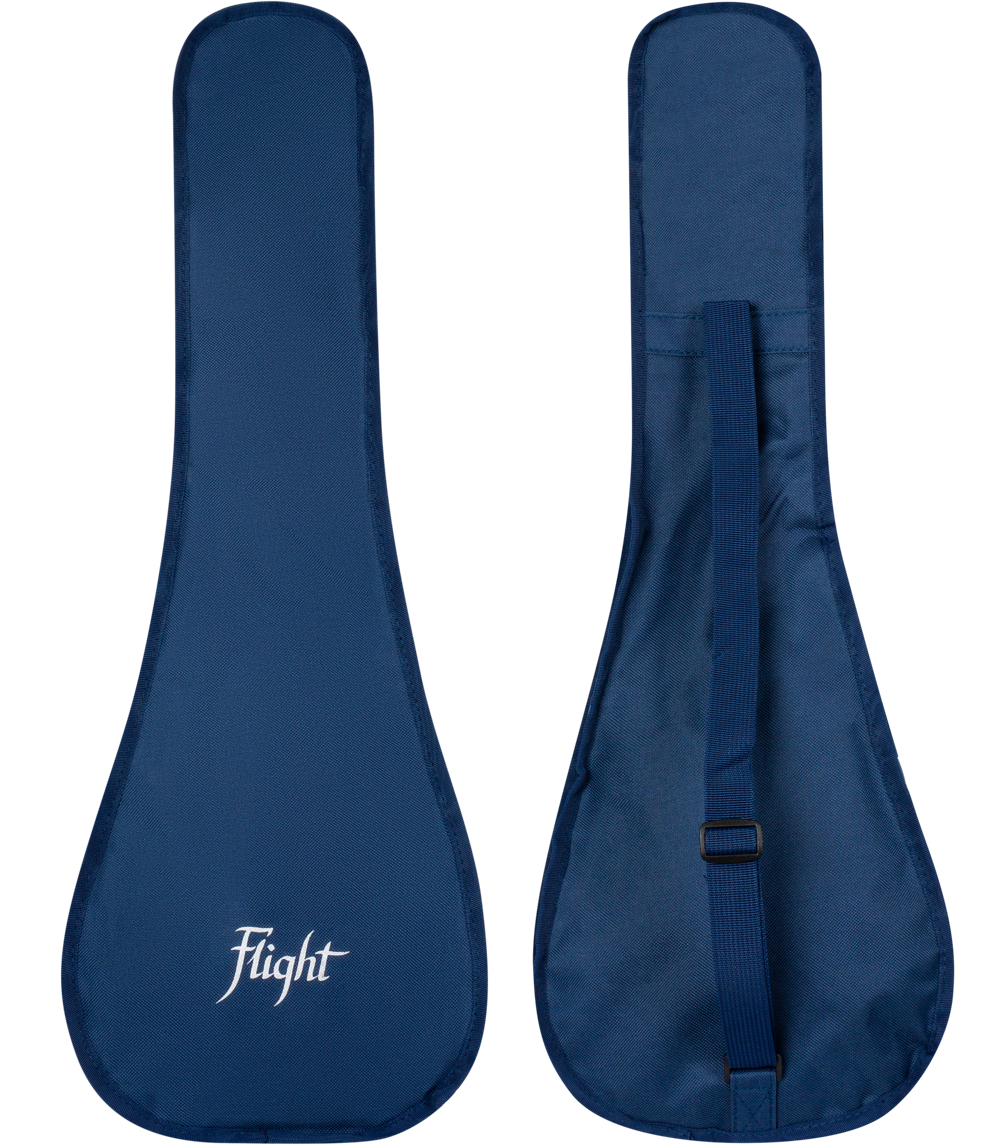 Denim Style
The Travel Ukulele Series includes a light gig bag to make the ukulele easier to carry and to protect the strings during travel.  The blue color is stylish and stands out from the black gig bags used by most players.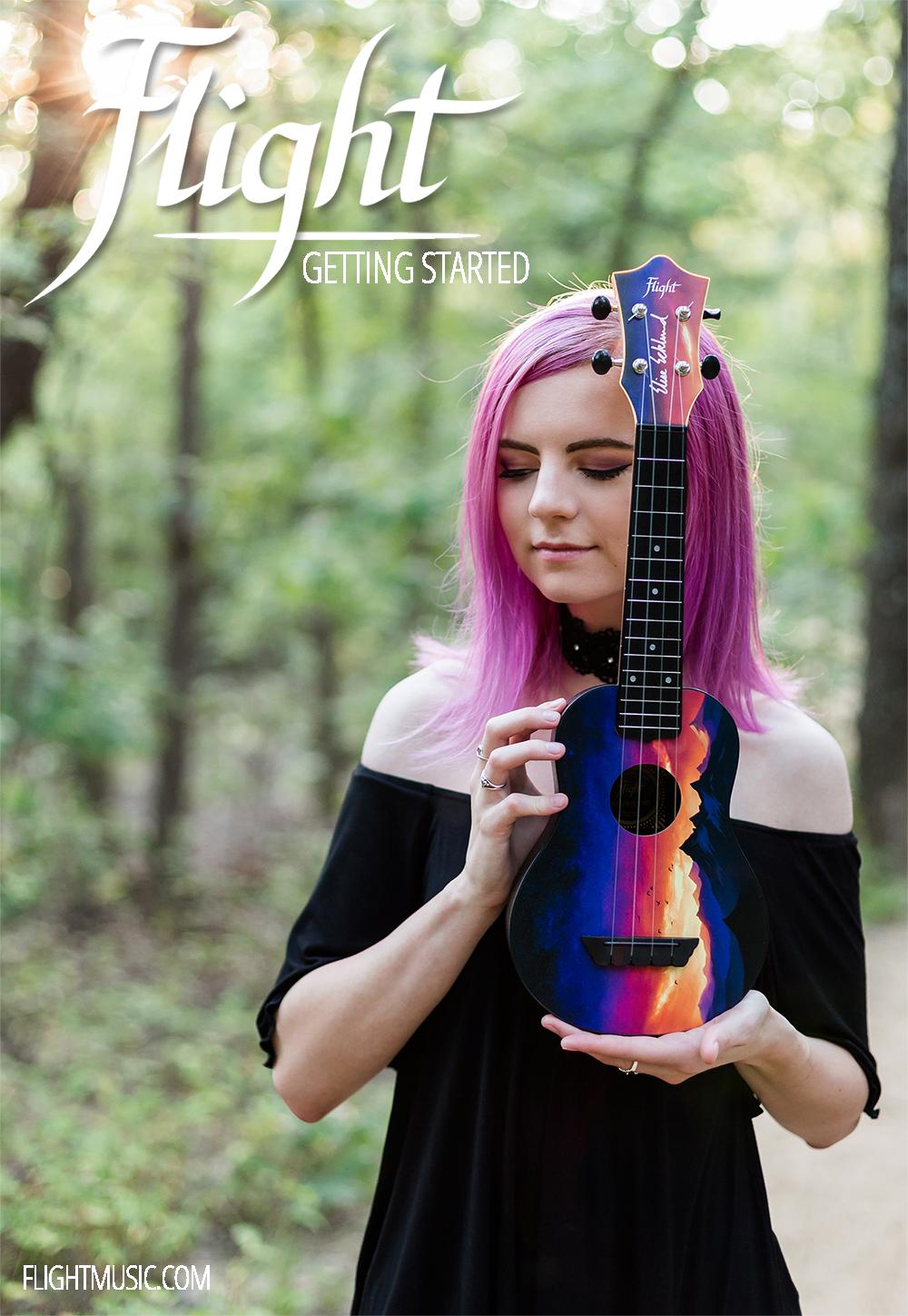 Instructional booklet
We have designed an eight page guidebook to help you begin your journey on the road to future ukulele fame. It is packed with all the necessary information needed for a quick start including chord charts, strumming patterns and chord progressions for your first drills.
As you advance in your ukulele playing, share your progress with the world, and be sure to tag Flight Ukuleles in your posts, on whatever social media platform that you use.
Every Flight Ukulele also includes a sticker pack, so you can show your love of the ukulele and that you have an awesome Flight ukulele in your collection!
Specifications
Every tiny detail matters.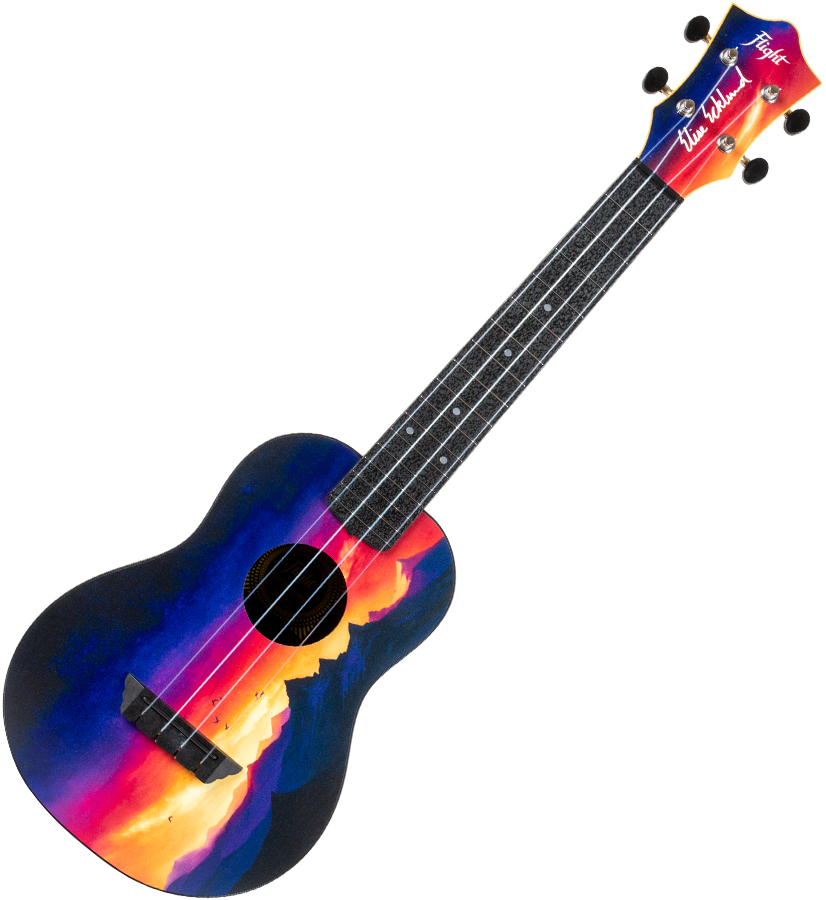 Body
Scale: Concert (17 frets, 14 to body)
Top: Laminate Linden
Back & Side: ABS
Bridge: ABS
Color: Sunset Print
Strings: Aquila Nylgut
Strap Button: Yes
Neck
Neck: ABS
Fretboard: ABS
Nut & Saddle: ABS
Nut Width: 36,6mm
Other
Position Markers: 5th, 7th, 10th and 12th frets.
Premium Features: Sunset Print, Zero Fret, Wooden Top, Arched back, Open Geared Tuners, ABS Fretboard, Side Dots, Strap Button, Aquila Sugar Strings.
The Flight Concert Travel Ukulele is also available in various colors and prints.