Flight TUSL32 Sakura Concert Scale Soprano Travel Ukulele
70,00 €
Due to popular demand, we have brought back the Sakuralele and are introducing it in a concert-scale long-neck soprano version! We have added a concert scale neck to the soprano body to provide the comfort of a concert-sized fretboard combined with the punch and percussiveness of a soprano ukulele.
This unique ukulele has a cherry blossom design, is fitted with a strap button, and is strung with Aquila Sugar strings. This classy ukulele definitely stands out among the different designs of the Flight Travel ukulele.
Description
Flight TUSL32 Sakuralele
Concert Scale Soprano Travel Ukulele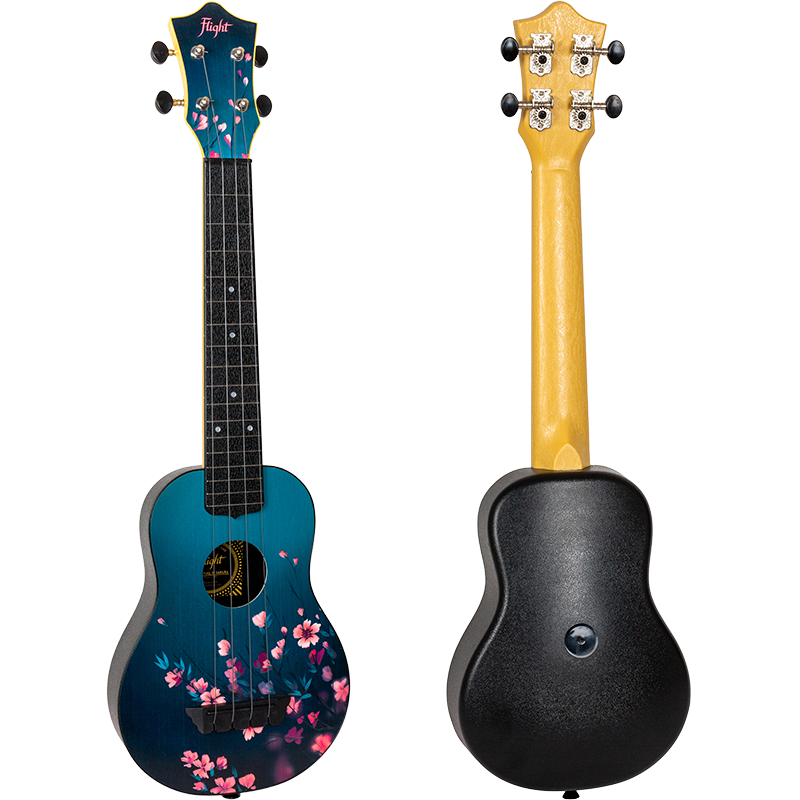 Let Your Music Take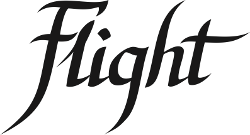 Thanks to a wide-arched ABS back, this baby has more volume in the middle range than your average soprano ukulele, while resonating more freely and sounding brighter. ABS is durable and resistant to humidity changes, which are the main enemies of a wooden ukulele.

Bright and Funky
The TUSL32 uses laminate linden wood for the sound board. Linden is characterized by a bright sound and sleek texture  It also allows us to print our incredible designs on the sound board without compromising the sound quality of the instrument.
Let's play.
The neck and fingerboard are made from ABS plastic, a perfect solution for an entry level ukulele.  ABS is resistant to climate changes. You will never experience a sharp fret or bent neck with any of our Travel ukuleles. The neck surface imitates a wood pattern, which adds a tactile playing experience to the instrument.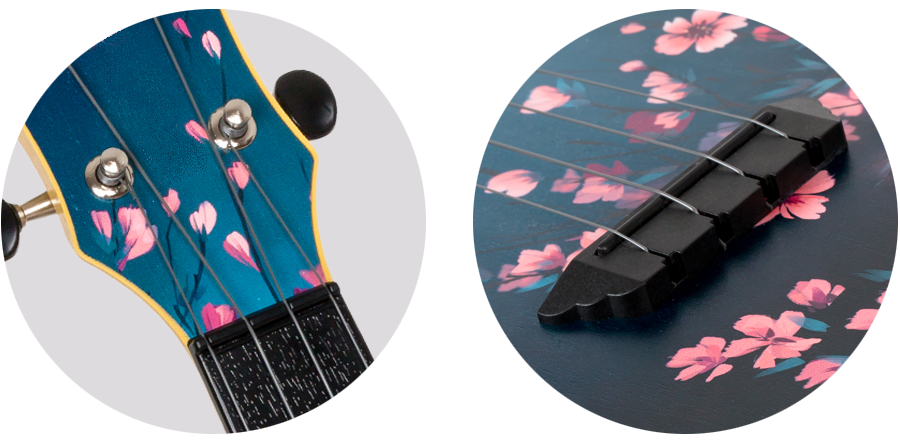 Pitch perfect quality.
The Flight Travel Series uses a zero fret, keeping string action low and intonation on point.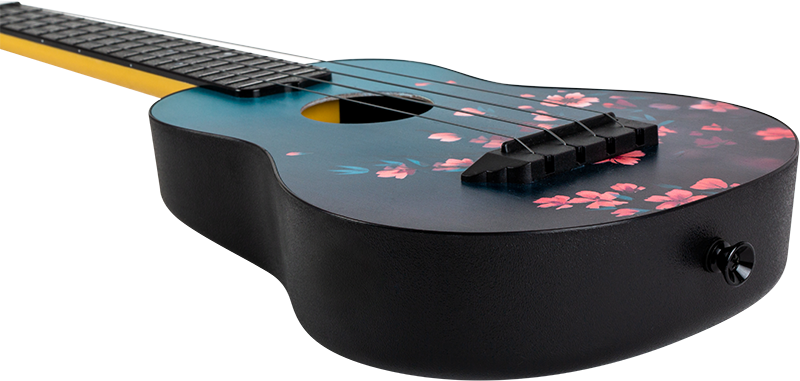 Fasten your seat belts.
Black strap button & Aquila Sugar Strings.
The rounded back construction of this ukulele made adding a strap button a necessity. The use of a strap will make your TUSL easier to hold—and Flight offers an awesome matching strap for the Sakuralele!
This uke is strung with Aquila Sugar strings. Aquila Sugar are made from a material that derives from sugar. They present the best of both worlds between the sweetness and tone of nylon strings and the brightness and power of fluorocarbon. When we first played these strings, the sustain from them left us speechless!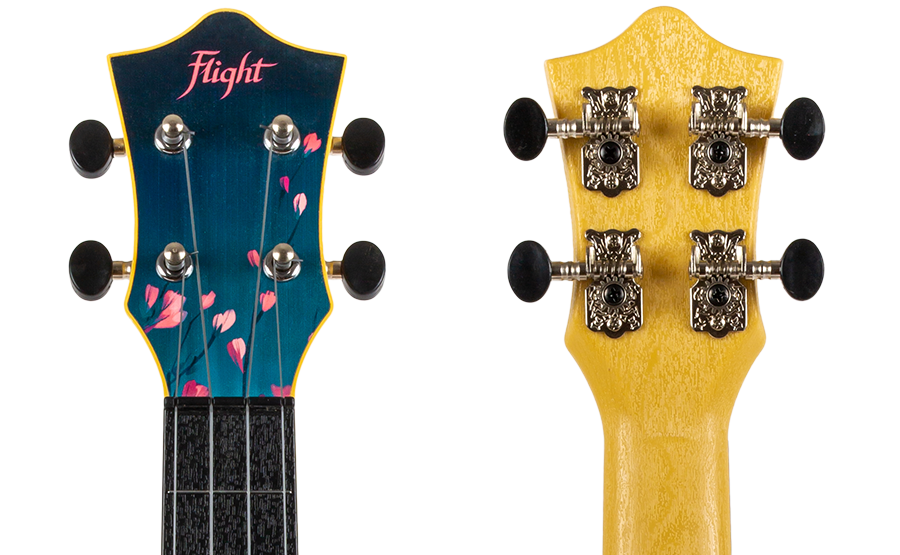 It all starts with the head.
Good-looking and easy to tune.
Headstock design is an integral element of all Flight ukuleles. The headstock veneer is made of linden wood to match the soundboard.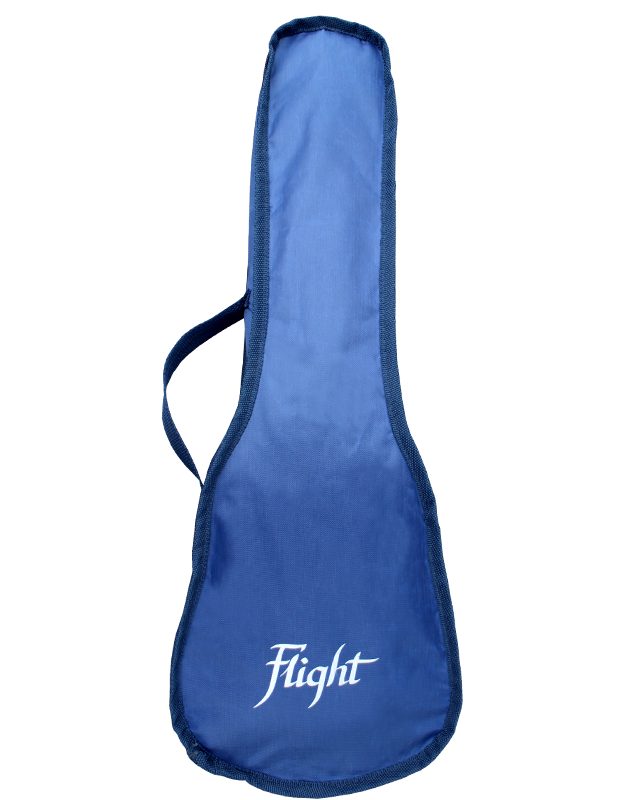 Denim Style
The Travel Ukulele needed a cool gig bag to accompany it on your travels. It is a light weight gig bag which will help you to carry your ukulele from place to place and to protect it from minor bumps and scratches.  We chose the blue denim color to show some style and to make the bag stand out from the standard black gig bag seemingly used by everyone else in the industry.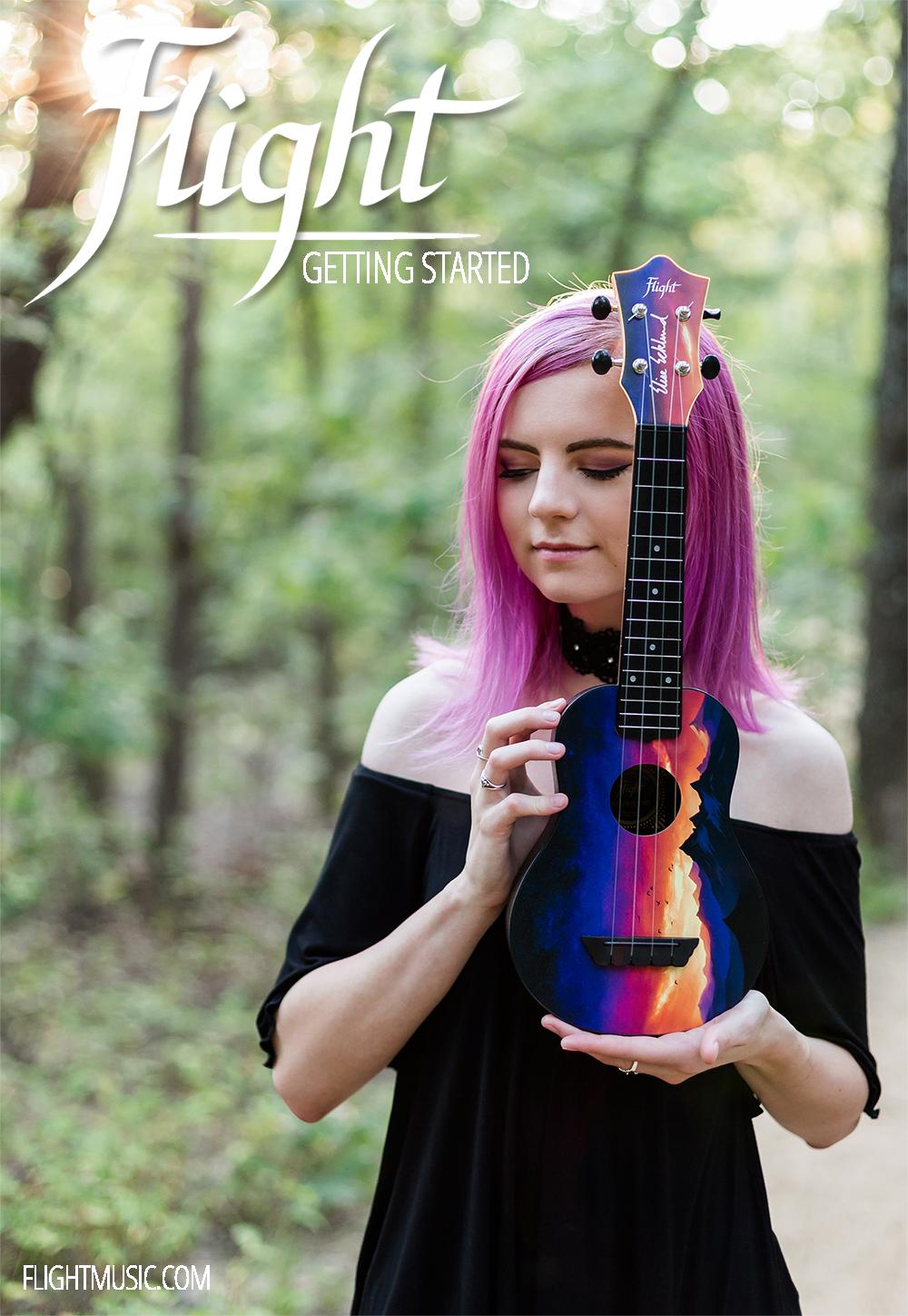 Instructional booklet
We have designed a cute 8-page guide to help you on the road to future ukulele fame. It is packed with all the necessary information needed for a quick start including chord charts, strumming patterns and chord progressions for your first drills.
We also included a cool sticker pack from Flight.
Specifications
Every tiny detail matters.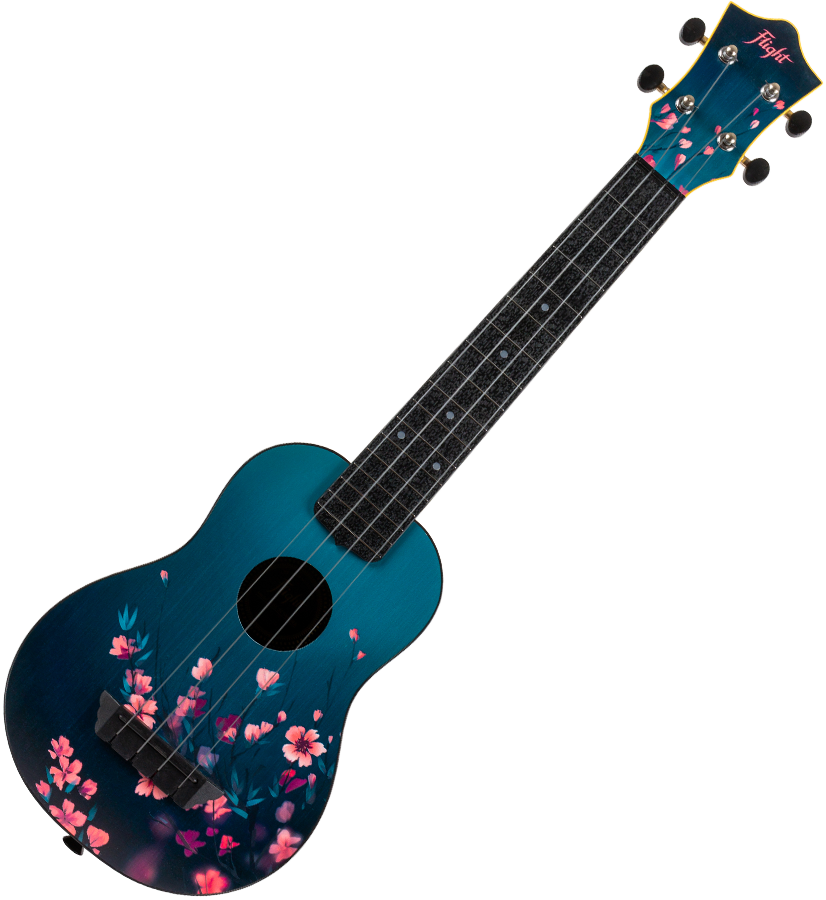 Body
Body Shape: Concert (17 frets)
Top: Laminate Linden
Back & Side: ABS
Bridge: ABS
Color: Cherry Blossom Print
Strap button: Yes
Neck
Neck: ABS
Fretboard: ABS
Nut & Saddle: ABS
Nut Width: 36,6mm
Other
Position Markers: 5th, 7th, 10th and 12th frets.
Strings: Aquila Sugar strings
Premium Features: Zero Fret, Strap Button, Wooden Top, Arched back, Open Geared Tuners, ABS Fretboard, Side Dots, Gig Bag.