"The world would be much better if everyone had a Ukulele at home."
Ukulele At Home by Sebaraedo
Only four strings, a comfortable place in your home and your desire to learn and play this sweet instrument will take you to places of joy. Sebaraedo is a string musician whose main goal is to give everyone an endless repertoire of songs of all styles and colors so that everyone also has a lot to practice on the ukulele. So there are no excuses for not filling our homes with music.
Originally from Chile, Sabaraedo has been exposed to music his from a very young age. This led him to understand life from a musical point of view. One day after starting university, whilst walking in a beautiful garden, he heard how a young man resting near a pine tree was making this sublime sound playing this incredible little instrument. It was love at first sight and he immediately became a ukulele lover.
"Solo cuatro cuerdas, un lugar cómodo en tu casa y tus ganas de aprender y tocar este instrumento dulce te llevarán a lugares de dicha, te harán olvidar de cualquier problema. 
Sebaraedo es un músico de las cuerdas cuyo principal objetivo es darle a todos un repertorio interminable de canciones de todos los estilos y colores para que todos también tengan mucho que practicar en el ukelele. Así que no hay excusas para no llenar de música nuestros hogares."
"Sebaraedo viene de Chile. Y desde que nació, la música ha estado presente en su vida de forma constante. Esto llevó a que él entendiera la vida casi por completo desde el punto de vista musical. Después al entrar a la universidad fue cuando en un tiempo libre él paseaba por el jardín y de repente escuchó como un joven bajo un pino grande hacía sonar de forma sublime y dulce su pequeño instrumento. En ese momento fue hechizado volviéndose en un amante del ukulele".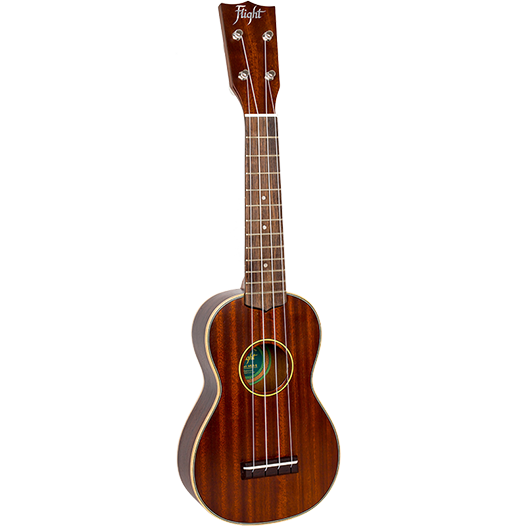 Flight MUS2 Solid Mahogany
The Flight MUS2 Soprano Ukulele is all about heritage from head to saddle. This vintage-styled model is made from solid mahogany, and packs a punch with its thin and resonant mahogany sound board. To reflect the vintage look, the MUS2 includes traditional premium Japanese-made Gotoh friction tuners.

Flight Spirit EQ-A Concert
A wild Spirit that belongs in the wilderness and can't be tamed. Mustang's younger brother, Spirit, is a Concert-sized, all solid acacia ukulele from Flight Ukulele.
Some of the Spirit's unique features include an intricately designed top sound hole, scalloped cutaway, offset dots on the rosewood fingerboard ,and captivating headstock shape. This ukulele is shaped and neatly packed to harness percussive punch, volume and tone inside this beautiful solid acacia concert ukulele–and it comes with a pickup!  The Spirit is an instrument that will let you fly free without limits.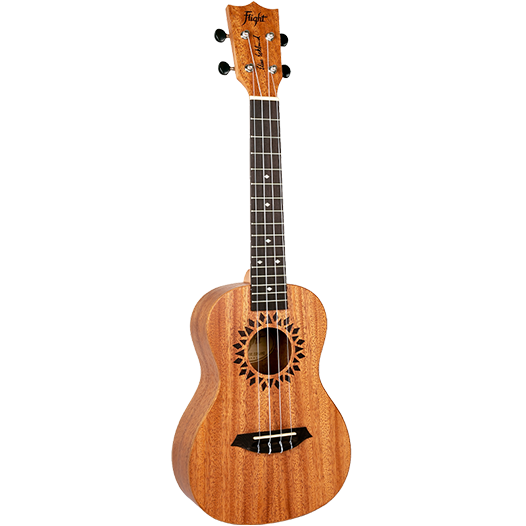 Flight Elise Ecklund Signature
A classy ukulele with a warm, happy sound. The rosette design pairs perfectly with the diamond shaped markers on the fretboard. This mahogany uke is a great choice whether you are just starting out or if you have been playing for years. We partnered with Elise Ecklund to design this instrument to be something special for everyone who will practice, write, play, and perform with it.