Flight Peter Moss Signature Tenor Ukulele
440,00 €
Peter Moss, a talented ukulele performer and educator from the UK, collaborated with Flight to make a signature concert ukulele, as Peter's preferred scale is the concert scale.  Fans of Flight Ukulele contacted us, requesting a version of the Peter Moss Ukulele in the tenor scale, and that model is now available for purchase.
The Flight Peter Moss Signature Ukulele reflects the playing style and tonal preferences of Peter Moss, resulting in a ukulele that is sophisticated, precise, warm and unique.  In creating his signature ukulele, Peter wanted to keep some of his favorite features of the Flight Spirit, such as the scalloped cutaway, offset fret markers, active pickup, and our famous Flight signature headstock.  He then wanted to combine those features with a classic wood combination that isn't featured on any other model of Flight ukulele – spruce and mahogany! This wood combination offers the brightness and projection that you expect from spruce with the warmth and roundness of mahogany, creating an incredibly balanced sound. To add to this pairing of tone woods, the moonburst stain on the ukulele is unique and eye-catching.
In summary, the Peter Moss Signature Ukulele looks amazing, is incredibly comfortable to play, and sounds fantastic—and is now available in the tenor scale.  This is a ukulele to add to your wish list!
Description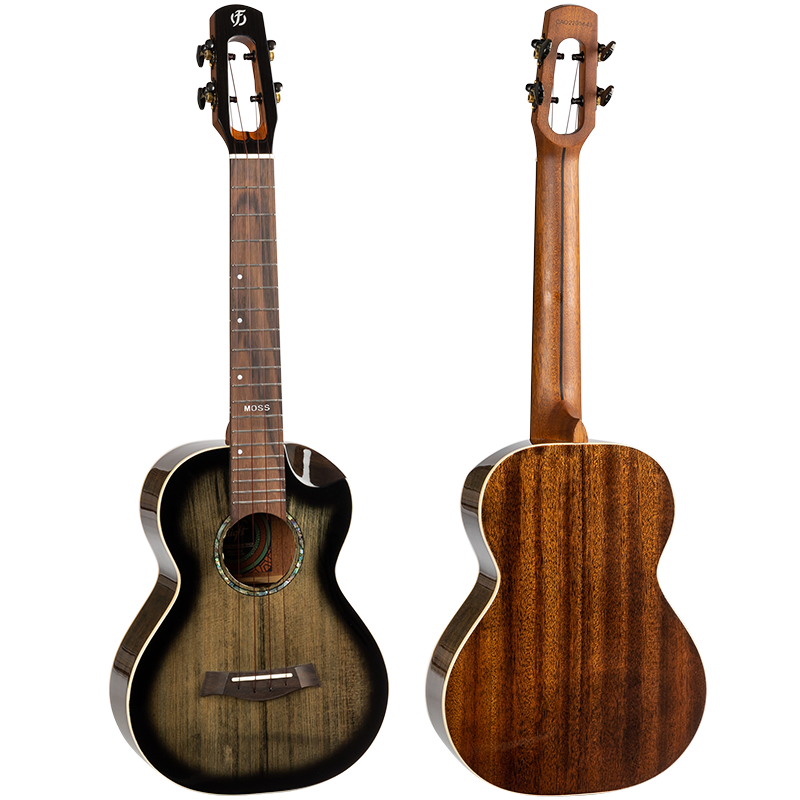 Let Your Music Take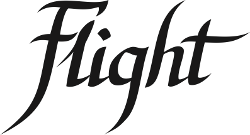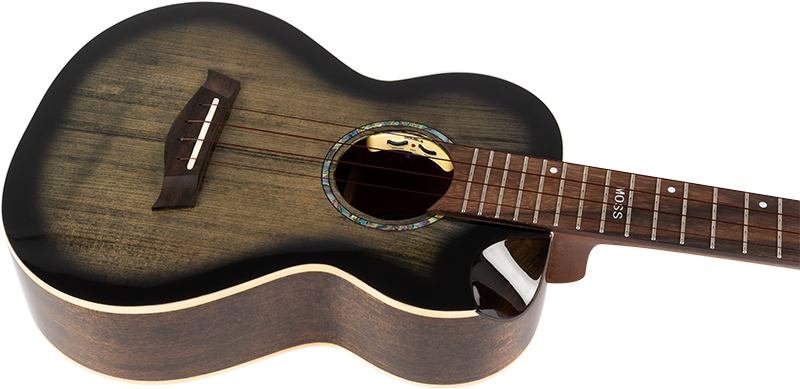 A classic gets a makeover
Solid African Mahogany paired with solid spruce
We paired a solid African Mahogany body with a solid Spruce top for a sound that is both traditional and modern. Mahogany is a warm and resonant sounding tonewood with a long heritage in the making of ukuleles. The mahogany body combined with a solid spruce top adds brightness and projection, providing a ukulele that is balanced, responsive, and chimes like a bell!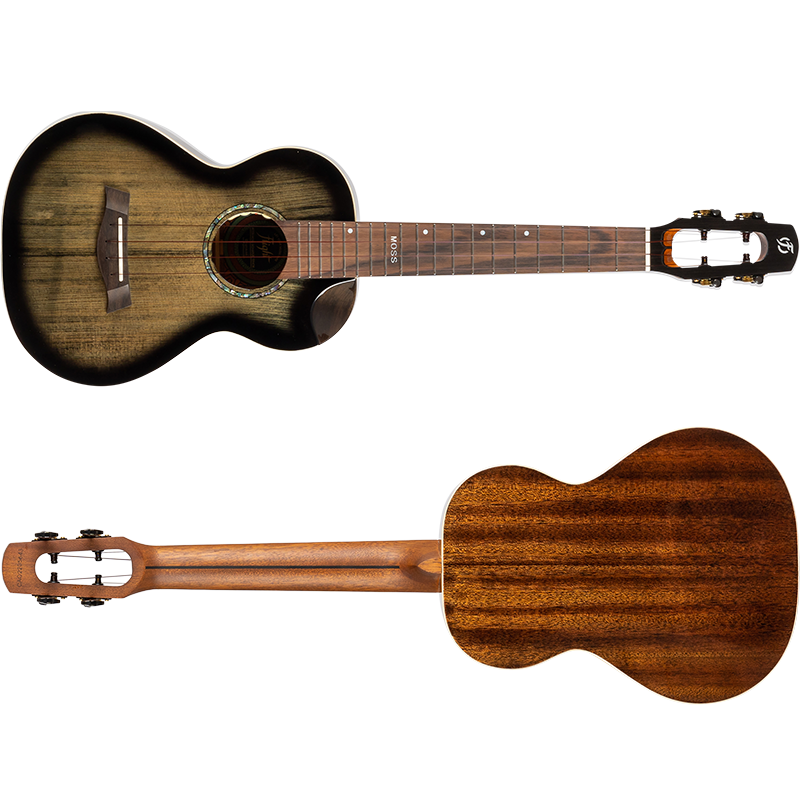 Sophistication and style
Spruce, although a great sounding tonewood, can sometimes look quite plain so we decided to 'spruce' up the appearance of this ukulele with a dark burst. Imagine a sunburst in black and white and you have our 'moonburst.'  The result is a classic look with a modern twist!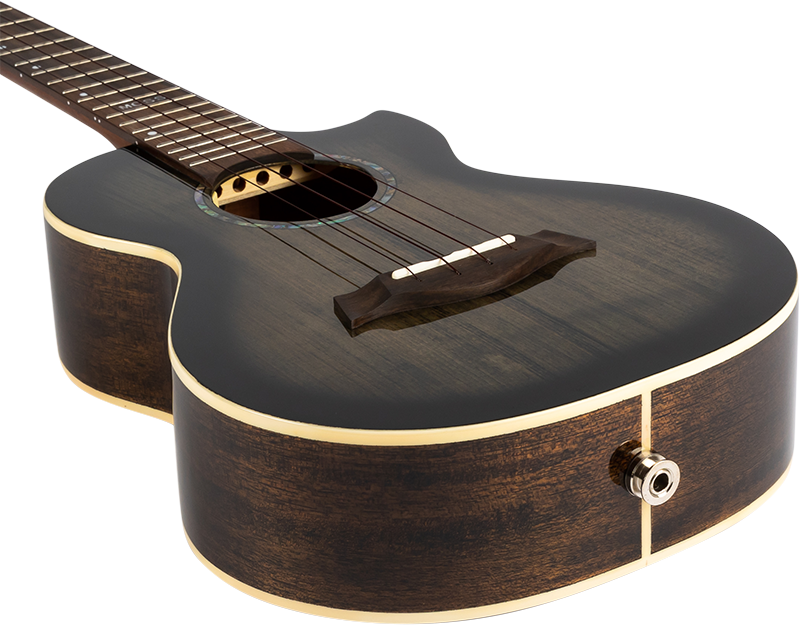 Pearloid Rosette, position markers and white binding
Tasteful Appointments
The gorgeous pearloid rosette and white binding tastefully finish off the sophisticated look of this ukulele and add a touch of luxury. The off-set fret markers are eye-catching and are easier to see when playing. Side position markers also add to the ease of reference.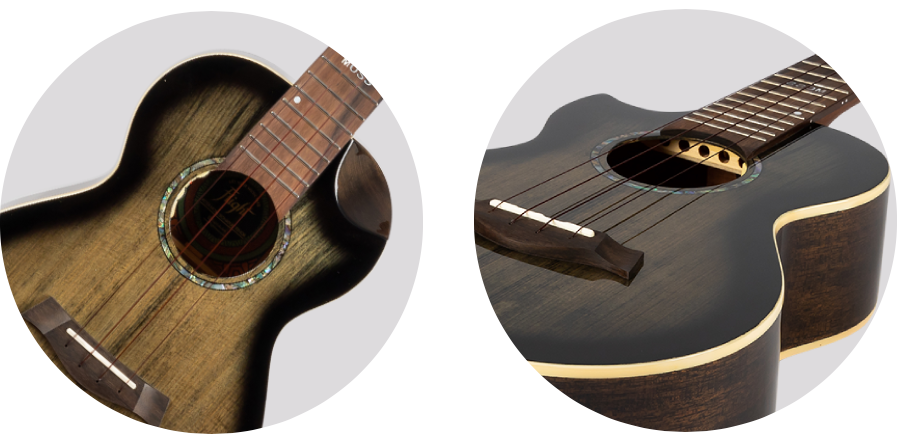 Beautiful rosewood
Rosewood fretboard and bridge
The Peter Moss model features a gorgeous chocolatey Rosewood fingerboard and bridge. Historically a very popular hardwood for fretted instruments, rosewood can add warmth to the sound of an instrument while lessening harsh higher frequencies of an instrument.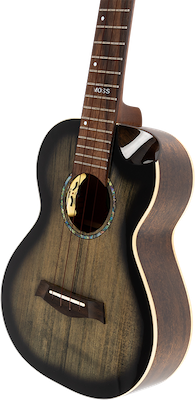 Real temptation
The scalloped cutaway that has been so popular with the Spirit, Mustang and Victoria models was also included in this model. This intelligent design allows for playing up the frets but without the compromise on volume and tone that many full cutaways inflict. It also showcases the absolute craftsmanship and mastery of our luthiers.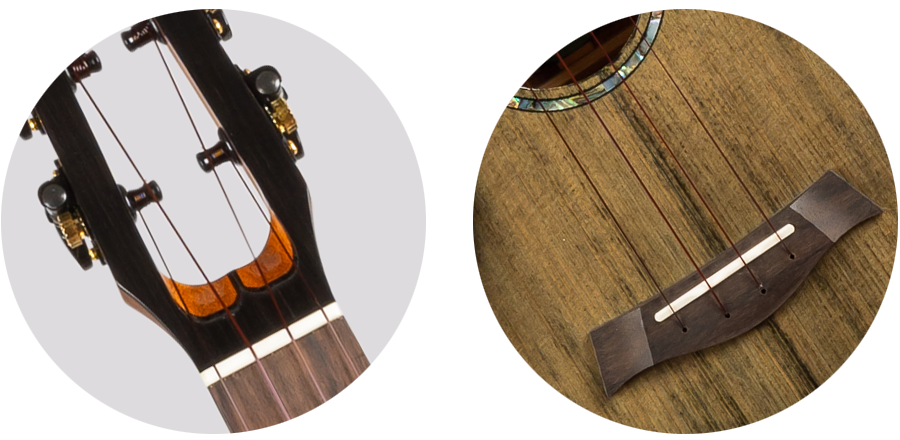 Infinite sustain
The string-through bridge is used on many of our Royal series ukuleles and is one of the latest ukulele trends. It makes the top resonate better, as the strings are attached directly through the soundboard, and not to the bridge. Changing the strings might seem a bit confusing at first, but actually it is easier – check our YouTube channel for a tutorial on how to change the strings if you are unsure how to do so.

Strings 'Worth'y of the instrument
Worth Brown strings as standard
Worth Browns were an obvious choice for this ukulele as they perfectly match the tone and looks of the instrument: offering both a precise clarity with a warmth that is as balanced as the uke itself.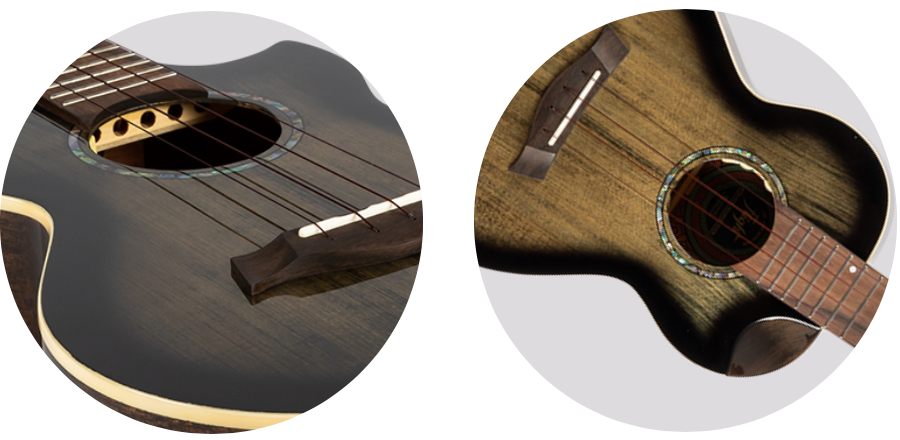 Small yet mighty
The controls for the active pickup are mounted underneath the sound hole, meaning that a cavity does not have to be created on the side of the ukulele for the pickup.  The Double C1U is easy to use, and sounds great!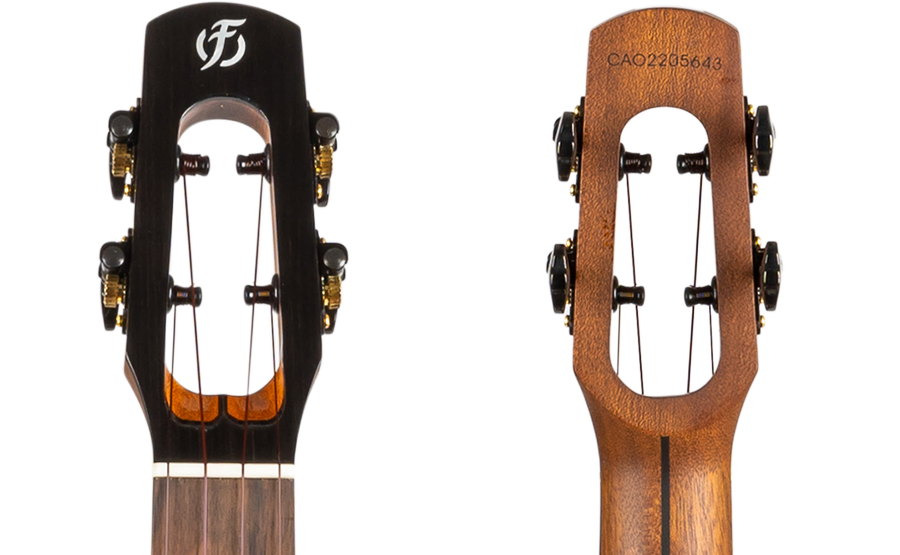 The famous Flight headstock
Our now famous signature headstock is bold and striking, infusing innovation into all the benefits of a slotted headstock. Its round, airy shape not only looks amazing, it also makes the headstock lighter than most. You will certainly be turning heads…and tuners..with this headstock.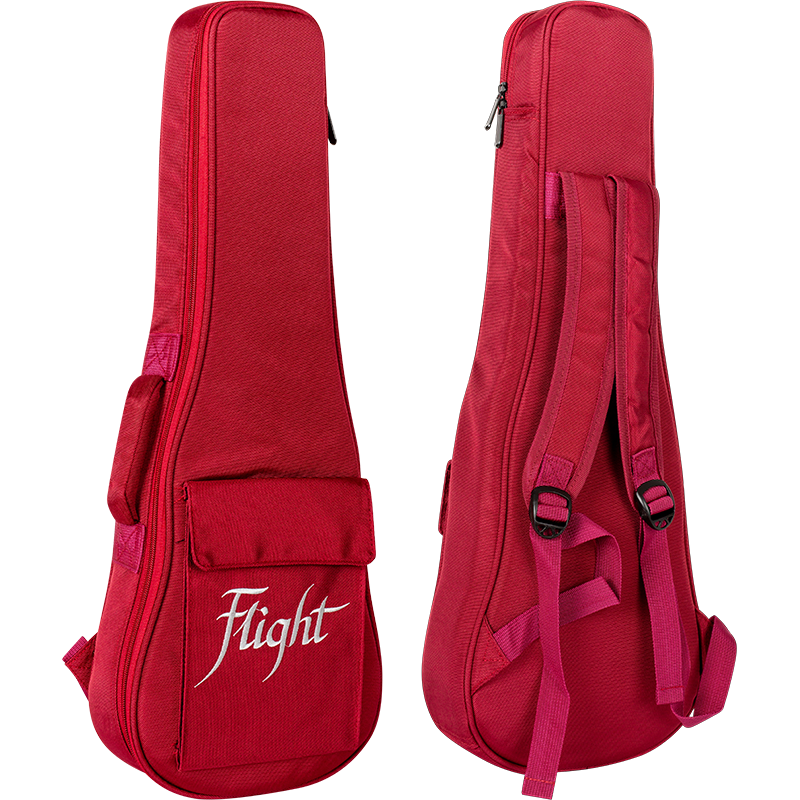 Only the best gig bag
All of our Royal series ukuleles come with a luxury red gig bag with a purple infusion. Associated with royalty, this regal color adds a final touch to our Royal Series.  The bag features 20mm padding which is thick and will ensure good protection for your uke.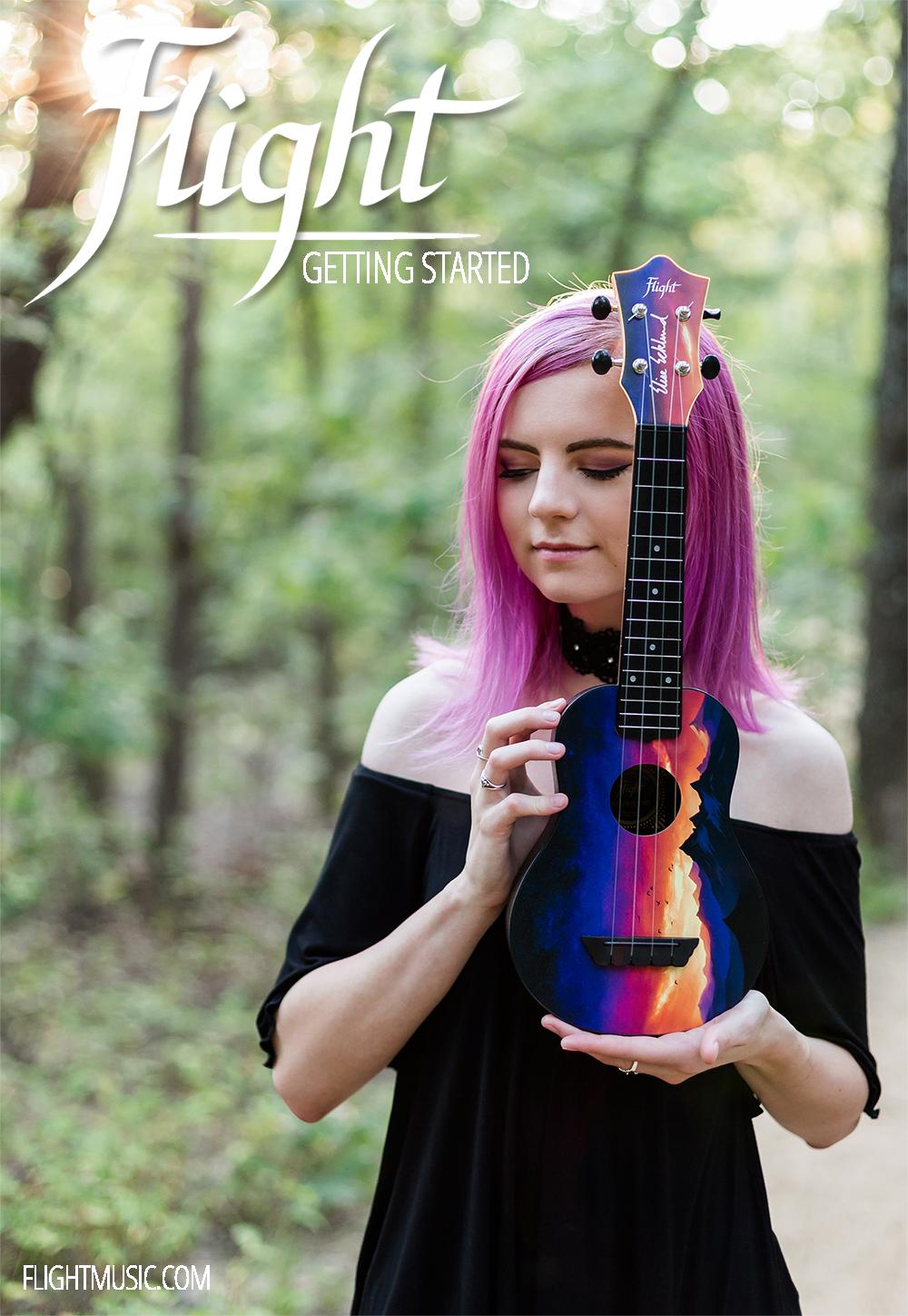 Instructional booklet
The ukulele comes with a Flight instructional booklet to help you on your road to future ukulele fame. It is packed with all the information needed for a quick start on the ukulele, including chord charts, strumming patterns, and tabs for an original song by Elise Ecklund!
We also included a cool sticker pack from Flight.
Specifications
Every tiny detail matters.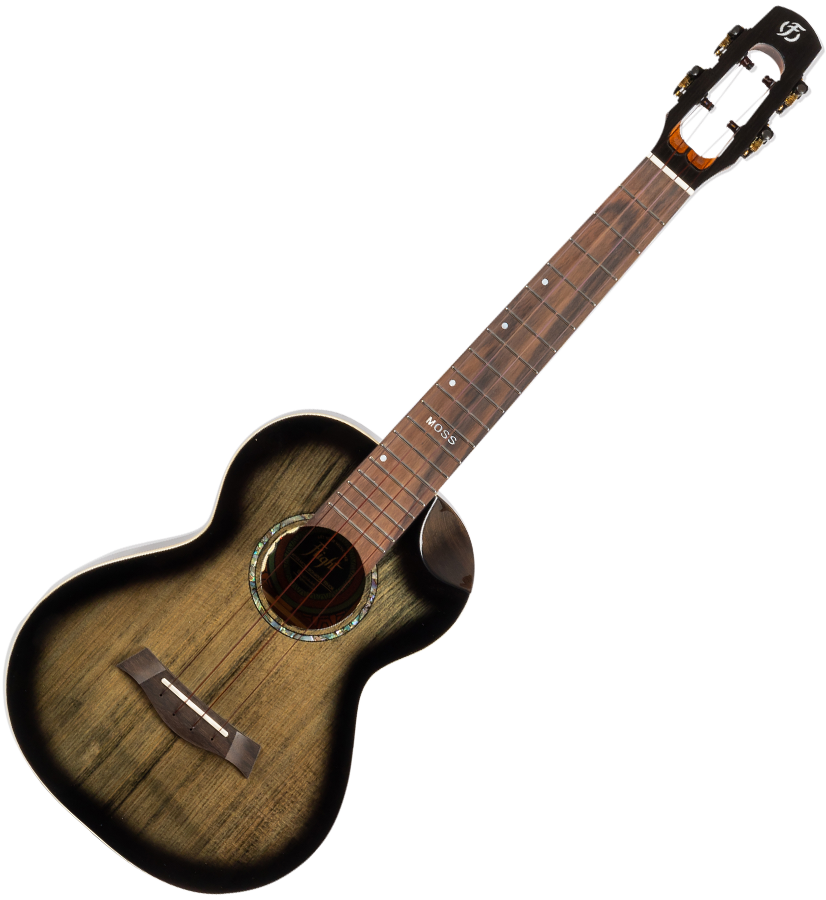 Body
Body Shape: Tenor (19 frets)
Top: Solid Spruce
Back & Side: Solid Mahogany
Bridge: Rosewood
Neck
Neck: Mahogany
Fretboard: Rosewood
Nut & Saddle: Bone
Nut Width: 36mm
Strings: Worth Brown
Other
Offset Position Markers: 3th, 5th, 7th, 10th, 12th and 15th frets.
Premium Features: Offset position markers, Moonburst Stain, Scalloped cutaway, Rosewood fretboard, Unique headstock, String-through bridge, Worth strings
Deluxe 20mm padded gig bag included.