Sammy is a full time music teacher specialising in all things 4 string – well, 2 things (ukulele and bass). His main passion is the ukulele, whether it's teaching people, creating silly solo covers or writing finger busting exercises, he's happy with a uke in his hands. The uke now stuck in his hands being a Fireball, the perfect ukulele to blast out some rock covers. Originally from the UK and now based in Copenhagen, Sammy aspires to be a modern player for the newest generation of ukulele players.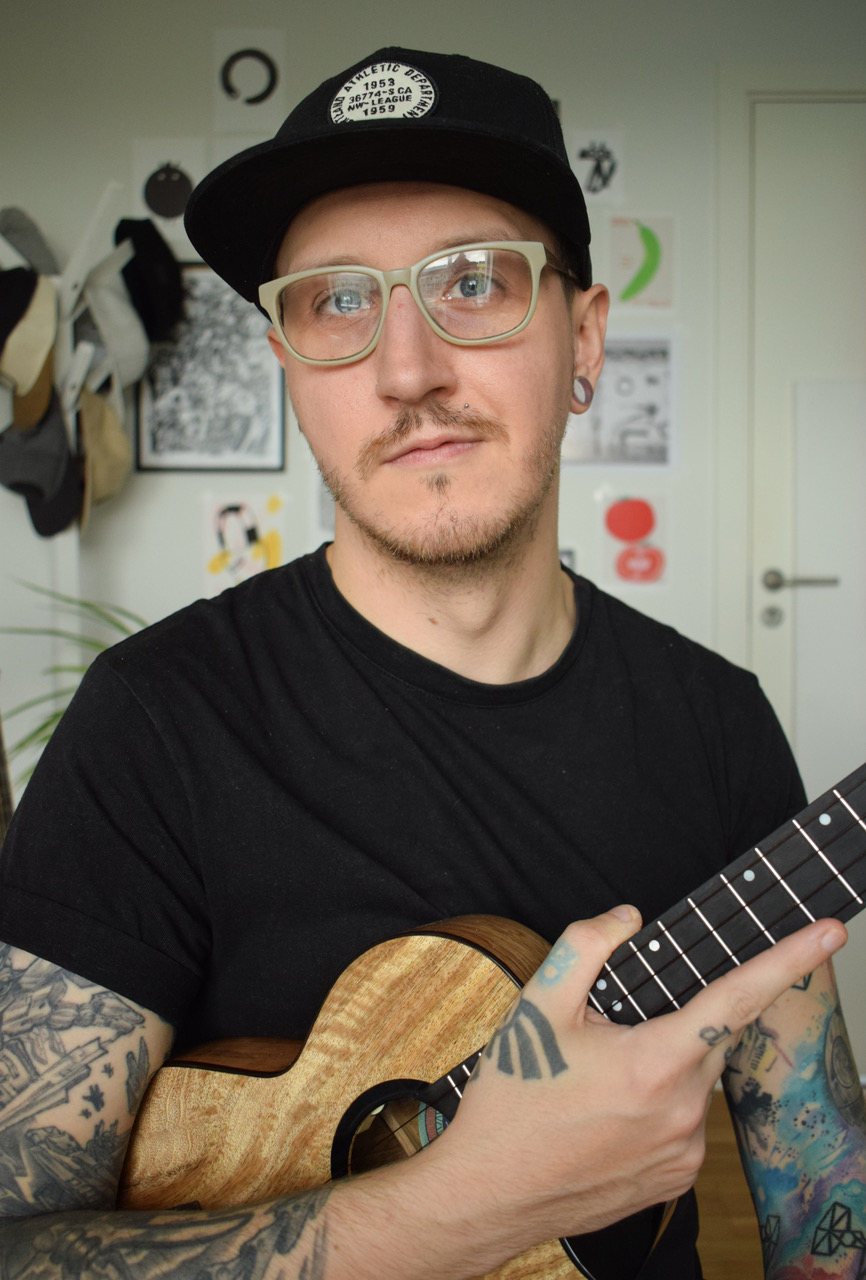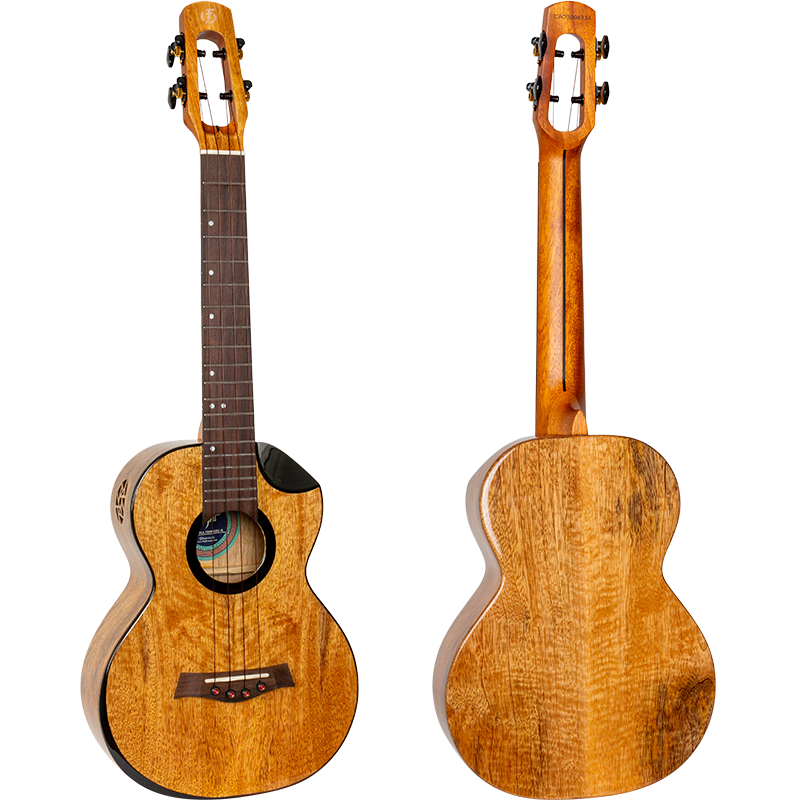 The Flight Fireball is named after a well-known jet airplane.  The Flight Fireball EQ-A Tenor features a solid mango body with dyed maple appointments, including a rosette, comfort edge, and scalloped cutaway. The mango tree, most popular for its tasty fruit, also serves as a stunning tone wood, both in appearance and sound.  Mango has a sweet sound (pun intended) that is often compared to koa, while offering amazing grain patterns found with no other tone wood.  Check out the amazing Flight Fireball and see how sweet it is to fall in love with it!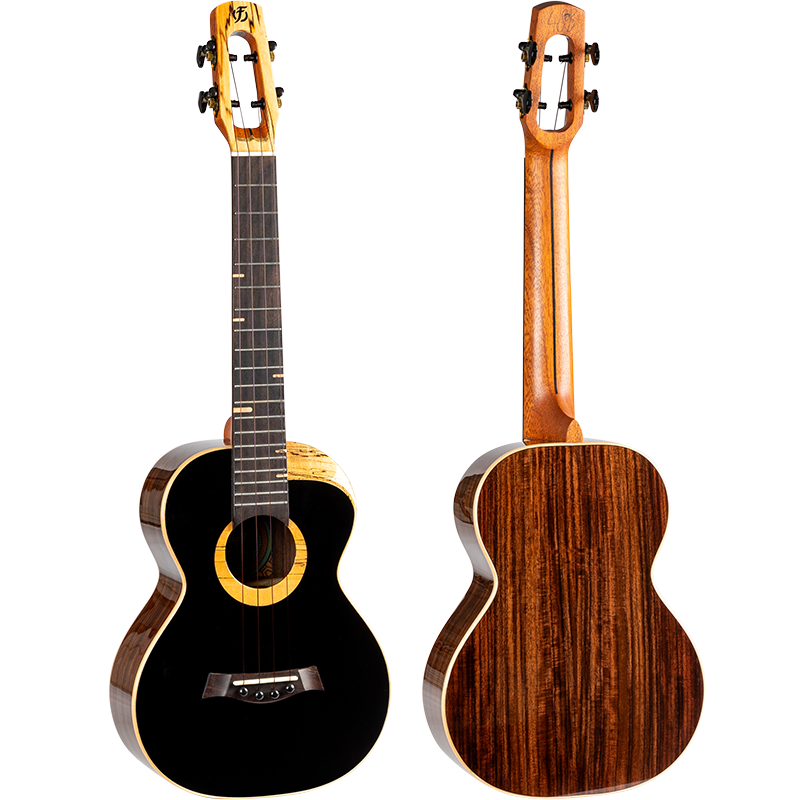 Meet the Flight 4SB, a signature ukulele designed through a collaboration of Flight and ukulele artist 4stringboy.  The 4SB takes a popular pairing of tone woods and dresses it up for the modern player.   Combining a solid spruce top with a solid rosewood body, the Flight 4SB has a loud, crystal clear tone that stands out when you play it. Sammy Turton (4stringboy) wanted the ukulele to be dressed in black, which is why the Flight 4SB has a gloss black top, black tuners, black bridge pins, and a first for Flight—a black deluxe gig bag.  The ukulele also features some natural elements, such as a gloss finish on the rosewood body that reveals its natural grain, as well as the rosette, cutaway, bindings, fret markers and headstock which are finished with caramel swirls of spalted maple.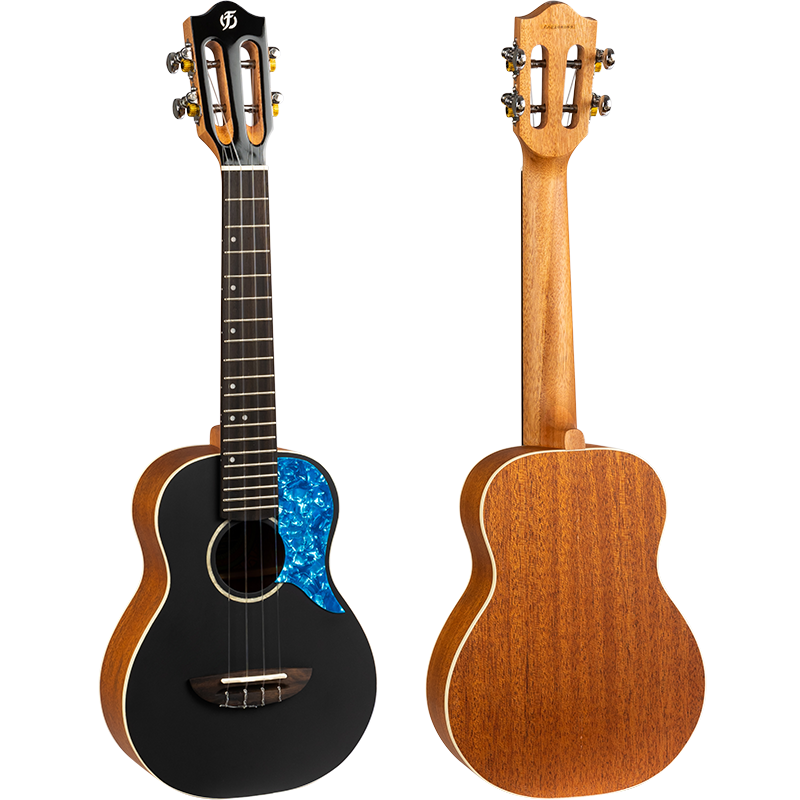 There's a new princess in town! Meet the Flight Iris, a solid spruce top concert ukulele sporting a painted top in black, blue, or red, pick guard, and laminate mahogany back and sides. The Iris is Flight's take on a painted-top ukulele, offering a host of features with Flight's recognized quality and value. The Iris includes a slotted headstock, rear facing Der Jung tuners, offset front position markers on a rosewood fretboard, a 36mm nut, a compensated saddle, fluorocarbon strings, and a deluxe gig bag. The Iris is a joy to play and sounds sweet! Want to make a bold statement with a modern ukulele design? If so, the Flight Iris is the ukulele for you!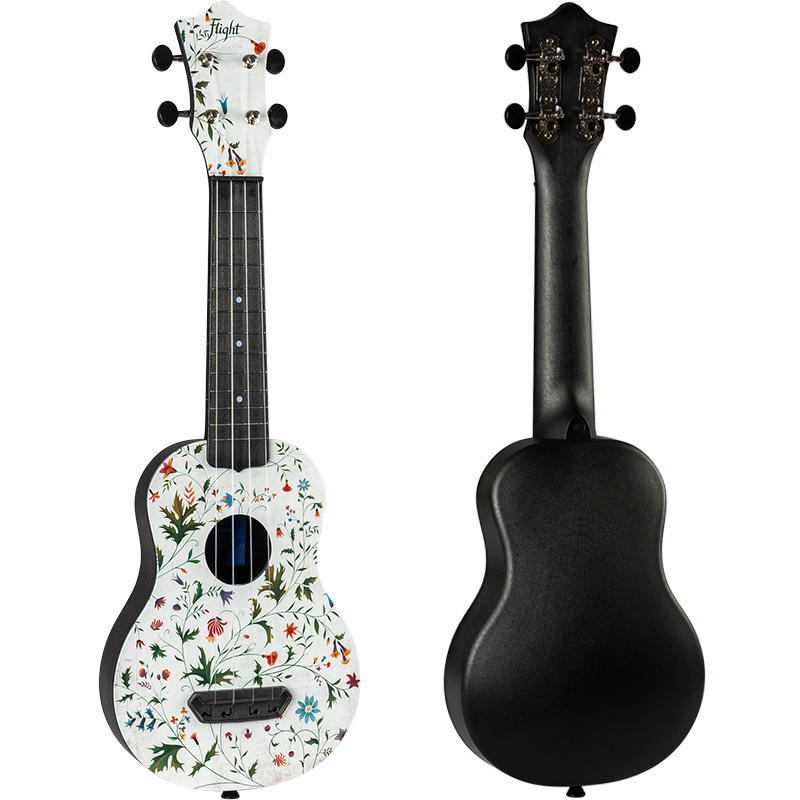 The Flight Flower Ultra Travel Ukulele is a polycarbonate reinforced plastic soprano travel ukulele with a thin, resonant, and responsive lattice-braced soundboard and fluorocarbon strings, creating a bright and punchy sound. With a zero fret and precision engineering, the instrument features ideal action and excellent intonation for an enjoyable playing experience, and the slotted bridge makes string changes easy to accomplish.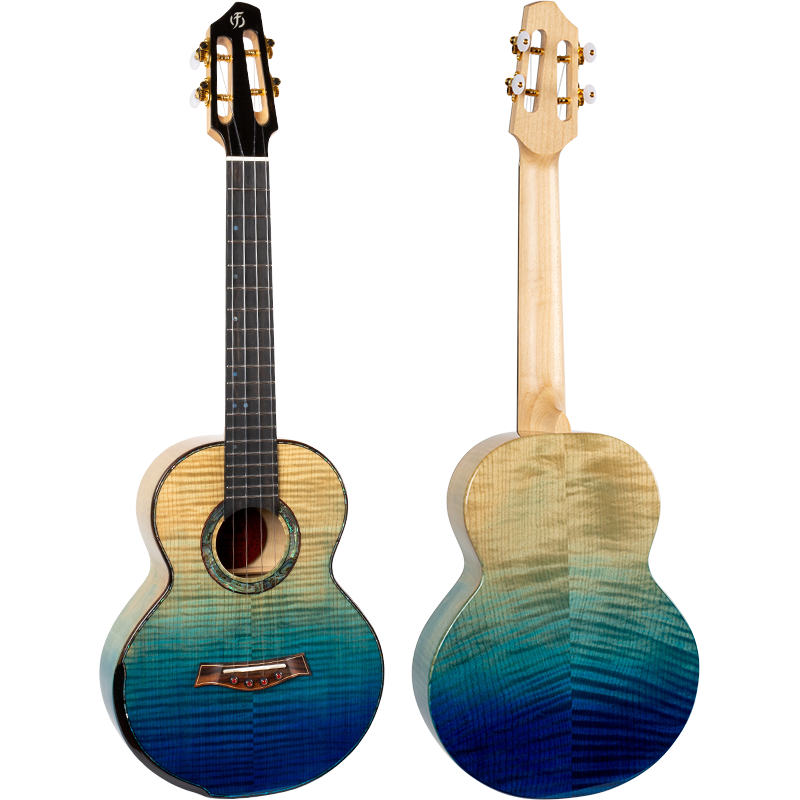 The Flight A10 FM Faded Maple Tenor Ukulele is a work of art–stunning to look at, stunning to play, and stunning to hear.  You cannot escape the beauty of the body which fades from natural maple to blue.  Featuring the highest grade flamed maple, the instrument is packed with features including an ebony fretboard, ebony bridge, and ebony comfort edge, a maple neck, a special 10th anniversary headstock, abalone rosette and purfling, a pin bridge, Brazilian fluorocarbon strings, and an updated deluxe gig bag.  The A10 FM Faded Blue Tenor Ukulele will hold a special place in any ukulele collection.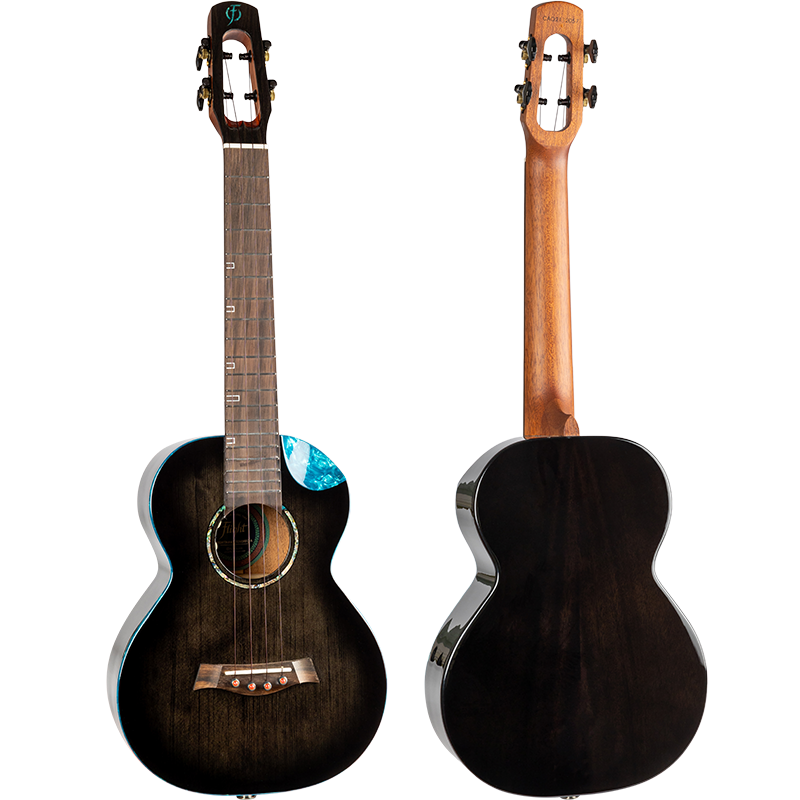 At Flight, we love to innovate with new and unusual ukulele designs that you won't find anywhere else. With the Nighthawk models, we wanted to create a ukulele with some of the most popular features of the Spirit and the Mustang but with a twist! The result is a sophisticated looking uke with eye-catching appointments like blue pearloid cutaway and binding, square off-set fretboard markers, and a dark and moody 'moonburst' finish! The Nighthawk is like the sports car of the Royal series – precise, agile and not for the faint of heart!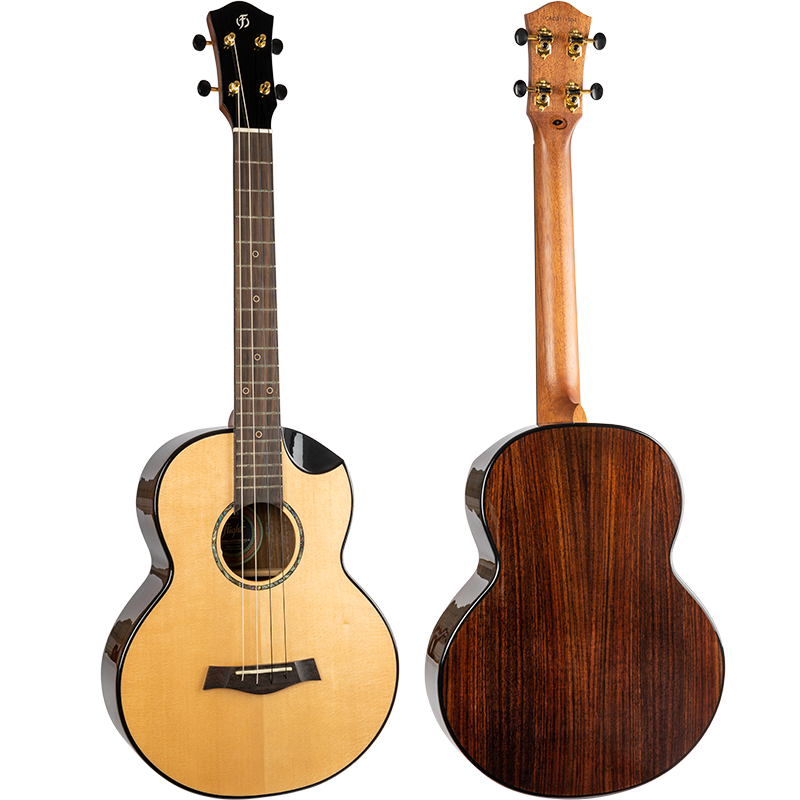 You asked, and we listened! By popular demand, we proudly present the Aurora baritone ukulele, the first baritone in our Princess series, and it is definitely deserving of the title. This ukulele is majestic! It features a rosewood back and sides for a deep, rich, resonant tone with a solid spruce top that also provides clarity and projection, combined with a C1U Active pickup which makes it a great ukulele for amateur and professional performers alike.  Remember that our baritone ukuleles are strung with DGBE tuning, which is the same as the bottom four strings of a guitar. Having said that, all your usual ukulele chord shapes will work, just for different names of notes and chords.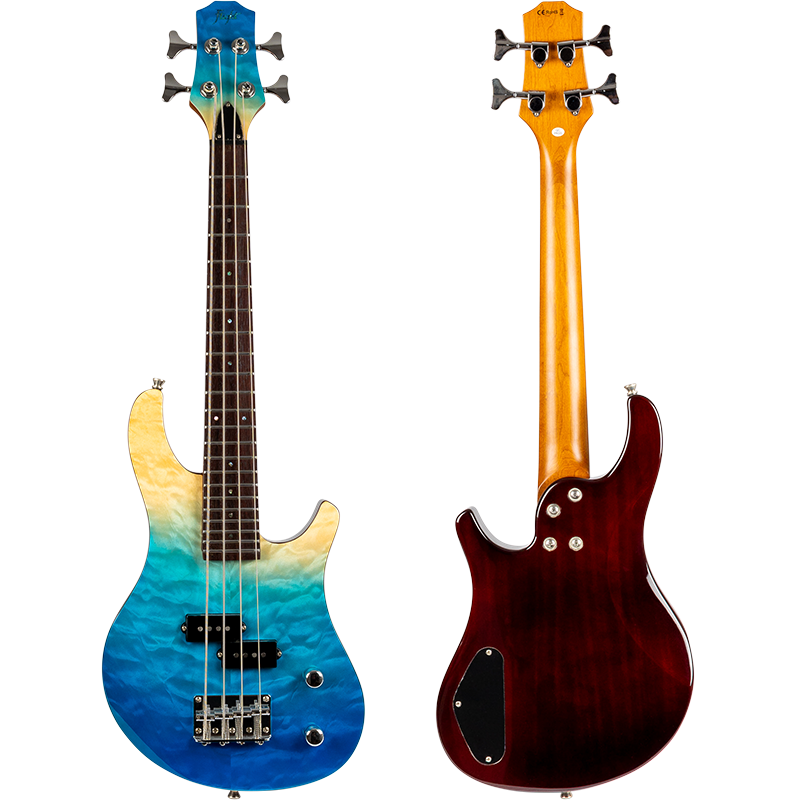 It is time to lay down some awesome grooves with Flight's Mini Bass Electric Ukulele!  The Mini Bass is Flight's second bass ukulele, its first with a solid body and metal strings.  This incredible instrument features standard bass tuning (EADG) in a smaller 510mm/20"scale that is perfect for gigging and traveling bass players.  With a gradient blue finish on a quilted maple top, modern styled body, roasted maple neck, and rosewood fretboard, the instrument has been created to look awesome and be comfortable to play.  With Alnico 5 P-Style pickups, the TBL Mini Bass offers a clear, sweet tone, depending on what effect pedals and amplifiers you choose to pair with it.  As with all Flight ukuleles, you'll find that the TBL Mini Bass Ukulele offers great quality at an affordable price.  Stay out of treble, and catch one of these great instruments at a Flight dealer today!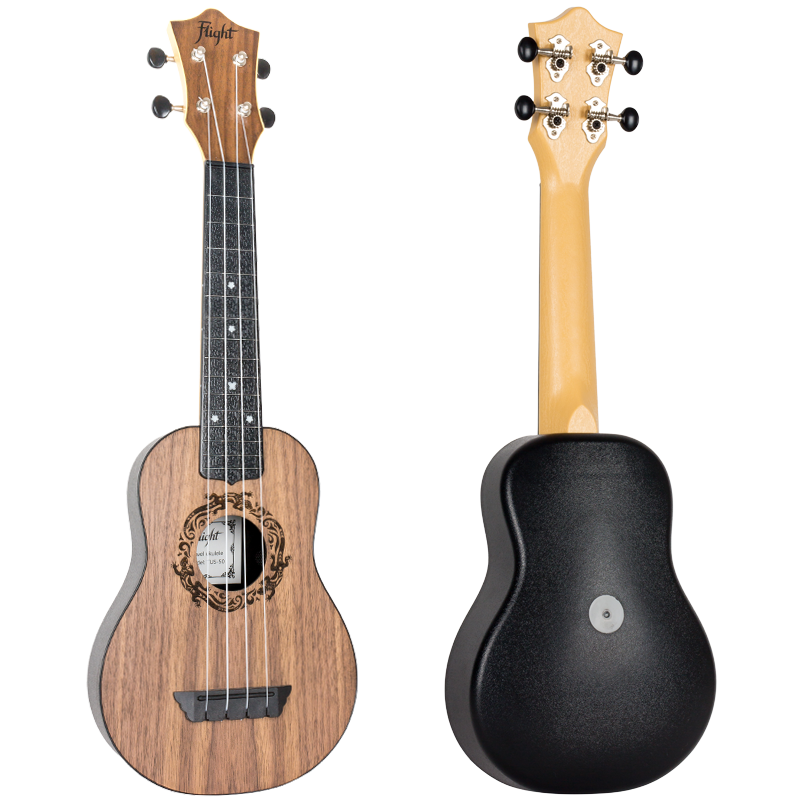 Plastic Fantastic! Conventional wisdom will say that plastic ukuleles are cheap, low-quality substitutes for "the real thing". Well, it's time to kick conventional wisdom out the door! With a body built unapologetically from plastic and a laminate walnut top, the sound quality of these ukuleles will blow you away, and their durability will make them Keith Richards' instrument of choice after Armageddon hits. These ukes are perfect for rainy festivals, cramped overhead lockers, moody teenagers, and ukulele teachers working with young children.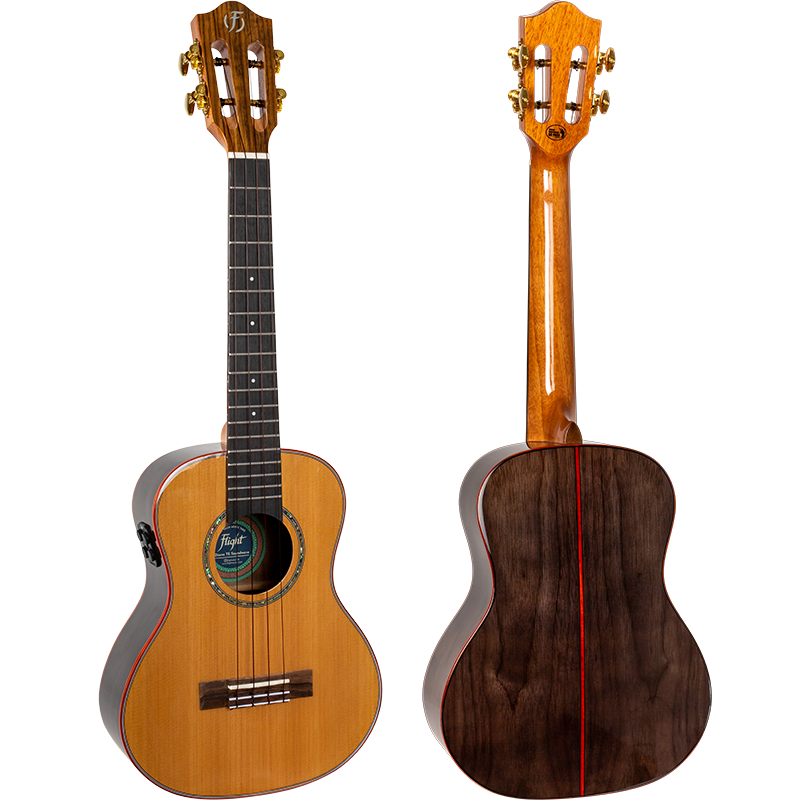 The Flight Diana Soundwave Tenor combines the incredible Flight Diana Tenor with the Flight Soundwave Pickup System.  The Flight Diana Tenor, a member of the Flight Princess Series, features a solid cedar top with laminate walnut back and sides.  The amazing Flight Soundwave Pickup System adds acoustic or amplified effects, with or without plugging in–complete control of the effects is located on the ukulele itself.  Finally, every Flight Diana comes with a bone nut and saddle, Worth Brown fluorocarbon strings, and the Flight Deluxe Gig Bag.