"Making music is a journey to discover ourselves, and with the ukulele it will surely be a journey towards joy and happiness"
Paola Ronci (Vocalele)
My name is Paola, I'm a jazz vocalist and music teacher from Italy. I love the ukulele.
When I'm not singing with my band, I play the uke to accompany myself when I'm singing, and this makes me happy!
The uke turned me into a better person and musician, and I strongly believe that playing it can bring joy and happiness to people's life.
Helping passionate people to believe in themselves and encouraging them to express themselves through music… it comes so natural to me.
That's why I founded the most joyful ukulele community in Italy!
I offer free resources, YT tutorials, skype lessons, and many other tools to improve your singing/playing.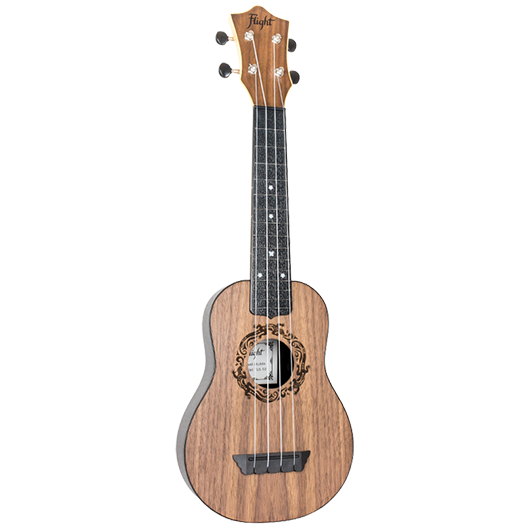 Flight TUS50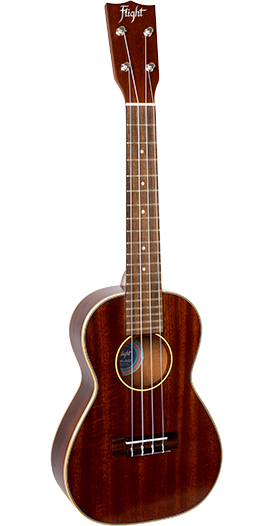 Flight MUC-2
Electro-Acoustic solid mahogany top concert ukulele
The Flight MUC2 is all about heritage, from headstock to saddle. This vintage-styled ukulele packs a punch with its all solid construction, thin and resonant sound board, and traditional premium Japanese-made Gotoh friction tuners.  The concert scale of the Flight MUC2 offers more playing space than our soprano model, while continuing to offer the vintage vibe.

Flight DUB38
Laminate mahogany electro-acoustic baritone
The baritone is the largest standard size of the ukulele family.  Baritones are usually tuned like the four top strings of a guitar, and many guitarists find it easier to transition to a baritone ukulele.  Due to its size (74 cm), baritones have a very warm, responsive sound similar to a classical guitar.   The DUB38 has an attractive look and a sound you'll never grow tired of hearing.  With its warm sound, low maintenance, and flawless intonation, the DUB38 is a perfect instrument for a beginners and seasoned players alike, and the pickup means that you are ready to perform on stage at a moment's notice.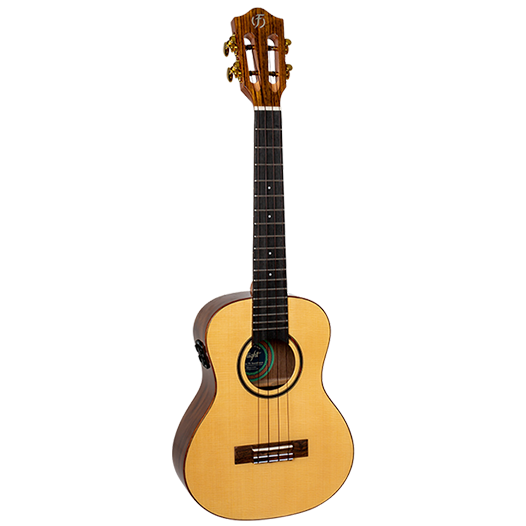 Flight Sophia Soundwave Concert
Electro-Acoustic solid spruce top ukulele with Soundwave system
The Flight Sophia Soundwave Concert is the belle of our modern designs!  It combines the incredible Flight Sophia Concert with the Flight Soundwave Pickup System.  The Flight Sophia Concert, a member of the Flight Princess Series, features a solid spruce top with laminate walnut back and sides.  The amazing Flight Soundwave Pickup System adds acoustic or amplified effects, with or without plugging in. Complete control of the effects is located on the ukulele itself!  Finally, every Flight Sophia Ukulele comes with a bone nut and saddle, premium Worth Brown fluorocarbon strings, and the Flight Deluxe Gig Bag.

Flight Antonia Concert
Electro-Acoustic solid mahogany top concert ukulele
Antonia's design brings a strength and confidence fit for royalty!  This concert sized ukulele is part of our Princess Series, featuring a warm-sounding solid mahogany top, laminate mahogany back and sides, and a soft satin finish.  Every Antonia ukulele comes with a bone nut and saddle, Worth Brown fluorocarbon strings, and the Flight Deluxe Gig Bag.  As this is the CE model, the ukulele also features a state-of-the-art Double B1U pickup!