"Fare musica è un viaggio alla scoperta di sè stessi e se fatto con l'ukulele allora è sicuramente un
viaggio verso la felicità!"
Paola Ronci (Vocalele)
Aloha! Sono Paola.
Sono una cantante ed un'insegnante di musica. Amo l'ukulele.
Quando non canto con la mia band lo uso per accompagnare la mia voce e sono felice.
Grazie all'ukulele inoltre sono diventata una musicista e una persona migliore e credo fermamente nel fatto che questo piccolo strumento possa aggiungere una enorme dose di gioia alle nostre giornate!
Aiutare persone appassionate a credere in sé stesse ed incoraggiarle ad esprimersi attraverso la musica è qualcosa che mi è sempre venuto naturale fare… ecco perché ho fondato la community di ukulelisti più gioiosa d'Italia!
Offro risorse gratuite, tutorial su YT, lezioni su Skype e tanto altro per aiutarti a migliorare sia con l'ukuelele che con la voce.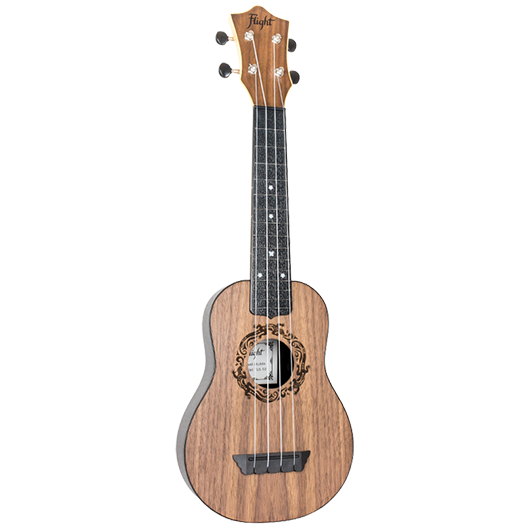 Flight TUS50
La serie Travel è una gamma davvero unica di ukulele. Sono realizzati quasi interamente in plastica ABS, ma con un piano in legno. TUS50 ha un piano in multistrato di noce con finitura in legno naturale. La parte posteriore arcuata, il corpo in plastica consente un'ottima proiezione del suono, ma anche una durata eccezionale. Non vi è alcun legame tra il corpo e il collo, che è anche di plastica e quindi non si piegherà.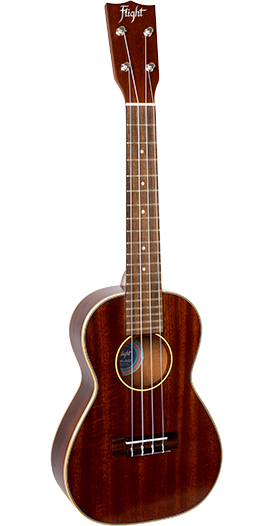 Flight MUC-2
Electro-Acoustic solid mahogany top concert ukulele
The Flight MUC2 is all about heritage, from headstock to saddle. This vintage-styled ukulele packs a punch with its all solid construction, thin and resonant sound board, and traditional premium Japanese-made Gotoh friction tuners.  The concert scale of the Flight MUC2 offers more playing space than our soprano model, while continuing to offer the vintage vibe.

Flight DUB38
Laminate mahogany electro-acoustic baritone
The baritone is the largest standard size of the ukulele family.  Baritones are usually tuned like the four top strings of a guitar, and many guitarists find it easier to transition to a baritone ukulele.  Due to its size (74 cm), baritones have a very warm, responsive sound similar to a classical guitar.   The DUB38 has an attractive look and a sound you'll never grow tired of hearing.  With its warm sound, low maintenance, and flawless intonation, the DUB38 is a perfect instrument for a beginners and seasoned players alike, and the pickup means that you are ready to perform on stage at a moment's notice.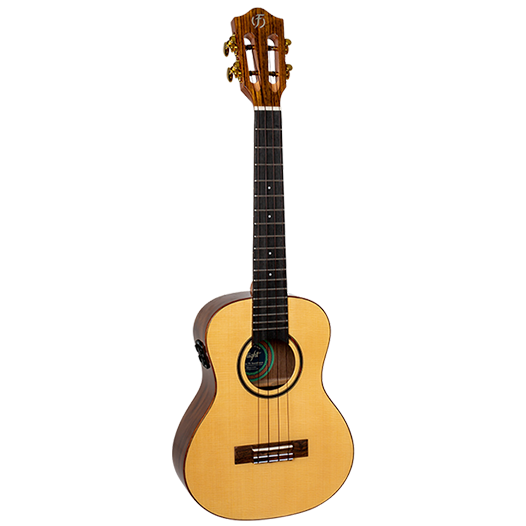 Flight Sophia Soundwave Concert
Electro-Acoustic solid spruce top ukulele with Soundwave system
The Flight Sophia Soundwave Concert is the belle of our modern designs!  It combines the incredible Flight Sophia Concert with the Flight Soundwave Pickup System.  The Flight Sophia Concert, a member of the Flight Princess Series, features a solid spruce top with laminate walnut back and sides.  The amazing Flight Soundwave Pickup System adds acoustic or amplified effects, with or without plugging in. Complete control of the effects is located on the ukulele itself!  Finally, every Flight Sophia Ukulele comes with a bone nut and saddle, premium Worth Brown fluorocarbon strings, and the Flight Deluxe Gig Bag.

Flight Antonia Concert
Electro-Acoustic solid mahogany top concert ukulele
Antonia's design brings a strength and confidence fit for royalty!  This concert sized ukulele is part of our Princess Series, featuring a warm-sounding solid mahogany top, laminate mahogany back and sides, and a soft satin finish.  Every Antonia ukulele comes with a bone nut and saddle, Worth Brown fluorocarbon strings, and the Flight Deluxe Gig Bag.  As this is the CE model, the ukulele also features a state-of-the-art Double B1U pickup!